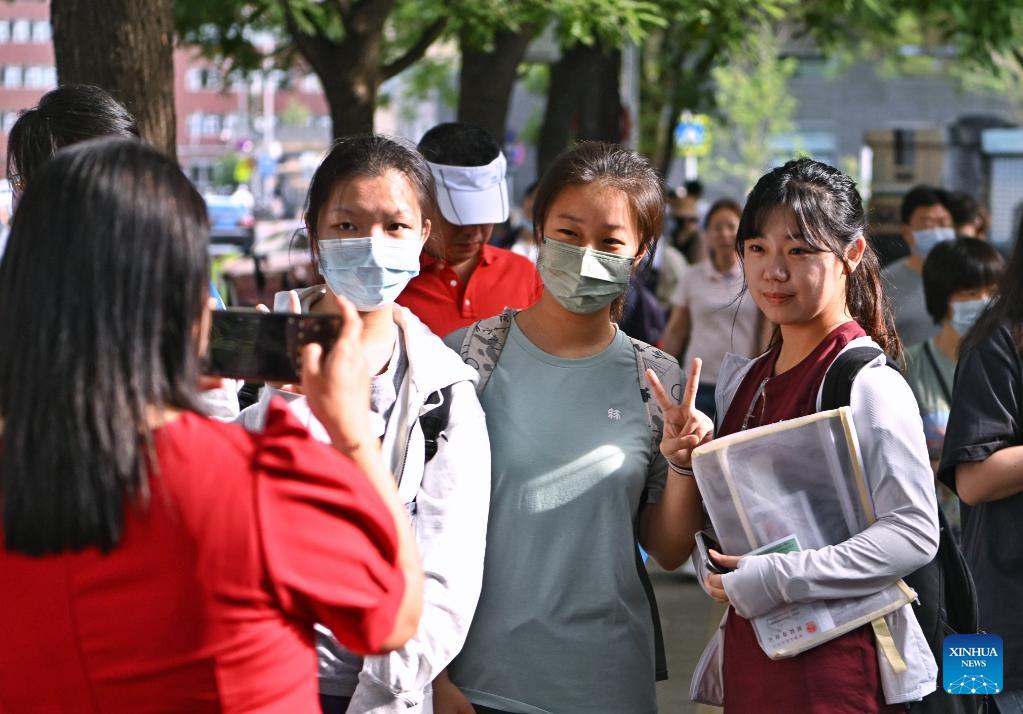 Examinees pose for a group photo outside an exam site at the Experimental High School Attached to Beijing Normal University in Beijing, capital of China, June 7, 2023. [Photo/Xinhua]
From medical workers and traffic cops to cooks, people from all walks of life in China are wholeheartedly contributing to ensure smooth preparations for this year's college entrance examination, also known as "gaokao," scheduled to begin on Wednesday.
A record 12.91 million candidates have applied for this year's "gaokao," marking an increase of 980,000 from 2022, according to figures released by the Ministry of Education.
This year's college entrance exam is the first one after China adjusted its COVID-19 response measures. Health and emergency response measures have been put in place for COVID-19, as well as other medical emergencies such as heat strokes and injuries.
In Baise, a city situated in south China's Guangxi Zhuang Autonomous Region, medical squads comprising doctors and nurses are stationed at each examination site. Meanwhile, special exam centers have been set up in hospitals scattered throughout the city for candidates who are suffering from COVID-19 or other health conditions.
In Chongzuo, another city in Guangxi, local health authorities have kept a fleet of ambulances and several experienced medical personnel on standby to provide first-aid rescue in case of medical emergencies involving the examination candidates.
Utmost attention has also been paid to traffic precautions as most of this year's exams fall on workdays. Huang Taotao, a traffic police officer from the public security bureau in Nanning, the regional capital of Guangxi, expressed the possibility of implementing temporary traffic controls around examination sites to avoid traffic congestion in surrounding areas.
In the city of Beijing, this year's "gaokao" exams will witness the deployment of approximately 800 traffic officials on motorcycles carrying an extra helmet, ready to shuttle test-takers possibly stranded due to traffic jams.
In Baise, the city authorities responsible for education, transportation, construction and environmental protection have been given a specific mission -- to ensure a noise-free environment for exam takers by implementing measures such as imposing speed limits and prohibiting honking near exam sites. Additionally, they are taking steps to muffle noise disturbances at construction sites, particularly during the English listening test on Thursday.
During the college entrance exam period, some candidates choose to stay in hotels to minimize disruptions caused by traffic or noisy neighbors.
In order to prevent hotels from engaging in exploitative practices, the market regulation administration of Shanxi Province issued a warning to hotels throughout the region, advising them against activities that distort the market such as price gouging, deceiving consumers with false discounts, and reneging on confirmed orders made through e-commerce platforms.
The administration warned that violators could face fines of up to 5 million yuan (about 703,482 U.S. dollars) and be publicly exposed if the violation is severe in nature.
Recognizing the immense psychological pressure faced by "gaokao" candidates, secondary high schools across the country are becoming increasingly conscious of this issue. As a result, they are actively organizing various activities to help students relax and unwind shortly before they take the exam.
In an effort to provide temporary respite from the intense workload and exam-induced anxiety, the No. 3 Middle School in Kunming, located in southwest China's Yunnan Province, arranged a rock-climbing exercise session for the students of class 2023.
Even Chinese names associated with good luck are lending a helping hand in the run-up to the "gaokao" exams. The cafeteria of Chongqing Nanhua Middle School has curated a unique menu to bring prosperity to the exam candidates. Each dish carries an auspicious name, such as "thriving red" for scrambled eggs with tomatoes and "soaring up with a bullish spirit" for braised beef with potatoes. These delightful names aim to instill positive energy in the students as they prepare for the important exams.