Spectacular sports events of the Chengdu 2021 FISU World University Games (the Games) are not the only eye-catchers lately. Located in the FISU Games Village, the demonstration area of traditional Chinese medicine (TCM) culture is "crowded with" ("da dui dui" in Sichuan dialect) delegations from different countries queueing to experience mysterious TCM therapy, learn Baduanjin qigong and make TCM scented sachets…, setting off a "craze for TCM". Let's have a look at how Sichuan TCM captures the hearts of youth from across the world!
Magic! Strong interest in experiencing TCM culture
"My back aches badly and I feel much more relaxed with the doctor's massage."
"It's really comfortable. It was a bit painful when the doctor pressed several acupuncture points but soon, I felt super relaxed and literally much better afterwards."
"Didn't know that the TCM history is so interesting. These prescriptions and specimens are just artwork."
…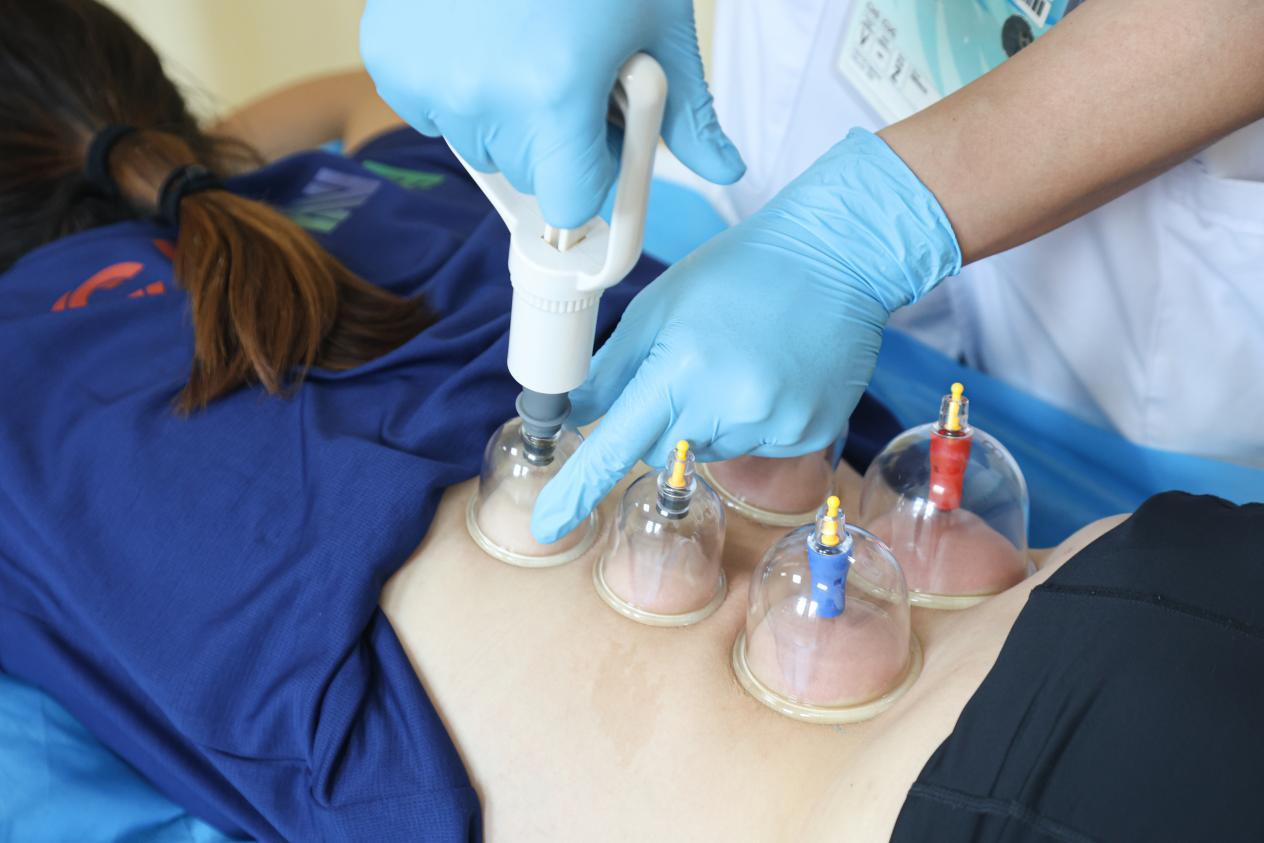 A foreign athlete undergoing a cupping therapy in the TCM experience area located in the FISU Games Village. [Photo by Lun Xiaoxuan]
Tui-na, massage, cupping and other TCM services have attracted more and more international athletes lately. In addition, the team is also enthusiastic about introducing TCM culture to athletes and delegation officials, so that they can understand the unique advantages of TCM in sports medicine. They show strong interest in the TCM culture.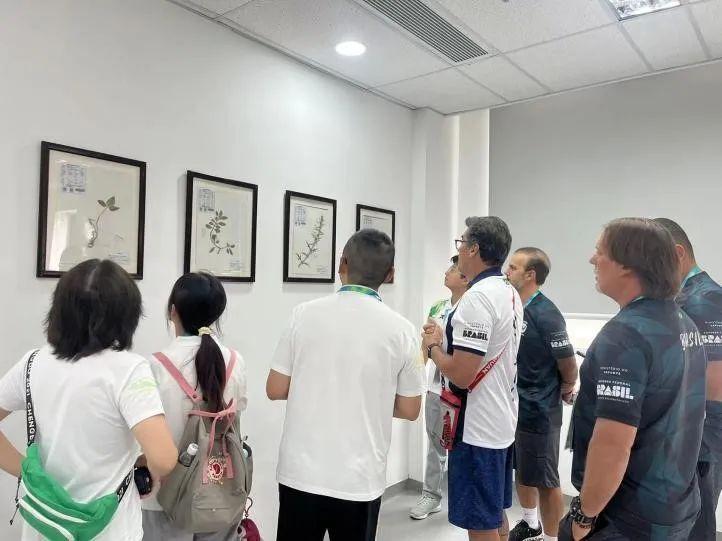 Foreign delegations tour around the demonstration area of TCM culture. [Photo courtesy of Sichuan Provincial Administration of Traditional Chinese Medicine]
During the Games, demonstration and experience areas of TCM culture are set up in the Village, the Polyclinic and the Main Media Center to display hand-written prescriptions from veteran TCM practitioners and specimens of Chinese medicinal herbs. These prescriptions are long reserved and are important signs of TCM inheritance and development, showing the unique TCM culture to international friends. In the experience area, TCM tui-na and other services are available and the youth from different countries can learn traditional Chinese exercises such as Baduanjin and Five-animal Qigong exercise and learn how to make TCM scented sachets, a chance to get a full picture of TCM history and culture.
Before the Games kicked off, Sichuan province had mobilized provincial and Chengdu city-level TCM resources to leverage on the rich experience of Sichuan Province Orthopedic Hospital and Sport Hospital of Chengdu Sport University in high-level sports events such as the Olympic Games and FISU World University Games. Multiple team members are dispatched to provide personnel involved in the Games with high quality TCM treatment and healthcare services under the concept of preventive treatment of diseases and by utilizing non-invasive and appropriate TCM techniques such as tui-na and massage.
More followers! Magical TCM therapy garners a swathe of young fans from the world
Your health status, living habits and even diseases that you might have can be learnt just by checking your tongue coating, feeling your pulse and pressing some acupuncture points. such magical TCM diagnosis and treatment experience is vividly seen in athletes and delegation officials lately and makes them very amazed.
Luo Ziyun, archery athlete from the Singaporean delegation, in an interview by CCTV after her TCM pulse taking. [Photo courtesy of Sichuan Provincial Administration of Traditional Chinese Medicine]
"Amazing!" Luo Ziyun, an archery athlete from the Singaporean delegation, was wowed by her TCM pulse experience. "She learns all my bad habits with just one touch and gave me suggestions also. Unbelievable." To provide athletes and delegation officials with "direct access" to TCM techniques such as the Four Diagnostic Methods, namely inspection, listening and smelling, inquiring and palpation, the Village sets up a TCM experience area for them.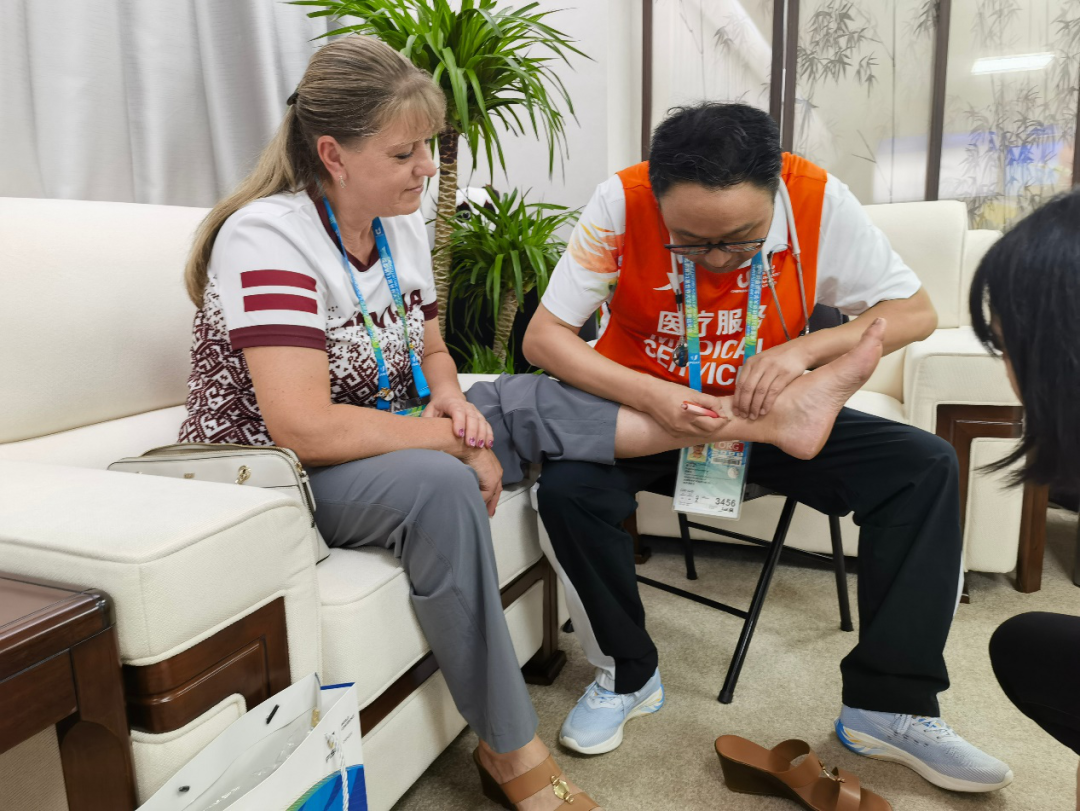 Dr. Huang Yizhuan of Sport Hospital of Chengdu Sport University selecting and marking acupuncture points for a Latvian FISU staff member [Photo courtesy of Sichuan Provincial Administration of Traditional Chinese Medicine]
During the Games, a Latvian FISU staff member who has suffered from insomnia for years came all the way to seek TCM treatment, as she has long heard of TCM's amazing therapeutic effect. Huang Yizhuan, deputy director of the Department of Tendon Injuries of Sport Hospital of Chengdu Sport University, used the Four Diagnostic Method and acupuncture-based massage to alleviate her symptoms. Doctor Huang also taught her to reduce and reinforce by massaging the Five Shu points (Chinese pinyin: wushuxue). Considering that she had no knowledge of TCM meridians and acupuncture points, Dr. Huang showed her acupuncture points chart and taught her how to find and massage the points in person. The fabulous TCM treatment deeply impressed the Latvian staff and she gave Huang a present to express her gratitude.
The fabulous and unique TCM service has garnered a swathe of athletes and officials of delegations and they all exclaimed that the trip was rewarding. Qigong was also very popular among the overseas young athletes. Many of them were itch to try Baduanjin exercise or Five-animal Qigong exercise to experience the uniqueness and charm of TCM.
Amazing! Fabulous TCM doctors escort athletes on their Universiade journey
"Fabulous! The Chinese massage helped me relaxed."
"Fantastic! TCM doctors! Thank you so much!"
"Wow! Amazing!"
In the Games Village these days, piles of thank-you notes in different languages are sent to the medical team members from TCM Hospital of Sichuan Province, Chengdu Integrative Medicine Hospital and Sichuan Province Orthopedic Hospital. Despite the language barrier, the professional dedication and skills of Sichuan TCM practitioners have won acclaim from athletes and delegation officials from all over the world.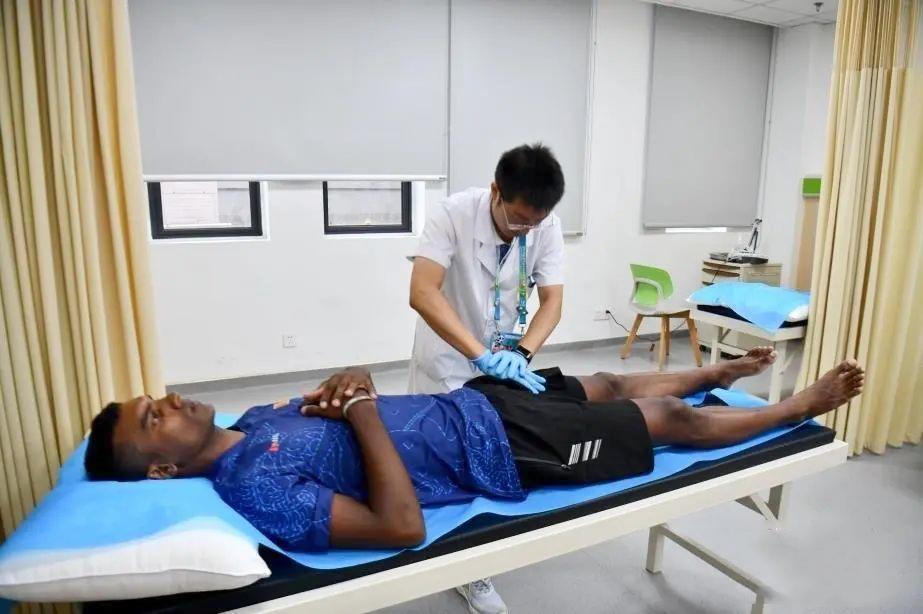 Dasun, a high jumper of Sri Lankan delegation receiving TCM treatment such as cupping and tui-na at the medical center for Chengdu FISU World University Games Village. [Photo by Zhang Lang/China News Service]
"Previously, an official from the Sri Lankan delegation experienced severe neck pain due to disorder of cervical facet joints. The TCM medical team arranged a series of treatments for him. After three days of consecutive treatments, he felt much better. However, his shoulder pain problems appeared after the opening ceremony," said Liu Xihui, an attending TCM physician at the Sports Medicine Department of Sichuan Province Orthopedic Hospital. "He trusted us very much. He came to seek TCM therapy right after the uncomfortableness, and he also learned to write Chinese to express his gratitude to us."
"When we treat the athletes, we will give them appropriate therapeutic schedule based on their own situation, and then give them targeted treatment," said Liu Xihui. She said that the athletes all recognized the therapeutic effect, and would tell doctors about their pathogenesis and daily training methods to better communicate with doctors.
In medical service, TCM's unique and fabulous therapeutic effect was recognized by young overseas athletes. Liu Xihui introduced, "Different schools have different massage and acupuncture points. What we inherit is Zheng's Traumatology. Its classic acupuncture points and massage manipulation can better help athletes recover.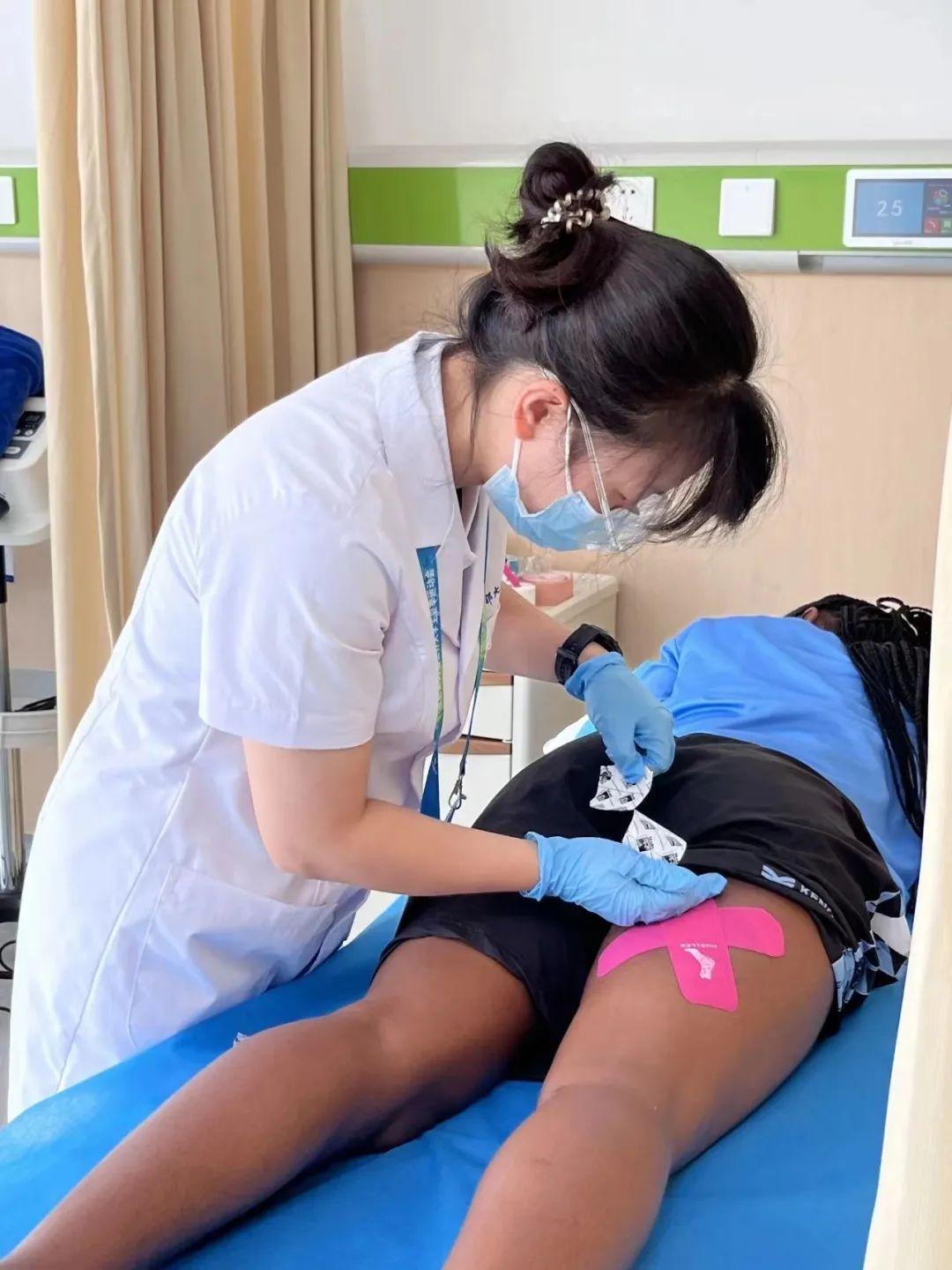 Dr. Zhao Tianyu of TCM Hospital of Sichuan Province doing sports injury protection (muscle taping) for Botswana athletes. [Photo courtesy of Sichuan Provincial Administration of Traditional Chinese Medicine]
Recently, more and more delegation members come to experience TCM treatment, such as acupuncture, tui-na and auricular therapy, etc., to alleviate sports injuries, insomnia and anxiety and indigestion. Among all TCM treatments, acupuncture and tui-na are popular service items in the Village. Athletes from various countries come with curiosity and leave with high praise, and their story with TCM culture continues.