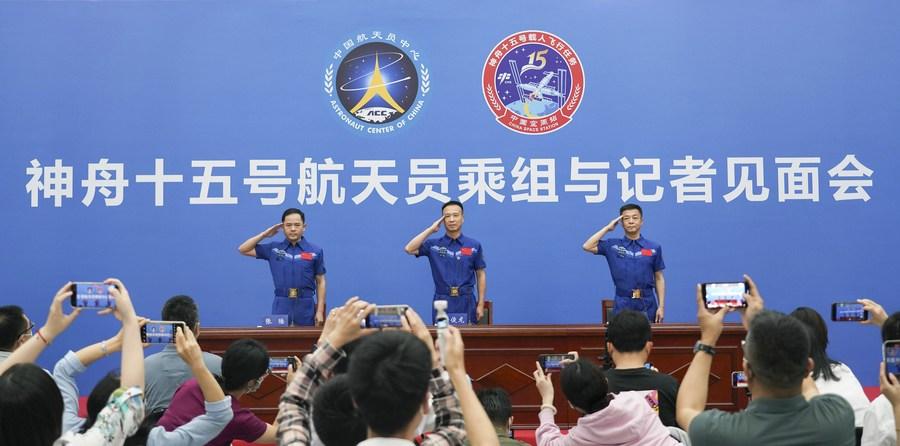 Fei Junlong (C), Deng Qingming (R) and Zhang Lu, astronauts of China's Shenzhou-15 crewed mission, meet the press in Beijing, capital of China, July 31, 2023. [Photo/Xinhua]
Three astronauts from the Shenzhou-15 crewed mission were awarded medals for their service to China's space endeavors on Thursday.
Fei Junlong was honored with a second-class aerospace achievement medal, while Deng Qingming and Zhang Lu received third-class medals and the honorary title of "heroic astronauts."
The awards were given by the Communist Party of China Central Committee, the State Council, and the Central Military Commission.
Fei, the Shenzhou-15 mission commander, also participated in the Shenzhou-6 crewed spaceflight mission and was the first astronaut to perform extravehicular activities after China's space station Tiangong was completed.
Deng, who got the chance to fly to space after 25 years of preparation, excellently performed a series of experimental tasks. The flight was also Zhang's first space mission.
Launched on Nov. 29, 2022, the Shenzhou-15 spaceship sent the trio to China's space station core module Tianhe, where they lived and worked for six months.
They performed extravehicular activities four times and conducted a series of space science and technology experiments during their stay.
The trio returned to Earth safely on June 4, 2023. The Shenzhou-15 mission wrapped up the last stage of China's space station construction and commenced the first stage of its application and development.