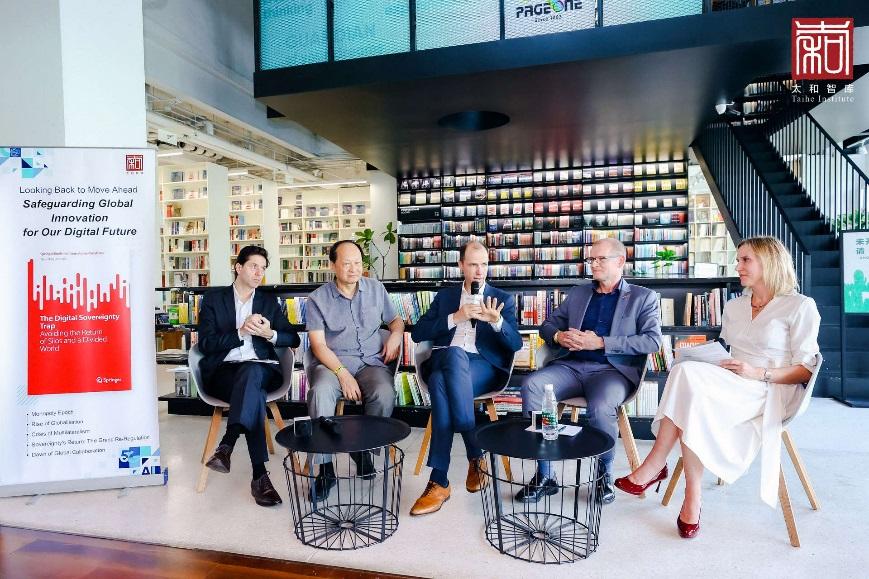 (From left to right: Sebastian Contin Trillo-Figueroa, European Union consultant, AsiaGlobal Fellow at Asia Global Institute, HKU; Ding Yifan, Senior Fellow of Taihe Institute; Thorsten Jelinek, Visiting Scholar at Hertie School Centre for Digital Governance; Thorsten Giehler, Regional Director and Chief Representative of Deutsche Gesellschaft für Internationale Zusammenarbeit (GIZ) in China and Mongolia; Mattie Bekink, China Director, Economist Intelligence Corporate Network at The Economist Intelligence Unit)
The book "The Digital Sovereignty Trap: Avoiding the Return of Silos and a Divided World" by Dr. Thorsten Jelinek was presented in a launch event hosted on Sept. 7 by Taihe Institute and Springer Nature in Beijing.
"Artificial intelligence poses a much greater challenge than telecoms ever could. Now is the time to work together, to strengthen ties between countries, and seek open technology exchange. Worryingly, many countries are headed in the opposite direction right now", said Dr. Thorsten Jelinek, visiting scholar at Hertie School's Centre for Digital Governance in Berlin, Senior Fellow and Europe Director at Taihe Institute. According to him, instead of assessing the benefits and drawbacks of digital transformation, the pursuit of sovereignty is veering into protectionism and coercion. The competition between the United States, Europe, and China underscores this shift. Policymakers emphasize narratives of "systemic rivalry", "autonomy", "like-mindedness", "de-risking", or "self-reliance". Consequently, the global information and communication technology (ICT) innovation ecosystem, which emerged from the Internet revolution and rise of liberal values of the 1980s and 1990s, now confronts challenges that threaten global growth and development. Growing ideological and technological divides further weaken multilateralism, curbing global innovation and hindering economic development globally.
Einar Tangen, Senior Fellow at Taihe Institute, added: "Disentangling the technological innovation ecosystem by "De-risking" from China actually brings significant risk to Europe to fall even further behind in digitalization and, in particular, the 5G rollout."
The book "The Digital Sovereignty Trap: Avoiding the Return of Silos and a Divided World" dives into the history of the telecom sector and traces how we arrived at a global technology innovation ecosystem. It is this highly efficient international collaboration which is under threat today. The author urges policymakers not to fall back to the technology silos of the past. Beyond the immediate technological and economic concerns associated with such a decoupling, the book dives into the complexities of artificial intelligence. It accentuates the need for global governance, now at a crucial juncture. It charts a way to promote progress without raising new digital walls.
Founded in 2013, Taihe Institute (TI) is an independent, non-profit think tank based in Beijing, China, with the mission of facilitating mutual appreciation between civilizations and promoting global peace and development.