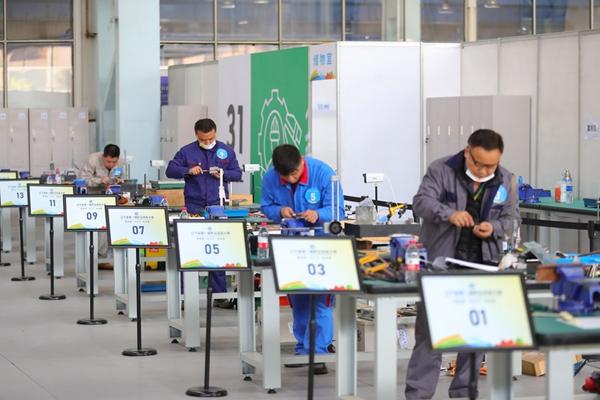 Contestants participate in the contest of benchwork during the 1st Vocational Skills Competition of Liaoning Province in Shenyang, northeast China's Liaoning Province, Oct. 27, 2022. [Photo/Xinhua]

Chinese Premier Li Qiang has stressed efforts to cultivate a substantial, well-structured and high-quality skilled workforce.
Li made the instruction on nurturing skilled talents before the country's second Vocational Skills Competition, which kicked off on Saturday in north China's Tianjin Municipality.
Skilled talents are invaluable assets as the country implements its workforce development strategy, employment-first strategy and the innovation-driven development strategy, Li noted, adding that all regions and levels of government should speed up the development of technical education, improve the system of lifelong vocational training and increase the income levels of skilled talents.
Chinese State Councilor Shen Yiqin declared the opening of the competition, and conducted research on skilled talent cultivation work.
She stressed intensified efforts on strengthening the cultivation of skilled talents so as to support the country's high-quality development and the building of a modern socialist country in all respects.