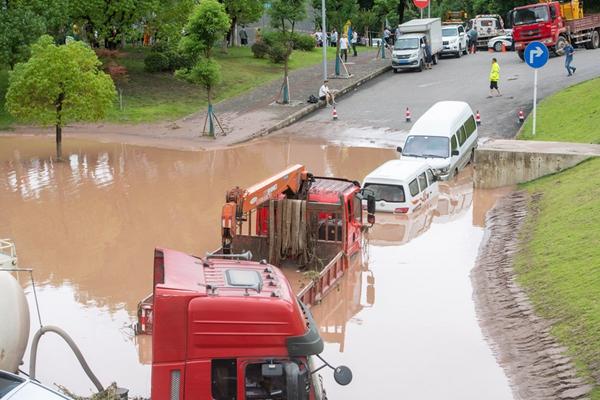 Vehicles parked on the side of a road are stuck in flood in Wanzhou District, southwest China's Chongqing Municipality, July 14, 2023. [Photo/Xinhua]
Chinese flood control authorities on Sunday urged efforts to prevent autumn flood and flood-triggered geological disasters in some key regions of the country.
Recently, the precipitation in west China has significantly surpassed the usual level in the same period, and heavy rains are expected in parts of Chongqing, Sichuan, Shaanxi, Hubei and Henan, according to a meeting of the State Flood Control and Drought Relief Headquarters, the Ministry of Emergency Management, and several other government departments.
Noting the prominent risks of mountain torrents and floods in medium-sized and small rivers and reservoirs, the authorities urged local departments to stay on high alert and continuously do a good job in flood prevention and control.
Work should be done to strengthen emergency response and risk inspection, while deploying rescue forces and emergency supplies at important embankments and key locations in advance.
Local departments should also ramp up flood prevention during the 19th Asian Games, the Mid-Autumn Festival and the National Day holiday, said the authorities.