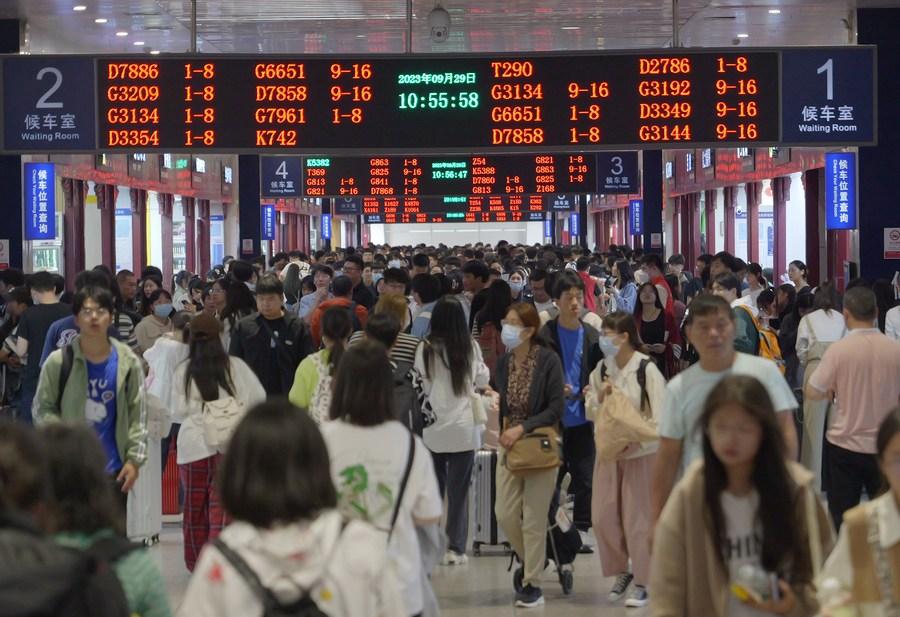 This photo taken on Sept. 29, 2023 shows passengers at Zhengzhou Railway Station in Zhengzhou, central China's Henan Province. (Xinhua/Li Jianan)

With this year's super-long "golden week" spanning both the Mid-Autumn Festival and the National Day holidays in full swing, Chinese people are fervently hitting the road to make the most of this eight-day holiday period.
On Sept. 29, the first day of the holiday period lasting until Oct. 6, China's railways handled about 20.1 million passenger trips, setting a new record for daily trip numbers and surpassing 20 million for the first time in history.
Analysts believe that this holiday period will usher in a new peak in travel, accelerating the rebound of China's tourism industry.
"This year's 'golden week' is likely to become the hottest one in the past five years, owing to the combined boost of the Mid-Autumn Festival, the National Day holiday and the Hangzhou Asian Games," said Li Jiwei, deputy dean of Meituan Research Institute.
Travel Enthusiasm at Record High
Cross-the-board data reveals that millions of travelers are embarking on journeys during this extended holiday period, driven by robust demand for family reunions and leisure activities.
During this period, China's commercial passenger traffic across railways, highways, waterways and air travel will experience a complete recovery. The total passenger trips are expected to hit 490 million, a jump of 78.6 percent in terms of average daily number compared with the same period in 2022, data from the Ministry of Transport (MOT) showed.
The country is expected to see 190 million railway trips during the 12-day travel rush for the National Day holiday, which lasts from Sept. 27 to Oct. 8 and overlaps the Mid-Autumn Festival, according to the China State Railway Group Co., Ltd.
A total of 20.098 million railway passenger trips were made in China on Friday and 17.066 million on Saturday, and another 17.2 million passenger trips are expected to be handled by the railways on Sunday.
China's civil aviation sector is projected to handle over 21 million passenger trips during this period, with daily average domestic flight and passenger numbers expected to rise by 18 percent and 17 percent, respectively, compared to the National Day holiday period in 2019, according to the Civil Aviation Administration of China.
A surge of travelers is anticipated to flood roads nationwide. During the holiday period, average daily expressway traffic is projected to reach 57 to 58 million vehicles, soaring 46 to 49 percent over the same period last year, according to the MOT.
Since this year's holiday period coincides with the latter part of the ongoing Hangzhou Asian Games, there is a strong demand for tourism, family reunions and attending events, which is expected to lead to a substantial increase in cross-provincial long-distance trips via highways, the MOT said, noting that cross-provincial and cross-city trips are expected to make up more than 70 percent of all highway journeys.
"Almost all my friends would travel somewhere during this holiday," said Wang Yifan, who works in Beijing, adding that she has merged her holiday with her annual leave for a family vacation to Europe.
As China makes every effort to facilitate cross-border travel, the country is expected to see an average of 1.58 million daily inbound and outbound passenger trips during the holiday period, a roughly 3-fold increase year on year, according to the National Immigration Administration.
Toursim Recovery Picks Up Speed
With the "golden week" being the longest public holiday in the second half of the year, Chinese travelers are eagerly looking forward to indulging their wanderlust.
Data from the online travel agency Trip.com Group showed that domestic tour bookings for the holiday period increased by over 400 percent compared to the previous year. Specifically, driven by the allure of the Hangzhou Asian Games, bookings with Hangzhou as the destination experienced a remarkable year-on-year increase of over 500 percent.
According to online platforms Meituan and Dianping, as of Sept. 20, tourism consumption orders on the platforms for the National Day "golden week" holiday doubled compared with 2019, and the number of restaurant reservations grew by 112 percent.
"With bookings for scenic spot tickets, hotels, catering and other services increasing significantly, consumption demand across the country will be further unleashed during the eight-day holiday, which reflects the positive development trend of China's economy," Li said.
Some 62 percent of Chinese consumers plan to increase their spending on traveling in six months, which is much higher than the global average level, according to a report from global auditing and consultancy firm PwC.
This will create great opportunities for the tourism, hospitality and retail sectors, PwC said.
Orders for outbound travel also saw a significant rise, data from Trip.com Group showed. Group tour bookings to countries such as Uzbekistan, Sri Lanka and Kenya have increased significantly in comparison with the same period of 2019, the pre-epidemic level.
According to Zhang Yang, a researcher with the China Tourism Academy, outbound tourism has risen in popularity during the holidays, and related products from multiple travel service providers have been sold out.
"The gradual return of Chinese travelers to the global tourism market is injecting recovery momentum into the global economy," Zhang said.