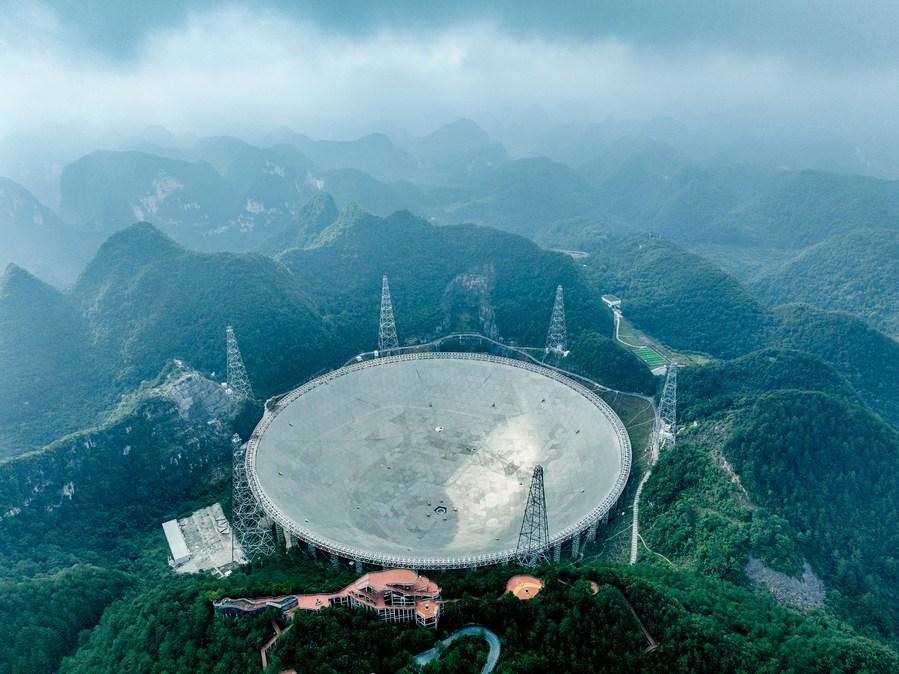 This aerial panoramic photo taken on July 26, 2023 shows China's Five-hundred-meter Aperture Spherical Radio Telescope (FAST) in southwest China's Guizhou Province. (Xinhua/Ou Dongqu)
Using the Five-hundred-meter Aperture Spherical Radio Telescope (FAST), or the "China Sky Eye," Chinese scientists have discovered 76 new faint and occasionally emitting pulsars, including a group of the faintest pulsars known today.

These pulsars are very special in that they only occasionally radiate a pulse in many rotation periods, so that they are known as rotating radio transient sources (RRATs), said the study, which was published on Monday in the journal Astronomy and Astrophysics Research.
Unlike most pulsars which emit pulses continuously, an RRAT is hard to find in a normal pulsar search regime. They are identified pulse-by-pulse from a huge amount of data obtained by a highly sensitive radio telescope.
Since the first RRAT was discovered in 2006, more than 160 RRATs have been detected by radio telescopes around the world. Detailed studies of a few RRATs suggest that they should be pulsars but with special physical properties in the magnetosphere, accounting for about five percent of the total number of pulsars.
A research team of the National Astronomical Observatories under the Chinese Academy of Sciences (NAOC) developed a new efficient single pulse search pipeline and systematically searched for single pulses using data of the FAST Galactic pulsar Snapshot Survey recorded since 2020.
According to Han Jinlin, a leading research scientist in this field at the NAOC, the 76 RRATs discovered by the new method account for about 12 percent of the total number of pulsars discovered by the FAST survey, implying that there are more such occasionally radiating pulsars than previously thought.
To further understand the physical properties of RRATs, the scientists also used the FAST to observe 59 known RRATs discovered by international telescopes. They found that none of the RRATs exhibited the characteristics of a standard RRAT.
The polarization signals of these occasionally radiated pulses detected by the FAST suggest that they are radiated in the same region of the neutron star magnetosphere as normal pulses, according to the study.
"The study has important implications for understanding the dense remnants of dead stars in the Milky Way and their radiation characteristics," said Han, adding that high sensitivity radio telescopes such as the FAST are the best tools to find such fascinating pulsars.