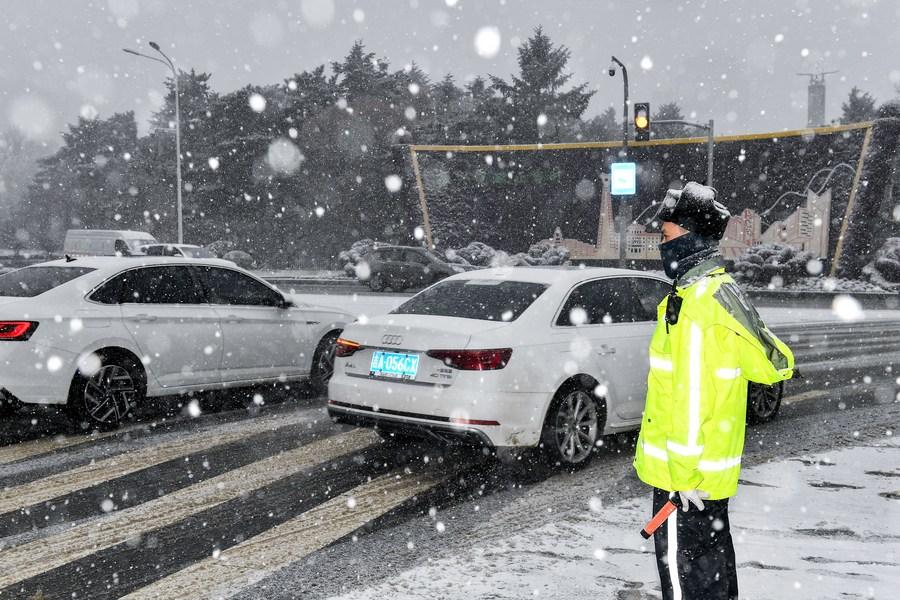 A traffic police officer directs the traffic in snow in Changchun, northeast China's Jilin Province, Nov. 6, 2023. [Photo/Xinhua]
China's national observatory on Sunday renewed a blue alert for strong winds in some parts of the country.

From 8 p.m. Sunday to 8 p.m. Monday, strong winds are expected in parts of Inner Mongolia Autonomous Region, Xinjiang Uygur Autonomous Region, and Xizang Autonomous Region, the National Meteorological Center (NMC) said.
During the same period, gales are expected to sweep parts of the Taiwan Strait, the Bashi Channel and the South China Sea, according to the NMC.
The NMC has issued a reminder for all ships and personnel navigating and operating in sea areas affected by the strong winds, urging them to pay attention to navigation safety.
Relevant departments have been called upon to prevent fires in forests, grasslands and urban areas, as well as to ensure transport security.
China has a four-tier, color-coded weather warning system for strong winds, with red representing the most severe warning, followed by orange, yellow and blue.