September is an important month in international politics. As China prepares for a week's rest in honor of the National Day celebrations, Foreign Minister Wang Yi is hard at work in the U.S., where he has completed a three-day programme of talks with U.S. Secretary of State John Kerry, and has now moved to New York for the 68th session of the United Nations General Assembly. There he will hold a speech in the General Debate to set out China's position on the international community and how the latter should organize itself for the preservation of peace and for maximum mutual benefit.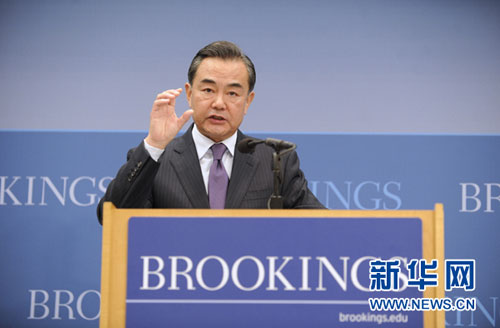 Chinese Foreign Minister Wang Yi delivers a speech at the Brookings Institution in Washington DC on Sept. 20, 2013. [Xinhua]
Chinese foreign ministers and deputy ministers are not, unlike in many other countries, political appointments. They are promoted from the ranks of the Foreign Ministry and Diplomatic Service, which usually means that their background is highly geographically specialized. In contrast to many of his predecessors, Wang is very much an Asian specialist, having spent much of his career involved in regional relations, especially those with Japan, and with the Taiwan issue. Nonetheless, he is greatly aware of the importance of the U.S.-China relationship and the issues raised by China's rapid emergence as one of the world's leading powers.
Minister Wang set out his and China's approach in a speech to the Brookings Institute, an important political think-tank, on September 20. He began with a historical conspectus of the difficulties caused in history by the emergence of a new power, saying that it had often led to war between established and emerging powers. This, he said, China was determined to avoid. I think we can all agree with that. He quoted President Xi Jinping on China's three principles of international engagement: "no conflict or confrontation," "mutual respect" and "win-win cooperation."