Nearly two years after the devastating earthquake, aftershocks are still occurring in Sichuan. Yet with a fast-growing economy in 2009, things are quickly returning to normal.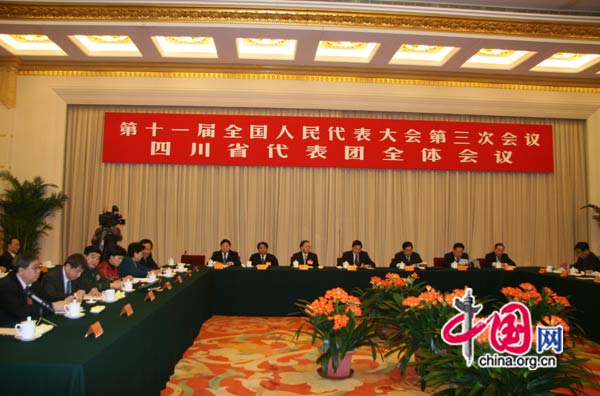 The Sichuan delegation to the Third Session of the 11th National People's Congress met in the Great Hall of the People on March 8, 2010.
The gross domestic product of the province rose by 14.5 percent last year – that is significantly higher than the national average of 8.7 percent. Government officials have taken advantage of this growth for a speedy recovery.
Three-fourths of all the reconstruction projects approved by the central government have now been finished. The completed work so far has cost 600 billion yuan (US$88 billion), or 63.9 percent of the total reconstruction budget.
Before June 2010, Sichuan hopes to have finished building all of the 259,000 new houses in the quake-hit urban areas. According to Sichuan's delegation at the annual parliamentary session, all 1.263 million new houses in the rural areas have already been rebuilt.
Other facilities and infrastructure, including schools, clinics, hospitals, roads and power grids have also been restored in the earthquake-hit areas. Officials hope to have restored 85 percent of agricultural productivity by the end of this year.
Among the 2,440 industrial enterprises with an annual sale of at least 2 million yuan (US$293,000) that were affected by the quake, 97.6 percent of them have resumed normal production.
Local governments have relocated 56,000 rural families who lost their land and found jobs for 419,000 people. Special care has been given to the mental health of those affected, with a psychological help network being set up.
At least 86,000 people died when the 8.0-magnitude quake struck the northern part of the province on May 12, 2008. Another 374,000 people were injured and more than 5 million left homeless.