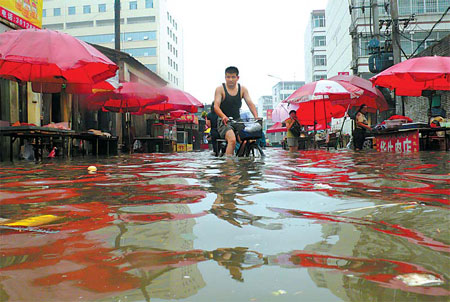 Passengers wade through knee-deep water in Cangzhou, Hebei province, on Saturday.
At least 18 people have been killed in the rainstorms that have soaked large parts of China since last week.
The casualties were reported by local authorities after the rainstorms and flooding killed 252 people across China in June.
In the central Hubei Province, torrential rains that started last Tuesday have killed 12 people, leaving three others missing and causing a direct economic loss of 724 million yuan (about 108 million US dollars).
Forty cities and counties in the province recorded more than 50 millimeters of rainfall, with the highest at 352 millimeters.
Most of the casualties were reported in the Enshi Miao and Tujia Prefecture of in the western of Hubei, where eight people, including three children, were killed by lightening, flash flood, landslide and collapsed houses.
Two other people, a man and a woman, were washed away and rescuers are searching for them.
The southwestern Yunnan Province reported six deaths, three missing and 11 injured on Saturday.
Shandong saw swollen reservoirs after rains swept the eastern province since Friday.
Water level in 14 big and medium-sized reservoirs topped the warning line. They are holding 5.5 billion cubic meters of water, 750 million cubic meters more than the same period last year.
Water began spilling over in five reservoirs.
More rains were forecasted in the next two days in many parts of China. Rain in Hubei is to abate, while the southeastern Fujian Province and the Taiwan Strait will be lashed with heavy rains.
(Xinhua News Agency, July 7, 2008)