A debate over the merits of raising awareness of brain death has broken out as China suffers from a dearth of organ donations.
About 2 million Chinese need organ transplants each year, but many die waiting as an inadequate total of just 20,000 operations are conducted across the country annually, according to official figures.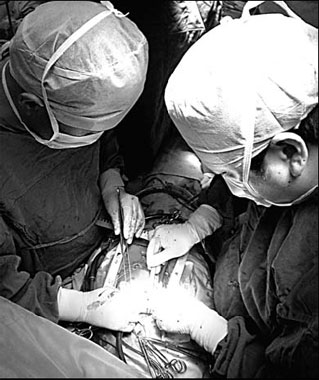 Doctors conduct heart transplant surgery in Wenling, Zhejiang province. An organ shortage has prompted experts to call for greater awareness of brain death in order to increase organ donations.
The vast majority of Chinese people acknowledge the absence of respiration and heartbeat - cardiac death - as the official definition of death, largely because little is known about the subject, Professor Chen Zhonghua with the Wuhan-based Tongji Hospital in Central Hubei province said at the 6th Forum of China Organ Donation and Transplantation jointly held by the Ministry of Health and Novartis over the weekend.
The public generally misunderstands complex issues such as the permanent vegetative state and euthanasia, which is prohibited in China, according to Chen.
"It also frustrates the promotion of the concept of brain death," the professor said.
The concept of brain death, which emerged in the 1960s after widespread use of life support equipment, enables doctors to cease ineffective treatment and thereby reduce unnecessary consumption of medical resources, he said.
It also allows people to die with dignity, acknowledged Shi Bingyi, a leading expert on organ transplants who has called for brain death legislation in a bid to free up more medical resources.
Since 2003, roughly 300 people in China have been officially declared brain dead, all upon the consent of their families, statistics from the Ministry of Health show.
Seventy of them donated organs and tissue to save other people's lives.
Organs are irreparably damaged and rendered useless 15 minutes after cardiac death, so most removals are conducted immediately following brain death, experts say.
"A wider application of brain death would somewhat help ease the shortage of donor organs in China," Shi said.
The Chinese Organ Donation website, approved by the Ministry of Health and set up by Shenzhen Red Cross and China Organ Procurement Organization, was launched to accept and manage post brain-death organ donations.
To date, 15,000 have been listed as possible willing donors.
(China Daily July 7, 2008)