The death toll in Saturday's 6.1-magnitude quake in Sichuan and Yunnan has risen to 38, according to local authorities.
Huili County, the worst-hit region in Sichuan, registered five more deaths as of 8 AM Monday, raising the death toll to 32 in the province. A total of 321 people were injured in the county, statistics from the quake-relief headquarters showed.
The county reported 20 deaths before Monday.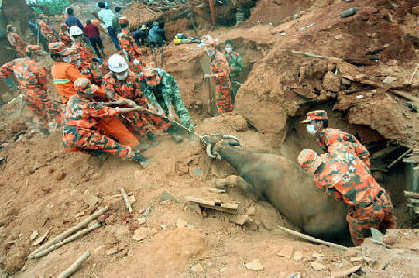 Firefighters try to rescue a buffalo from debris in quake-hit Panzhihua, Sichuan P rovince Sunday August 31, 2008. [Xinhua] 
The publicity department of Chuxiong Autonomous Prefecture of Yi Ethnic Group, one of the quake-hit areas in Yunnan, said one more body was retrieved Sunday evening there, adding up the death toll to six in the province.
Latest investigations showed that 195 people were injured in the prefecture, including 47 serious. More than 300,000 people were affected as houses of nearly 13,000 households were destroyed or damaged.
Nearly 3,700 people had moved to safe places with help from 1,100 police officers. More than 900 medical workers helped with first aid, disease control, medicine and equipment supply campaigns.
The Ministry of Civil Affairs announced Sunday night that the quake killed at least 32 people and destroyed some 258,000 houses after jolting parts of Sichuan and Yunnan.
A total of 467 were injured and about 152,000 people were evacuated, it said.
Areas affected by the quake were Panzhihua and Huili, both in Sichuan, and autonomous prefectures of Chuxiong, Dali, Lijiang and Zhaotong cities, all in Yunnan Province. Kunming, capital of Yunnan, was also hit.
Most of the fatalities were in Huili, Chuxiong and Panzhihua, which sit on the southern  end of the faultline of the May 12 quake that left more than 69,000 people dead and nearly 18,000 missing.
In Panzhihua along, five deaths and 132 injury cases were registered and more than 32,000 people were evacuated for safety concerns. More than 1,800 houses collapsed and nearly 100,000 others were shattered. Many bridges, roads and reservoirs were damaged, according to the disaster-relief headquarters.
In the quake zones, more than 300 aftershocks had been monitored as of Sunday afternoon, but the occurrence of tremors above 6.0-magnitude is unlikely in the next two weeks, a seismologist said.
(Xinhua News Agency September 1, 2008)