By Wang Zhiyong, China.org.cn staff reporter
Thirteen enterprises were honored at China's fourth Forum on Corporate Social Responsibility held in Beijing on January 10.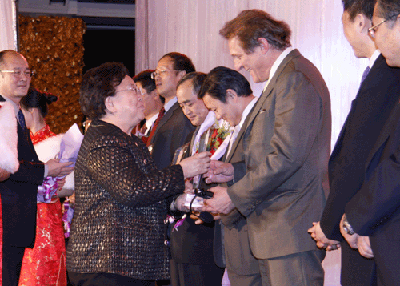 Peng Peiyun, president of the Chinese Red Cross, presents China's Corporate Social Responsibility Awards in Beijing on January 10, 2009. [China.org.cn]
Themed as "Thirty years of reform and opening up – growth with responsibility," the forum was jointly sponsored by China Newsweek and the Red Cross Society of China.
Peng Peiyun, the president of the Chinese Red Cross, presented the awards.
The 13 award-winning enterprises were: China Construction Bank, Bank of China, China Datang Corporation, China Steel Corporation, Lenovo, China Ping An Insurance, Total (China), Volkswagen (China), Du Pont (China), Hitachi (China), Amway (China), Philips (China), and Phoenix Satellite Television.
China Steel, China's first multinational enterprise, issued a report on sustainable development in Africa last October, signaling its determination to fulfill its social and environmental responsibilities in its overseas ventures.
The thirteen award winners were selected in a ballot of all registered enterprises in China. Preference was given to companies that performed well both in business and in fulfilling their social responsibilities.
The final list of winners was drawn up after a three-stage selection process, a public vote, a media forum, and an expert appraisal based on a corporate social responsibility index.
(China.org.cn January 11, 2009)