Visions of shaking school buildings haunt the dreams of 18-year-old student Bayang.
The headmaster of an elementary school, Fu Wencai, jumps on his feet every time someone bangs a door.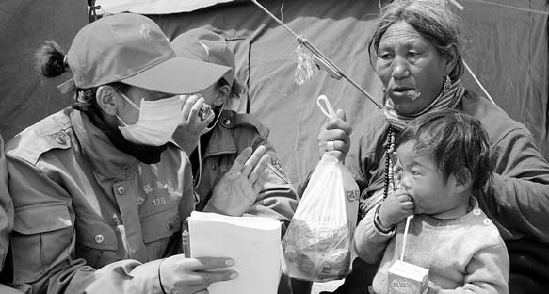 Quake victims receive psychological counseling in Yushu on April 18.[Xinhua]
They are just two survivors of the earthquake that struck Yushu on April 14.
More than 10 days after the 7.1 magnitude quake reduced most of Yushu to mere rubble, thousands still struggle with anxiety and stress.
"It is common for people to suffer from irritability, anxiety, fear, despair, guilt, numbness and confusion after such an earthquake," said Guo Yanqing, a psychological expert with the Beijing-based Peking University Sixth Hospital.
Guo is one of three experts sent by the Ministry of Health to Xining, Qinghai's provincial capital, to provide psychological training to medical workers dispatched to Yushu.
"Each day seemed like a year after the quake," said Bayang, a senior student of the Yushu Prefecture Ethnic Middle School. Luckily, no student or teacher at the school was hurt or killed.
Bayang volunteered after the earthquake, setting up tents, helping nurses give shots and distributing relief supplies. She returned to school on April 23 as classes resumed in makeshift houses on its playground.
But nightmares keep the 18-year-old Tibetan girl awake at night.
"I dream of the earth shaking under my feet and school buildings trembling," she said.
Fu Wencai, headmaster of Yushu's Hongqi Elementary School, said counseling is a must, especially for the young.
"Although no one was hurt at our school on April 14, I'm sure fear has taken root in the kids' hearts," said Fu.
"Not just the kids, even the adults, including me, have fears. Every time I hear someone slam a car door closed, BANG, I jump on my feet fearing another earthquake," he said.
He said classes would resume at the end of this month and he would let the children play more, "so they can forget the fear," Fu said.
Shen Zhenming, vice-director of the Tangshan No 5 Hospital, who arrived in Yushu on April 20, said generally speaking about 30 to 40 percent of quake victims needed counseling.
He had already provided counseling for more than 50 people at local hospitals.
"Loss of homes, families and properties, in addition to worries of ensuing aftershocks, are keeping people in fear and causing insomnia," said Shen, who is himself a survivor from the earthquake that struck Tangshan in 1976.
Many people in Sichuan province suffered from severe depression after the Wenchuan earthquake in 2008, and some even became suicidal, he said.
He said psychological counseling should focus on helping quake victims face what they lost in the quake to speak out about how they feel and pin new hopes on the future.
But Shen acknowledged it was still hard to get many quake victims into counseling due to difficulties in communication.