The Qinghai government intends to rebuild earthquake-devastated Yushu in three years and then transform the prefecture into an ecological tourism destination after an additional two years.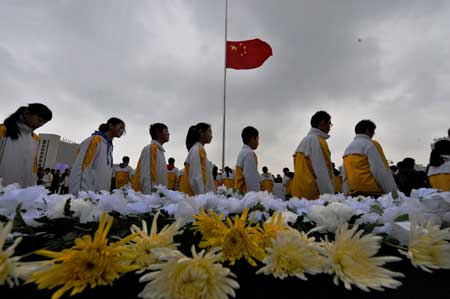 Students in Xining, Qinghai Province attend a ceremony yesterday to mourn people killed in the Yushu earthquake.[CFP]
Emergency rescue work at the earthquake site ended Saturday. The April 14 earthquake killed at least 2,220 people.
Vice Premier Hui Liangyu, who recently toured the quake-stricken areas to check on disaster relief work, asked the local government to start a new phase of reconstruction work based on scientific plans, the China News Service reported Saturday.
Luo Huining, governor of Qinghai Province, told the China News Service earlier that the provincial government will finish major reconstruction projects in Yushu in three years and use another two years to develop the prefecture into a plateau ecological city with a focus on tourism and trade.
The plan calls for developing Yushu into a tourist attraction and promote it as the origin of three rivers, which are the Yangtze River, the Yellow River and the Lancang River, to enhance its attractiveness.
A pilot project in the prefecture will help narrow the gap between urban and rural areas using economic and social development.
Located in the origin of three rivers, the nation's biggest natural wetland, Yushu has 280,000 people, of whom 97 percent are Tibetans. It has many advantages as a potential ecological tourism city, the China Environment News reported earlier.
There are more than 2,000 mountains that sits more than 5,000 meters above sea level in Yushu with many cultural heritages, including the temple of Princess Wencheng, who is credited with making contributions to improve relations between Han and Tibetan people during the Tang Dynasty (618- 907).
A general planning scheme for the future Yushu will be submitted to the Ministry of Housing and Urban-Rural Development today by the housing and urban-rural development of Qinghai Province, the Guangzhou Daily reported.
Some of the heritage sites were destroyed in the earthquake including the Jiegu Temple, the biggest Tibetan Buddhism temple in Yushu, with a history of more than 500 years.
The Ministry of Culture gave 3 million yuan (US$439,110) in emergency aid to Yushu to protect cultural and historical sites including intangible cultural heritage after the earthquake, the Yangcheng Evening News reported earlier.
"All destroyed cultural heritages will be rebuilt with top level standard," said Wang Jianping, a deputy director of the provincial culture department.
Urban planning specialists from Tsinghua University opened an earthquake relief planning office with Qinghai University to cooperate on the reconstruction plan for Yushu. The plan emphasizes ecological tourism and how to preserve Tibetan traditions, the China Education Daily said Saturday.
Major General Li Jun, director of the political department in the military district of Qinghai Province, told the Guangming Daily that the People's Liberation Army and People's Armed Police will try their best to save and protect Tibetan cultural heritages.