The 11th Panchen Lama, one of the most revered figures in Tibetan Buddhism, on Saturday led more than 700 Tibetan monks at Taer Monastery, Qinghai province, in prayer for victims of a devastating earthquake in the province's Yushu region last month.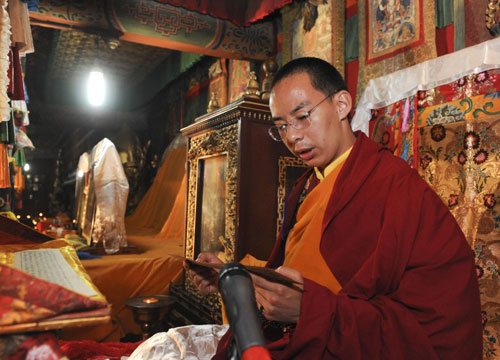 The 11th Panchen Lama Gyaincain Norbu prays on Saturday at Taer Monastery in Qinghai province for victims and survivors of the devastating earthquake that struck Yushu last month. [Photo / Xinhua] 
At the Taer Monastery, he prayed to guide the souls of those who died in the earthquake and to encourage the survivors to overcome hardships caused by the disaster and to rebuild their hometown.
At least 2,200 people died after the 7.1 magnitude earthquake struck the Yushu region on April 14. More than 100,000 homeless survivors in Gyegu town near the epicenter are living in tents as reconstruction begins.
The Taer Monastery is one of the six biggest temples of the Gelug Sect in Tibetan Buddhism. It was built by the Guru Tson-Khapa, founder of the Gelug Sect and the teacher of the first Panchen Lama and the first Dalai Lama.
The mass prayer in Taer Monastery followed the 11th Panchen Lama's visit on Friday to Yushu, a predominantly Tibetan region, in which he visited the quake-damaged Gyegu Monastery and led hundreds of Tibetan monks to pray in a tent - a makeshift monastery hall.
The Gyegu Monastery was severely damaged in the quake. Its buildings were rendered too dangerous for habitation.
After the service in the tent, the 11th Panchen Lama walked out and chanted prayers, facing the site where the dead were cremated.
The 11th Panchen Lama on Friday also visited the ruins of Thrangu Monastery, which was totally destroyed, and consoled thousands of monks and believers who welcomed him there. Many received the long-expected head-touching blessing in tears.