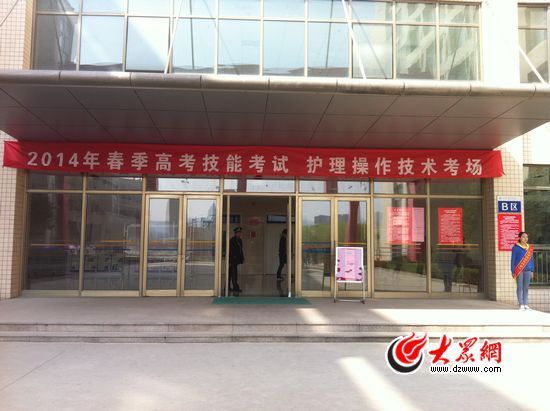 The examination place for Aseptic Technique Operation.
The 2014 Spring Gaokao (National Higher Education Entrance Examination) started on March 10. The professional skill test, a new exam added this year, has 230 scores which account for 31 percent of the total.
Shandong Medical College is the main exam place for nursing tests and pharmacy practice exams. The exam entitled the "Aseptic Technique Operation" demanded the wearing of sterile gloves and use of sterile items. Each step in the testing received its own scores, and the overall process was overseen by two examiners. The exam started on March 15 and will last until March 19.
457 students joined in the first day of examinations on March 15. The highest score was more than 220; the lowest only 50.
"It is pretty good and it tested things that we practice every day," one student said.
Nearly 100,000 students registered for the spring examination, which this time around counted 37,000 more enrollments than last year. Compared with the Summer College Entrance Examination, the springtime one focuses on skills rather than on academic scores, mainly targeting vocational school students seeking higher education.
"You cannot see the full ability of a student simply from an examination paper," Zhou Tianzeng, president of Shandong Medical College, said. "From now on, the skill test will become routine."