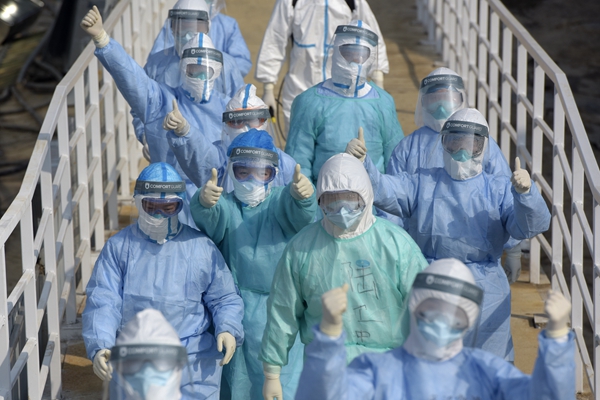 Medical personnel pose for a photo at Huoshenshan (Fire God Mountain) Hospital in Wuhan, central China's Hubei province, Feb. 4, 2020. [Photo/Xinhua]
The 2020 Spring Festival was very different for Chinese people. The outbreak of the new coronavirus, or 2019-nCoV, required attention, patience and close cooperation according to instructions given by authorities. As a result, numerous citizens have had to stay at home and cancel their holiday or business schedule for safety reasons.
Despite these precautionary measures and the natural uncertainty about the evolution of the public health crisis, Chinese society has remained significantly united.
This is perhaps China's most important "profit" in the last weeks. Even under extreme circumstances, the public is not disillusioned but determined to fight together with biologists, doctors and the government and tackle the problem.
The Chinese leadership never looks for excuses, even if criticism against it in international media is sometimes unfair. The outbreak of the 2019-nCoV and its fast spread was due to a delay in the diagnosis of the virus and in the implementation of measures – mainly to forbid the immediate movement of persons from the city of Wuhanin central China's Hubei province.
Despite flaws that are noted and will shape future actions, the general mobilization of the Chinese government has been impressive and is internationally acknowledged.
The battle the Chinese government is waging is twofold. On the one hand, it supports patients. The construction of a hospital in only a few days in Wuhan is a strong example of this. This support also includes efforts to test medicines that can be effective and to develop a vaccine.
Meanwhile, the Chinese government provides financial support to people and companies suffering economic losses due to the disruption of their activities. Several Chinese cities have already decided to bailout small companies.
As far as the international reaction is concerned, there are countries which do help China with donations. Daily briefings in the Ministry of Foreign Affairs refer to specific cases along with the gratitude of the authorities appreciating support in difficult times.
A remarkable one is Japan which has sent masks, goggles, protective suits and other supplies for epidemic prevention and control. Further to this, in his 2020 State of the Union address, President Donald Trump spoke about coordination of actions with China.
Sadly, incidents of racism and xenophobia against Chinese citizens and people with Asian characteristics have also occurred. Panic fueled by media reports lead individuals to occasionally show an unacceptable attitude. Blocking entry to specific places due to fear of infection, for example, reminds us of grim practices of the past.
It is certainly positive that there are journalists across the world who stigmatize this behavior and warn about the impact of the production of prejudices. It is more likely for people in Europe – where racist incidents occurred – to be infected by seasonal influenza than by 2019-nCoV.
While rumors and malign coverage are not a rare phenomenon, China has already achieved a lot. Public health scholars explain mortality rates of other diseases – such as the 2009 H1N1 flu – had been much higher in comparison to 2019-nCoV.
For its part, the World Health Organization is praising the efforts by the Chinese government and is refraining from announcing extreme measures as opposed to the overreaction of a few countries. Director-General Tedros Adhanom Ghebreyesus recently expressed his confidence that Chinese actions would prevail over the epidemic.
Chinese citizens deserve an embrace to boost their morale in these critical days. Human values are still existing, aren't they? So, the Chinese society should know it is not alone in this battle.
People are not viruses and a disease does not discriminate. The new coronavirus is an international problem, not a Chinese one. And the victory against the novel coronavirus will be a global one, not a Chinese per se.
George N. Tzogopoulos is a columnist with China.org.cn. For more information please visit:
http://www.china.org.cn/opinion/GeorgeNTzogopoulos.htm
Opinion articles reflect the views of their authors, not necessarily those of China.org.cn.
If you would like to contribute, please contact us at opinion@china.org.cn.