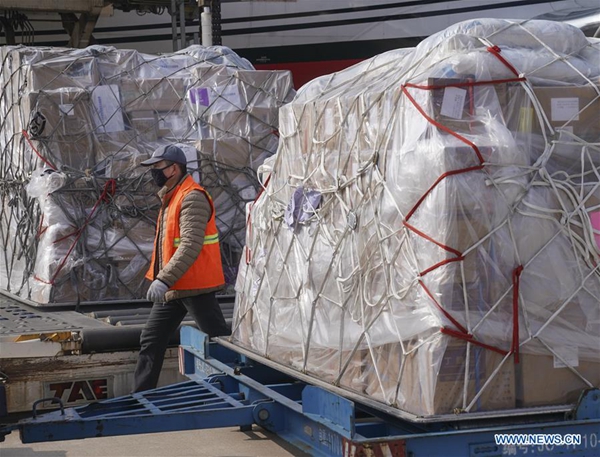 Chinese enterprises along with foreign companies have come together to fight the massive novel coronavirus outbreak by donating funds, medical and daily necessities.

As of Feb. 6, more than 1,930 enterprises donated money and supplies worth more than 19.2 billion yuan ($2.75 billion) to aid China's epidemic battle, according to CSR-Cloud, a commercialization platform for research results at the Research Centre for Corporate Social Responsibility of the Chinese Academy of Social Sciences (CASS-CSR).
CSR-Cloud reported that 1,249 private enterprises donated a total of 11.97 billion yuan. The Alibaba Group topped the list with a 1-billion-yuan donation. Tencent donated 500 million yuan and the Yunhong Group donated 310 million yuan. Bosideng and Baidu each donated 300 million yuan, and companies such as ByteDance, China Merchants Bank, Meituan Dianping, Muyuan Foods, Liby, Zhejiang Geely Holding Group, China Fangda Group, and Evergrande each donated 200 million yuan.
COFCO tops the list of China's state-owned enterprises with its donation of supplies and funds worth a total of 762 million yuan. This includes donations from its brand - China Mengniu Dairy Company which gave milk supplies worth a whopping 660 million yuan. The China Merchants Group came in second with its donation of 210.5 million yuan while the China Three Gorges Corporation took the third spot with its donation of 154.35 million yuan. By Feb. 6, 82 of China's state-owned enterprises contributed a total of 3.4 billion yuan.
As of Feb. 6, 254 enterprises from outside the Chinese mainland donated a total of 1.38 billion yuan in cash and supplies. Donations from companies in America, the Hong Kong SAR, and South Korea rank among the top three. Among them, 74 American companies donated a total of 384 million yuan. Asia Pulp & Paper (APP), which is part of the Indonesian conglomerate Sinar Mas, is the top donor with its contribution of more than 100 million yuan.
Aside from donations, companies, foundations and industry associations also mobilized massive aid efforts. China Fortune Land Development (CFLD) not only donated 21 million yuan, but also cut rents by half from Jan. 23 to Feb. 22 for all businesses renting shops, booths and offices in its commercial properties. Wanda Group also waived rents and property management fees for businesses renting shops, booths and offices in its real estate properties nationwide until Feb. 25. This amounts to 4-billion-yuan in aid.
Fosun Foundation procured medical and epidemic prevention supplies and materials worldwide and sent them to the coronavirus-hit areas. BYD donated 10 million yuan along with face masks worth 1 million yuan bought by its overseas branches. It also assembled hundreds of drivers and staff to form a fleet of community cars to help medical staff travel to and from work as well as to help the general public in need of emergency trips.
China's State-owned Assets Supervision and Administration Commission worked with more than 300 national-scale social organizations in the power, machinery, textile, steel, coal, petrochemical, commerce and logistics industries to help fight the pneumonia epidemic through a variety of ways. It also donated cash and various supplies such as masks, glasses, disinfectants, detergents, home appliances and food. The Commission also made sure that the companies building the temporary hospitals in Wuhan received the construction materials they needed to finish their work. Many companies also mobilized their workers to work around the clock to produce the essential products for people in the virus-hit areas.