"I am getting my strength back day by day after being discharged from the hospital," said Mr. Yu, with his nose hooked up to a medical oxygen machine to support his breathing.
The severely ill man in his early50s recovered from the novel coronavirus disease (COVID-19) and was allowed to go home after receiving a 15-day treatment at Jinyintan Hospital in the city of Wuhan, the epicenter of the coronavirus outbreak.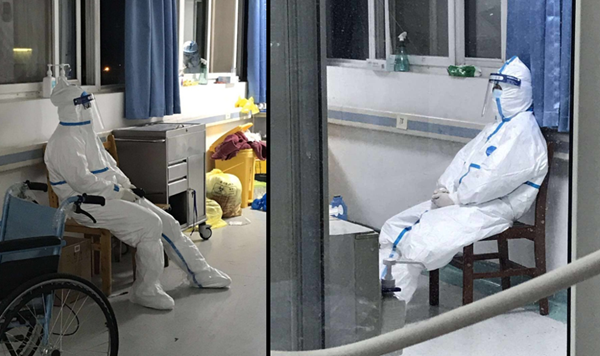 Medical staff take a short rest at the corridor late at night after finishing a busy day's work at Jinyintan Hospital in Wuhan, Feb. 3, 2020. [Photo provided by Mr. Yu]
According to China's National Health Commission, as of Friday midnight, a total of 20,659 patients have recovered and have been discharged since the coronavirus emerged late last year.
Despite Yu's negative coronavirus tests, he was left with a heavily impaired lung function. He coughed so much that he could only speak in broken words, relying on extra oxygen to relieve the symptom.
"Even a slight move could bring me a bad cough and difficulty breathing to the extent that I could die at any moment," said Yu. But so far, Yu has felt that his symptoms are getting better, which has cheered him up so much that he has four meals a day.
Staff from Yu's community and his doctor from Jinyintan have been keeping in touch to learn about his condition. After a fortnight of home quarantine, Yu returned to the hospital on Wednesday for a CT scan; the result showed significant improvement in his lung function and a blood-oxygen saturation of around 95, which reduced his need to take in extra oxygen up to an interval of six hours.
Infection and recovery
Yu recalled that he started to show symptoms, including fever, cough, severe muscle pain, and a loss of appetite, on Jan. 12. Considering that he has periodic bouts of couching every winter, he thought that he was suffering from acute bronchial paroxysms and chose to seek treatment at a community hospital nearby. After three days of treatment, his cough got even worse.
On the evening of Jan. 15, Yu felt muscle aches while his temperature soared to 41 degrees Celsius. He rushed to his car and drove to the west campus of Wuhan Union Hospital only to find the facility packed with patients and a shortage of empty beds.
The dose of medicine Mr. Yu takes after being discharged from the hospital. [Photo provided by Mr. Yu]
Yu was diagnosed with the novel coronavirus infection after undergoing a blood test and a CT scan over his lung. He tried to figure out when and where he could have contracted the virus but had no luck. Fortunately, his family members have not been infected.
Yu did not go home but stayed in his car all through the night. A deep fear gripped him as there was no specific drug that could kill the coronavirus. Even worse was that there was a huge shortage of hospital beds.
Yu made a decision. "I would isolate myself from home until death even if there is no empty ward bed for me," he said.
At dawn of the next day, Yu came back to the community hospital, notifying them of his infection. They helped him contact the Wuhan No. 5 Hospital, where he was admitted.
Later in the early morning of Jan. 20, he fell unconscious and was transferred to Jinyintan Hospital, designated for critical COVID-19 patients. On the same day, human-to-human transmission in the COVID-19 outbreak was first confirmed by respiratory expert Zhong Nanshan, head of the National Health Commission's high-level expert team.
Thanks to the timely treatment, Yu felt an improvement in his symptoms after a week in Jinyintan Hospital, which encouraged him to keep fighting.
"I had no appetite at first, but I tried to cram food into my mouth and swallow it directly as my doctor told me to eat more to get my strength back," Yu said.
Yu also talked about the role his willpower played in combating the virus. One day, he woke up in the hospital from unconsciousness caused by high fever only to find his family members burst into tears in a video call. "They need me," he thought.
Gratitude and giving
The experience of recovery allowed Yu to witness first-hand the work that front-line medical staff did to treat patients. They risked infection in handling urine and feces of critical coronavirus patients. Sometimes, they were so tired that they had to shuffle their feet across wards. Only late at night when they were not busy would they find a seat in the corridor to take a rest.
When reports came that blood plasma from people who have recovered from the coronavirus can be used to treat those still battling the infection, Yu, with no hesitation, decided to donate his blood. However, he was refused by his doctor as he was still very weak.