On Jan. 1, Dr. Xia Wenfang received a diabetic patient who was running a fever, coughing, and breathing difficultly. A screening found the patient's lungs had symptoms typical of viral pneumonia, and he was later transferred to another hospital specialized in treating respiratory diseases.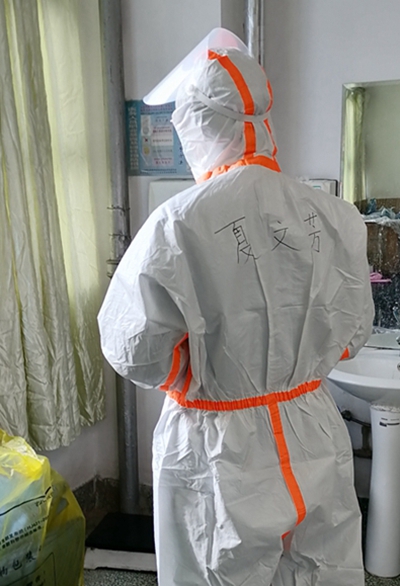 Xia Wenfang wears protective gear while working at the fever clinic at Wuhan Union Hospital of China. [Photo provided to China.org.cn]
"We didn't know the patient was infected with the novel coronavirus at that time," recalled the 47-year-old diabetes specialist at Wuhan Union Hospital of China.
That was Xia's first confrontation with the virus, which has since become a deadly epidemic ravaging the city and claiming more than 2,000 lives.
'Charging forward like soldiers'
Xia's hospital saw a surge in outpatient visits from the start of January. It was later designated as one of the first hospitals in Wuhan to screen and treat COVID-19 patients, and its fever clinic became the frontline to combat the epidemic.
The staff at the clinic soon became overwhelmed, and doctors and nurses from other departments were called to support the fever clinic. Xia was one of them.
"Almost all my colleagues younger than 50 in my department joined," she said.
On Feb. 7, Xia began to work at the fever clinic after receiving training.
The doctors are divided into two groups: The first group is responsible for receiving and treating patients, and the second group, mostly senior doctors, is tasked with helping the first group of doctors to treat patients with complex problems.
Xia was in the second group. She sometimes has to work for more than 10 hours continuously.
During the peak of the outbreak, the fever clinic received more than 800 patients a day, she said. They came with different symptoms—some mild, some serious. Doctors had to make quick diagnosis and come up with a treatment plan as fast as they can.
Senior patients with chronic diseases are the most vulnerable to the deadly virus, and Xia took full advantage of her over 20 years of experience treating diabetes and other endocrinic diseases.
"Endocrinology physicians pay more attention to a human body's inner environment," said Xia
"Whether a COVID-19 patient can fight the disease depends much on his inner environment," she said. "When COVID-19 patients have high blood sugar levels or high blood pressure, or have electrolyte imbalance, an endocrinology physician has more experience to fix the problem, thus increasing the possibilities of curing them."
As the epidemic continued, doctors and nurses also began getting infected. So far, more than 2,000 medical workers across the country have been confirmed with the novel coronavirus infections, including at least 10 deaths.
"Medical staff working at the fever clinic are just like soldiers charging forward on the battlefield," she said.
Recently, Xia said the number of new patients every day kept dropping thanks to new hospitals set up to treat infected patients.
The tumor center of her hospital has been adapted to an 850-bed ward for the treatment of novel coronavirus patients.
"More than 20 patients at the fever clinic have been transferred to the tumor center of our hospital, so beds are emptied," said Xia. "This is a huge relief."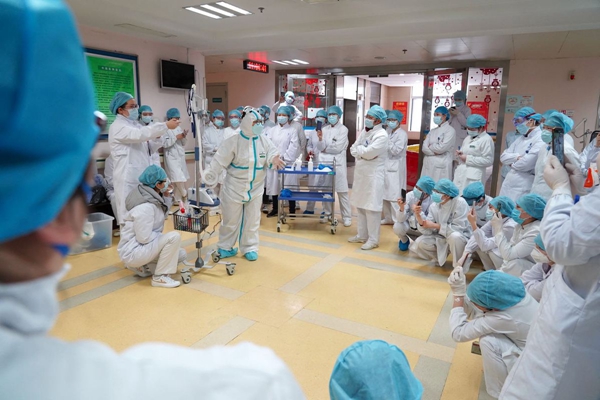 Medical workers receive training at the tumor center of Wuhan Union Hospital of China. [Photo/chinadaily.com.cn]
To avoid cross infection, air conditioners are not allowed at the hospital, and windows are always kept open for ventilation. Xia said the clinic can get quite cold, but she also feels hot and stuffy working in her protective suit after a while.
The suit wraps her from head to toe throughout her six-hour shift. It also takes effort to put on and take off. Xia said it took her more than half an hour to put on the suit the first time
The goggles have been an unexpected challenge, between them fogging up and the edges digging into her nose and cheeks. She learned ways from colleagues to overcome these annoyances, like applying liquid soap to the lens and using sticky pad to protect her face.
Everyone has their way of coping with stress. After work, she would get on WeChat and chat with her colleagues, encouraging and bantering with each other. Xia said that has been a good way for them to alleviate stress.
When she is not busy dealing with patients, she fields inquiries from patients online. Since the hospital launched online consulting services, it has received more than 70,000 inquiries.
'Everyone is growing up and playing a part'
Sometimes, bravery, good will and support from the patients inside the clinic were also important: "Their smiles, the thumbs-up." She recalled a diabetic patient with suspected COVID-19 symptoms giving up the last bed at the fever clinic to another patient in his 70s in more critical conditions.
"That was an incredibly moving experience," Xia said. "With their understanding and support, we have more confidence in defeating the disease."
Support also comes from outside the hospital. Xia said she sees colleagues wearing different kinds of masks and protective suits, which might be donated by all kinds of people.
"Protective equipment is far from enough here," she said. "Each mask, each protective suit, and each pair of goggles have to be fully used, and not a single one of them shall be wasted."
She said the hospital has got an ad hoc team to test donated protective equipment to make sure they are safe for frontline medical workers to use.
Xia hasn't seen her son for over 10 days since she began working at the fever clinic, putting herself in quarantine after each day's work to avoid infecting others. However, Xia said she knows her normally rebellious 17-year-old son has surprisingly well behaved since the outbreak.
"In this epidemic, everyone is growing up and playing a part," she said.
After the epidemic ends, Xia said, the first thing she will do is to take off the mask and breathe as freely as she can.