On Jan. 22, college teacher Li Ke has just returned to his hometown Xianning, a neighboring city of Wuhan, preparing for a family reunion for the upcoming Spring Festival. However, he was due to return to Wuhan to do some work on campus for the first three days of the national holiday.
Unexpectedly, that night, Wuhan announced a lockdown of the city from Jan. 23. The teacher, thinking about fulfilling his duty, drove back to Wuhan the next day after the announcement.
The decision meant he was trapped in Wuhan away from his family until now, while witnessing the true Wuhan in more than a month. And he didn't allow himself to sit by.
To be a volunteer
In a WeChat group, Li and his alumni and friends talked about the virus and situation and decided to do something practical to help the city by forming a small volunteer group.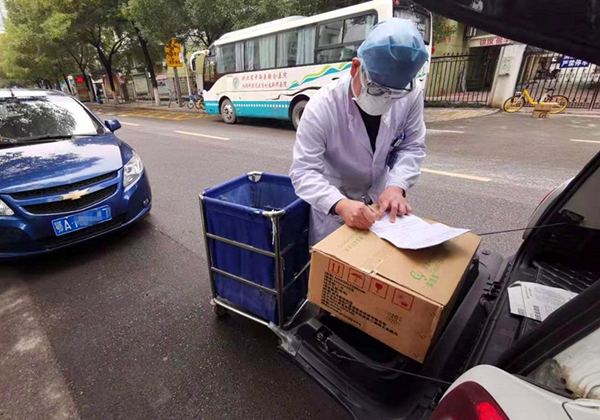 A medical worker signs a receipt for a batch of medical supply donations from volunteers and donors. [Photo provided to China.org.cn]
They quickly crowd funded nearly 800,000 yuan ($114,440) and bought batches of medical materials including 32,000 masks, 10,000 protective suits, 2,000 bottles of medical disinfectant and 3,000 goggles from outside the city, as some friends in the group were businessmen and had channels to arrange acquisition and transportation.
Li and other volunteers in Wuhan city took the responsibility to contact doctors and hospitals to distribute the materials according to public requests for help by the hospitals. According to him, they contributed to more than 20 major hospitals and about 40 community clinics.
Wuhan was in serious shortage of medical supplies at the beginning of the outbreak and the frontline medical workers were in grave danger, despite the nation's emergency response and donations from all over the country and even the world. "I think, the frontline fight was very cruel and massive, consuming most of the supplies. These medical materials became fast-moving consumer goods."
One time, a head nurse of a children's hospital in Wuhan cried over their donation of a batch of protective suits after Li noticed they didn't have enough vital gear for their work. He was touched too. "They have great pressure and danger out there, but now at least they know we care. The ordinary people care about them."
The city is 'in order'
The teacher heard about the urban rumors about COVID-19 in mid-January. But at that the time, he, like the majority of people in the city, didn't really pay much particular attention. "We just thought it was something with a small probability.
Now, it became a black swan. According to Li, many people started to panic when hearing about the lockdown of the city, "It was unprecedented for everyone. This is a mega-city with more than 10 million people, and now it is just in lockdown. There was no explanation about how to deal with transport, logistics, supplies and medical care, so we were nervous."
Everything has worked out in the end. Each residential block have a taxi service, supermarkets and grocery stores have the sold-out goods replaced on the shelves the next morning. The city has also built field and shelter hospitals at the fastest pace and set up more quarantine areas in hotels and university dormitories to receive more patients. Everyone calmed down very soon.
Unlike most of others who stayed at home for most of the time, Li was constantly out there to distribute the donations to hospitals. He told China.org.cn he would like to use "everything is in order" to describe the scenes he saw.
"I frequently went to hospitals, from what I saw, though everyone is on big pressure, they are doing things orderly, like lining up," he said, "In supermarket, it is the same. Everyone is quiet, everything is in order."
The daily necessities are secured, though the vegetables sell out fast. They can still buy bags of ordinary disposable masks in supermarkets to protect themselves though the more protective masks like N95 are still hard to get.