On February 2, the United States banned all travel from China, except for journeys by its own citizens. Australia and a few other countries have since followed suit.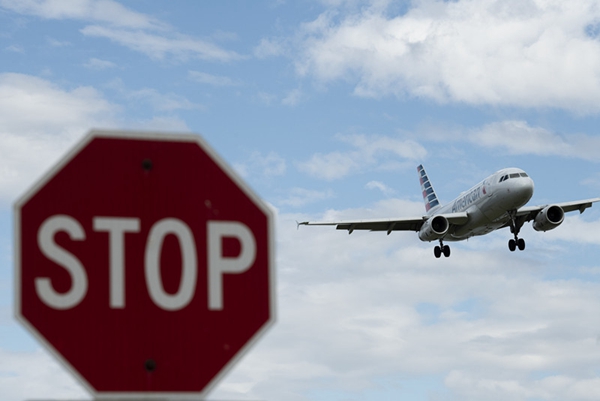 Photo taken on March 10, 2020 shows a stop sign and a plane approaching to land at Ronald Reagan Washington National Airport in Arlington, Virginia, the United States. [Photo/Xinhua]
On March 10, the number of confirmed COVID-19 cases in the United States surpassed 1,000. The increase of 297 in one day was its largest increase yet; indeed, the number of new cases has increased daily since the beginning of March.
These figures are only those of confirmed cases, however. The true number is much higher, but the United States does not have the testing capacity to test more than a fraction of those who might have contracted the virus.
Clearly, banning travel did not work. The World Health Organization, former Customs and Border Protection officials, and many, many experts have all come out to declare travel bans do not work. By now the virus has spread to over 100 countries, along with cases spread across many nationalities aboard cruise ships.
Up until March 11, the United States had only banned travel from China and Iran. You may feel it curious that, for weeks, the only countries from which the American president banned travel were in Asia with which it is involved in a geopolitical conflict, when many European countries are facing crises just as bad. Finally, on March 11, Trump announced a 30-day ban on travelers from all EU countries.
Italy has reported more cases than Iran and, in fact, many more cases as a proportion of total population than China ever did. South Korea, Spain, France, and Germany also all have over 1,000 cases. The response of banning travel from China and Iran was very prompt after the case numbers in those countries increased, but it took a much longer time for this travel ban to touch Europe.
Yet, there will still be many people coming from other countries where the virus is present. And the ban will do nothing to stop people already in the U.S. from spreading it to others.
Journalist, Julia Lindau, wrote about her experience of returning to the U.S. from Italy. She had just left from nearby a "hot zone" and yet upon arrival at the Chicago O'Hare Airport she did not have her temperature checked or have to answer questions about her travel. Yet, I recently returned from China, and I had my temperature checked and had to fill out multiple forms.
Meanwhile, China has not banned travel from the U.S. or any other countries. The number of new cases has declined drastically in China, with even fewer cases outside of Hubei province, the original epicenter. China's response proves the virus can be controlled without using overly broad measures like travel bans.
China took a proactive response, waging a "people's war", which included closing public places, closing businesses and then slowly allowing them to reopen after a cooldown period, teaching classes online, and establishing checkpoints across the country. Cases are being tracked closely, and people who potentially have had a contact with a virus source are being duly informed. People returning to cities are accepting self-isolation. Temperature checks are common before entering residential neighborhoods, shopping malls, and other spaces. Different provinces and cities also have different levels of local measures they are taking as necessary.
Since the virus began spreading quickly in South Korea, China stepped up measures on travelers (including Chinese expats) entering the country. It established a self-isolation policy and greeted travelers at some airports in Shandong province, handling a large number of flights from South Korea, with dedicated buses to transport them to a quarantine site. Travelers from Italy, Japan, the United States, and other high-risk countries are also being quarantined.
Yet, China has not banned travel.
The U.S. did ban travel, but without adopting a unified effort to fight the virus in the country. It did not take advantage of the one month when there were few cases to develop tests. It has not put forth any unified policy on how to handle travel and events. Many large-scale events have been canceled now, but others are still going on.
Where is leadership or guidance in all this? Democratic presidential frontrunners Joe Biden and Bernie Sanders have canceled campaign rallies, but Trump has not. In fact, it was reported by Politico on March 11 that Trump refuses to declare a national emergency because, "an emergency declaration contradicts his message that this is [just an outbreak of] flu."
This epidemic poses a multi-faceted challenge that requires a multi-faceted response. Simple solutions like banning travel don't work. Governments and their leaders must take it seriously and must come up with better, wide-ranging plans.
Mitchell Blatt is a columnist with China.org.cn. For more information please visit:
http://www.china.org.cn/opinion/MitchellBlatt.htm
Opinion articles reflect the views of their authors, not necessarily those of China.org.cn.
If you would like to contribute, please contact us at opinion@china.org.cn.