When Wuhan and the surrounding areas started to suffer from COVID-19 in early January, the hard but then largely ignored reality was that the virus would respect no borders. Two months later convenient illusions collapsed and this hard reality is being dramatically felt in the West.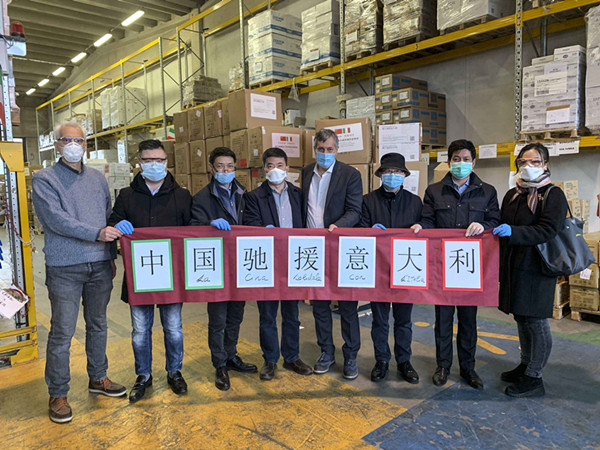 Chinese Consul General in Milan Song Xuefeng (4th L) and Luigi Genesio Icardi (4th R), councilor for health of the region of Piedmont, pose for a photo in Turin, Italy, March 14, 2020. About 26.4 tonnes of medical materials raised by eastern China's Zhejiang province have arrived in the northern Italian city of Turin, according to the Chinese Consulate-General in Milan. [Photo/Xinhua]
The current situation in Italy, a country that was among the first helping China in January, is worrying. Fatalities are rising and the total number of infected people exceeds 23,000.
It is not now the appropriate time to look to assign responsibilities for the belated response to this expanding contagion. It is time to offer solidarity to Italy to help it to be done with the nightmare. A friend in need, is a friend indeed. This is what the Chinese Ministry of Foreign Affairs was reiterating in January and February.
After two months of draconian measures and herculean efforts, China has already brought the problem under control at the national level. It is currently determined to show global responsibility and support other countries such as Italy.
An emotional message was recently published on the social media accounts of the Chinese Embassy in Rome: "Maybe you have forgotten about it, but we will always remember. Now it's our turn to help you." This message reflects the traditional Chinese thinking and culture.
Italy not only provided China with help during the COVID-19 pandemic but did the same thing 12 years ago in response to the Wenchuan earthquake that killed more than 69,000.
Following recent communications between Foreign Ministers Wang Yi and Luigi di Maio, China began to exhibit its solidarity. In particular, it decided to send tons of medical supplies and dispatch a team of experts. The medical team, symbolically sent from Sichuan province where the 2008 earthquake occurred, is sharing experiences with the Italian Ministry of Health, the Red Cross and other institutes of health and infection control as well as hospitals.
Chinese expertise in raising awareness of self-protection is equally valuable in a period during which people are naturally afraid and can become victims of internet fake news on supposed cures. No surprise, Beijing's initiative has been welcomed by Italian citizens.
More importantly, President Xi Jinping and Prime Minister Giuseppe Conte have held a telephone conversation and discussed future steps. Xi confirmed China's commitment to sending more medical supplies and doctors to Italy.
Approximately one year after the visit of the Chinese president to Italy, where Beijing and Roma agreed to work together to construct the Belt and Road Initiative, the two sides are strengthening mutual cooperation under different, certainly more difficult conditions. Friendship is thus forged and optimism for future multilateral synergies might be generated.
The critical question is whether the international community will emerge stronger from the global fight against COVID-19. China looks towards the future envisaging the creation of a community of shared future for all humanity. A Health Silk Road goes hand-in-hand with its ambition.
The Director General of the World Health Organization Tedros Adhanom had supported the idea, giving a talk at the Belt and Road Forum for Health Cooperation in Beijing in 2017. He spoke about the necessity of putting in place systems to contain outbreaks or crises.
Sharing several goals with the UN Sustainable Development Goals, the Health Silk Road concept is expected to be widely discussed in the medium-term.
International collaboration remains the key. China and Italy tend to share common ground. The COVID-19 outbreak should lead all people to greater appreciation of human life. The prevention of pandemics is not any longer a theoretical or abstract goal. It is a tangible obligation that should unite world leaders.
George N. Tzogopoulos is a columnist with China.org.cn. For more information please visit:
http://www.china.org.cn/opinion/GeorgeNTzogopoulos.htm
Opinion articles reflect the views of their authors, not necessarily those of China.org.cn.
If you would like to contribute, please contact us at opinion@china.org.cn.