By David Ferguson
China.org.cn correspondent reporting from Sichuan
davidf@china.org.cn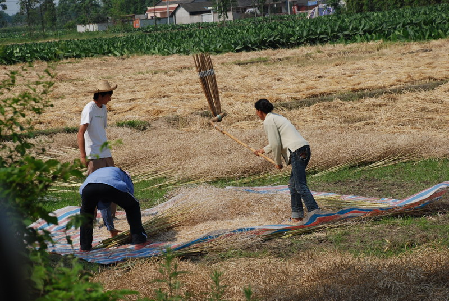 Life goes on – Peasants flail rape-seed in the fields.
Preparing to leave for Sichuan, I feel like I am being sent into a war zone. I am issued with a bag of medicines the size of a small suitcase.
"Stick together at all times", we are told. "Safety is your number one priority."
Arriving in Chengdu, the capital of Sichuan, the sense of unreality continues. Only 90 km from the epicenter of the quake, the primary impression is one of normality. Throughout the city, people go about their daily business. Restaurants and shops are open and full. Buildings are undamaged.
There is nothing at all to indicate the catastrophic losses that have occurred in the nearby mountains. Well, almost nothing. Every so often you can see a tent pitched or a tarpaulin stretched on a patch of open ground, a sign of a resident putting caution before comfort.
Chengdu must be like one of those French towns in the First World War, a similar distance from the swathe of trench horror that cut the length of the country. Ninety km from the front line, life there must have proceeded much as normal.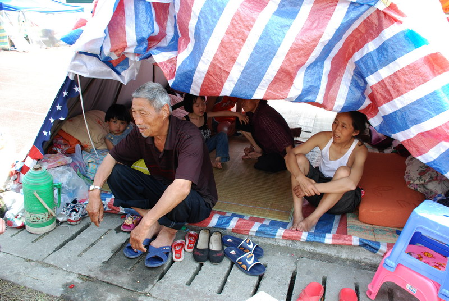 Patience in adversity – goods lost, but all lives safe
Traveling north-west from Chengdu towards the earthquake epicenter, that sense of normality continues. The fields are full of crops, and farmers are at work. It is the time for planting rice and for harvesting rape seed. Everywhere, flails pound the rape bushes, separating the grains from the winter fuel. Bright green carpets of tobacco provide a blaze of color. A man fishes peacefully on the grassy banks of the Yangtze River.
At Shifang City Relief Camp the facade breaks. Outside the camp, there is a montage of photos of the earthquake and its aftermath. An anthology of suffering.
Some of the photos are graphic in their brutality. One shows the bodies of two young men, suspended from the upper floors of a collapsed building. Their limbs and torsos undamaged, they hang by heads and shoulders crushed under falling masonry.
Inside the camp, hundreds of makeshift tents. Fortunately, there is no shortage of emergency tenting material. Every farm would have its supply of polytarps, normally spread along the sides of the roads at this time of the year for drying grains and seeds. Now the crops lie on the bare ground, and the tarpaulins have been pressed into a different service.
We speak to a farming family who have lost their home – one old man, two younger women, an adolescent boy and two toddler girls. They lost everything in the quake, but they all escaped. Three families are sharing their tent, ten people in all.