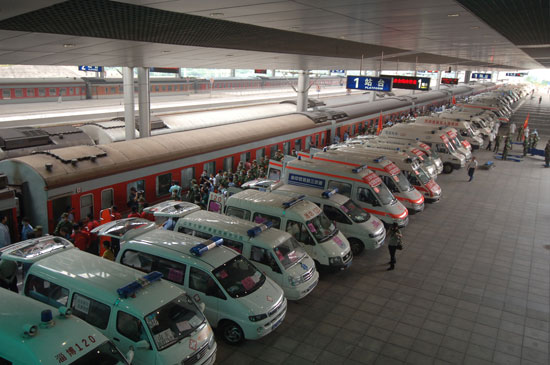 Ambulances at Chongqing north railway station get ready to carry 208 injured earthquake victims from Sichuan to local hospitals.
China's Ministry of Railway spokesman Wang Yongping said on May 26 that the railway lines linking the earthquake-shaken areas are monitored 24 hours a day to ensure smooth transport .
The railway staff is paying particular attention to monitoring bridges and tunnels.
After the 6.4 Richter scale aftershock struck Qingchuan yesterday afternoon, new problems began to assail railway transportation. An emergency counter plan was put in place immediately, said Wang.
All passenger and freight trains running in earthquake areas were stopped for safety checks. A careful investigation of many arteries linking Chengdu, Lanzhou, Chongqing and some other cities found that except for a few sections affected by rockslides, most of the rail lines are clear and are functioning normally. The railway staff took steps to clean away rockslides, reinforce railway bases, limit train speed and set up appropriate guideposts. Trains that had been temporarily stopped began to run again several hours after the latest aftershocks hit. At present railway transportation is functioning normally.
The Number 109 tunnel along the Baoji to Chengdu line suffered no serious damage because immediate work was undertaken to ensure that the tunnel remained open and safe. To date, over 70 trains have passed through this tunnel after it reopened.
Due to heavy rain forecasts authorities have drawn up an emergency counter plan.
Lots of tents and temporary houses delivered
The railway authorities have also made all their efforts toward delivering relief supplies including tents and temporary houses to the disaster areas quickly.
All the railway bureaus are required to keep in close contact with tent manufacturers so as to ensure adequate and ongoing supplies heading for disaster sites. Baggage cars holding relief supplies have been added to passenger trains going to Sichuan.
According to the spokesman, the relief supplies transported by rail have amounted to 4.85 million tons, including 221,000 tents, 31,700 temporary houses and 1.03 million units of medicine. In addition, the railway has also carried other supplies to quake-hit areas: 880,000 tons of coal, 290,000 tons of grain, 410,000 tons of gasoline, 4.19 million quilts and clothes, 5.97 million boxes of drinking water, 2.66 million boxes of instant food and 315,000 tons of assorted military goods.
Additionally, trains have carried 460,000 relief workers.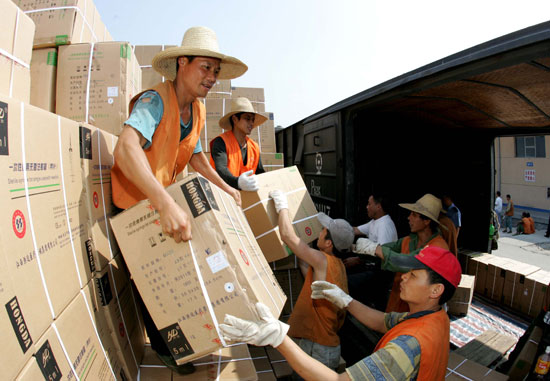 Workers carry relief supplies into a train leaving for disaster areas.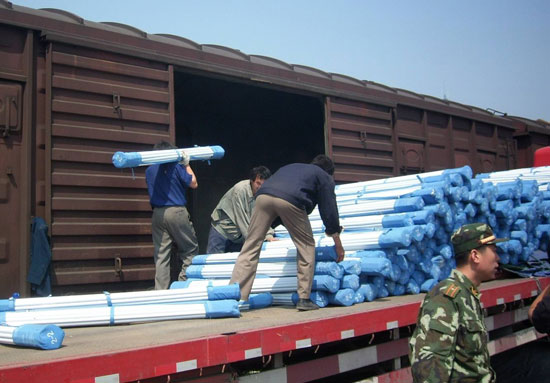 Tents are moved into a train departing for disaster areas.
12 trains for injured victims
Twelve special trains have been arranged to transfer 3,070 injured victims, 3,073 nursing staff and 1,183 medical staff to other cities, including Chongqing, Xi'an, Kunming, Guiyang, Hankou, Changsha, Zhengzhou and Hangzhou.
All the carriages have been cleaned and disinfected and train staff has received additional training to ensure public safety for everyone.
(China.org.cn by Wu Huanshu, May 26, 2008)