Ye Zhiping is not the type of man who waits for others to offer him assistance, he just rolls up his sleeves and gets on with it.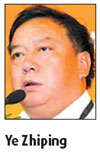 The headmaster of Sangzao Middle School in Anxian county, Mianyang city, one of the worst-hit areas in the May 12 Sichuan earthquake, shot to fame for keeping all of his students and staff safe as a result of years of evacuation drills, a rare practice in a rural school.
And now, while others are waiting for help, this heroic headmaster is working flat out to raise the funds needed to rebuild his school.
"So far we have raised only 96,000 yuan ($13,700), which is far from enough," Ye said, adding that several buildings at the school suffered severe damage in the quake.
Attending a disaster-prevention conference yesterday in Beijing, Ye stressed the importance of raising students' disaster awareness. He said that this was vital as most rural school buildings in China were built in the 1980s, and were poorly constructed due to a lack of funds.
Although Ye is now famous for ensuring that his students took part in regular emergency drills, he was in fact unaware of the concept until he experienced a fire drill at a Shanghai hotel in 2004.
Ye, who had been preoccupied by the safety of the poorly constructed school buildings, said: "I was suddenly inspired, and the first thought that occurred to me was that we should do this at my school."
He then made it a rule that the school should hold at least one emergency evacuation drill every semester.
And that meant even more work for Ye and his busy colleagues, as each drill at the small school had to be carefully organized in order to avoid a crush.
Around 2,600 students attend the school, which occupies less than 20,000 sq m, where the lunch break is staggered in order to avoid overcrowding.
Under the drill plan, each class had its own designated evacuation route.
Two classes shared one staircase, but each class had to leave in single file, and then go to a fixed position on the playground.
While the students on the second and third floors had to run faster to keep the stairs clear for their schoolmates, those on the fourth and fifth floors were told to run slower so that no crowds would gather in the narrow corridors or staircase.
At first, the students regarded the drills with some amusement, while a number of teachers complained that it disrupted their classes.
But Ye persisted, and his determination paid off on May 12.
Not a single person was hurt, which was reported widely as a "miracle" as many of the other schools in the disaster-hit region suffered devastating casualties.
Besides the drill, Ye also paid meticulous attention to mending the poorly-constructed school buildings, spending hundreds of thousands of yuan to make it safer.
(China Daily July 7, 2008)