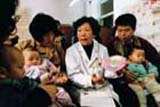 A doctor in the Maternity and Child Care Department at the Beijing Children's Hospital is demonstrating to parents how to use a round diagnosis plate for infant's diarrhea and pneumonia.

The Establishment of the Rural Health Service Network
Of China's 1.2 billion population, 900 million people live in the rural areas. The Chinese government has constantly paid great attention to rural medical and health work. Especially since the reform and opening started in 1978, further developing rural medical and health work to enable rural people to enjoy basic medical health care is one of the goals of China's medical and health departments. Currently counties, townships, and villages are covered by a medical and health network. In 1998, China had 2,037 county-level hospitals, 50,600 township-level hospitals and 728,800 village clinics. About 89.51 percent of the country's 730,000 villages have clinics. There were also 1.3276 million village doctors and paramedics, among whom 74.59 percent were doctors. A good foundation has been laid for realizing the World Health Organization's goal of universal health care in China by the year 2000.