Popular Sports
China's popular sports have developed rapidly in the 50 years since the founding of the People's Republic. During the early period of New China, people just did aerobic exercises to radio music during break times, and took part in the spring and autumn sports meets held each year. As society progressed and the economy developed, recreational sports started to permeate all levels of society. Today, about 300 million Chinese take part in sports activities regularly. In 1951, the All-China Federation of Sports popularized the first set of exercises to radiomusic, and later on exercises for adults, young people and children were worked out. In1954, the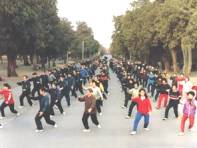 Taijiquan boxing enthusiasts doing early morning exercises.
Chinese government issued a notice stipulating that workers and staff of government offices and other organizations have a ten-minute break in the mornings and afternoons to do exercises or engage in other sports. In the same years the state also worked out a sports system to increase labor and defense capabilities, and it was carried out throughout the country. It was changed into the Athletic Fitness Standard for young people in the 1960s and then into State Athletic Fitness Standard in the 1970s. In the past 50 years, about one billion people have met the state standard.
In more than 20 years since the reform and opening to the outside world started, sports activities have been rich in variety, in the wake of the development of the national economy and improvement of the general standard of living. More and more people consider regular sports activities to be part of their daily lives in both rural and urban areas.
The first New Long March Sports Meeting for the Aged was held in Beijing in 1978. The Chinese Association of Sports for the Aged was founded in April 1983. Then different mass sports associations and organizations were founded, such as the Angling Association, Kite Association and Dragon Boat Association. The popularity of sports activities in China has fostered many world-class athletes. Among the 94 medals captured in the 1988 Seoul Olympic Games, 26 were won by athletes from China's rural areas.
On New Year Day in 1995, the Chinese government put forward the Whole-People Health-Building Plan, with the aim of improving the people's physiques and health. This plan is named the "One-Two-One Project," whereby everyone should take part in at least one sports activity every day, learn at least two health-building methods and take one physical examination once a year. The Physical Health Law of the People's Republic of China was adopted by the Standing Committee of NPC on August 29, 1995. It was the first time for the state to enshrine the principle of "promoting physical culture and building up the people's health" in law.
Juan Antonio Samaranch, chairman of the International Olympic Committee, proposed that China should hold a mass bicycle contest in 100 cities, and in 1995 such a contest was held in China participated in by more than one million people from 107 cities, which was considered an unprecedented event in the world by the representative of Samaranch. In 1998 taijiquan was performed in Tiananmen Square in Beijing by 10,000 taijiquan enthusiasts from both China and abroad. In recent years, some new sports, such as rock climbing, horse racing, bungee jumping, bowling, skateboard, woman's boxing, taekwondo and golf are becoming popular among Chinese people, especially young urban people. Sports grounds and gymnasiums have never been so busy as at present. For example, swimming pools in Beijing open from morning till night, and are always busy, and the number of fitness centers has been increasing day by day. There are also many roller-skating rinks in Beijing. A lot of people also play table tennis and tennis. According to investigations of some Chinese cities, the annual increase rate of the number of people participating in sports activities is two percent.