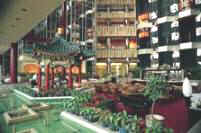 Inside the Beijing Great Wall Hotel.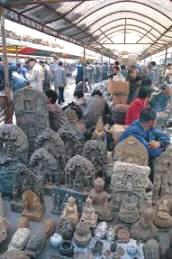 The prosperous Panjiayuan Flea Market attracts many collectors and visitors from all over the world.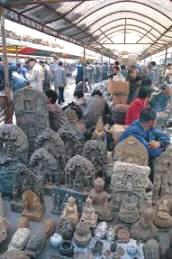 Pulling a tooth from a lion's mouth
(in the Mountain Summer
Resort in Chengde).
Travel Organizations
and Tourist Service
The State Tourism Administration, functioning under the State Council, is the administrative organ of the nation's tourism trade. Its functions are to formulate policies and establish systems for developing tourism, draw up development plans, organize foreign publicity and issue tourism information, and supervise and examine the implementation of policies and plans. The State Tourism Administration has branches in all provinces, autonomous regions and municipalities, as well as offices in Tokyo, New York, Paris, London, Frankfurt and the Hong Kong Special Administrative Region.
There are travel agencies in every city in China. Among them, the following three major agencies host and make arrangements for tourists coming to China:
China International Travel Service With headquarters in Beijing and branches in all provinces, autonomous regions, municipalities and some of the open cities, it specially serves foreign tourists.
China Travel Service and the Overseas Chinese Travel Service of China Both cater to overseas Chinese residents, Hong Kong, Macao and Taiwan compatriots, and foreign Chinese returning as tourists or to visit relatives. Both are headquartered in Beijing, and have branches in open cities, open areas and hometowns of overseas Chinese, as well as permanent offices in Hong Kong, Macao and Thailand.
China Youth Travel Service Based in Beijing, it hosts mainly young foreign people, young overseas Chinese, and young compatriots from Hong Kong, Macao and Taiwan.
In addition, there are the China International Sports Travel Company, China Culture Travel Service, China People's International Travel Company, China Tian'e International Travel Company and China Women's Travel Service, all catering to foreign tourists.Since the initiation of the policies of reform and opening to the outside world, China has built, expanded and renovated many hotels and restaurants to satisfy the needs of tourists. China today has over 3,000 star-rated hotels. Leading five-star hotels are the Palace Hotel, GrandChina Hotel and Shangrila Hotel in Beijing, the Hilton Hotel, Garden Hotel and New Jinjiang Hotel in Shanghai, the White Swan Hotel, China Hotel and Oriental Hotel in Guangzhou, the Fulihua Hotel in Dalian and the South China
Sea Hotel in Shenzhen. Besides, there are now hotels to meet the needs of travelers in all large and medium-sized cities and special scenic areas.
China's transportation system, comprising railways, highways, water transport and civil aviation, has developed in a robust way, along with the tourism industry. China has set up 1,115 domestic and international air routes, and increased domestic inter-city flights. Special trains and air-conditioned buses ply among all the scenic spots to provide comfort and convenience for tourists. At hotels, tourists may book train, bus, ship and air tickets to any destination.
Chinese books, paintings, native products, rare medicinal herbs and handicrafts are all popular with foreign visitors. And handicraft shops can be found in most scenic spots.