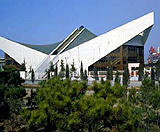 1. Shijingshan gymnasium
The gymnasium, its roof looking likes a soaring eagle. A triangular steel frame is the man structure. The light-green roof is a gigantic streamlined cone, the glass skylight is hexagonal; three big triangular entrance halls and three sets of beams in the form of a tripod all symbolize wrestling for power. The gymnasium is spacious and multifunctional suitable for table tennis, billiards, handball and other sports activities for the ordinary people.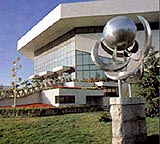 2. Yuetan Gymnasium
The octagonal gymnasium with broad eaves and green roof occupies an area of 10,000 sq m and has a floor space of 10,860 sq m. The brown glass curtains and white glazed-tile walls enhance each other, blending ancient Chinese and modern architectural styles. The gymnasium has two stories, the competition area above ground the training area under ground .The 44*24*13.5 m competition area can seats 2,800 spectators.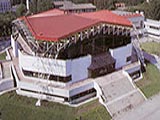 3. Beijing Physical Culture University Gymnasium
The gymnasium occupies an area of 2.8 hectares, has a floor space of 9.800 sq m and can accommodate 3,500 spectators looking like a big ship; it has both competition and training gymnasium. The deep-red fire-prevention wall coverings on the west and east walls of the competition gymnasium set off 10 semicircular silver-white plat forms extending from the east-west corridor connecting two gymnasium basketball, wrestling, judo, boxing, gymnastics, social gatherings and artistic performances can all be held here. Training gymnasium and competition gymnasium connected with cobber, there is a 33m wide, 9m high training count.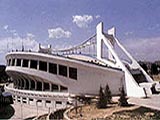 4. Chaoyang Gymnasium
The gymnasium is olive-shaped on the flat and hyperboloid saddle-shaped externally, one fourth is underground. The roof suspended from two main steel ropes, has a rope arch and rope net structure. Forty-four load-bearing ropes hang from the two main ropes, 18 ropes stretch horizontally between the two main ropes. It's a unique and striking structure. The 44*34m competition, table tennis, badminton, gymnastics, and other sports activities, social gatherings, artistic and acrobatic performance, dancing, film and other recreational activities. The stands on all four sides have 2,550 fixed and 800 movable seats, 20 seats are for people in wheel chairs.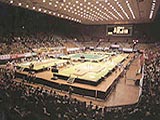 5. Capital Indoor Stadium
Covering 7 hectares in the northwestern outskirts of Beijing, the Capital Gymnasium is the largest in the city, capable of seating 18,000 people, with a total floor space of 40,000 sq m. It is 122 m long, 107 m wide and 28 m high, it's flat ceiling, supported by a steel network, has a span of gymnasium. The gymnasium consists of on competition hall, three training halls and six halls for spectators to rest in. The 88*44 m competition hall can be used for various sports, including table tennis, badminton, volleyball, basketball, and gymnastics. The floor is removable and when filled with water and frozen. It can be used as a skating ice hockey rink.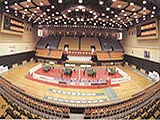 6. Haidian Gymnasium (Table Tennis)
Four white walls, brown glasses at the corners and a peacock-blue steel roof from a colorful contrast. The whole structure has simplicity of line and liveliness of color. The tastefully decorated gymnasium as a floor space of 11,800 sq. m and 2,500 seats. Martial-arts competitions will be held here. The gymnasium can also be used for gymnastic competitions and art performances.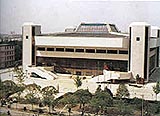 7. University Students' Gymnasium
Four octagonal white pillars and white eaves constitute a big archway in a traditional Chinese architectural style .The sea-blue roof rolls likes waves as four white ridges extend from the center to the four corners, just like four flying dragons The gymnasium has a floor space of 12,000 sqm. The competition hall, 50x32x12m, has viewing stances on all four sides with 4,200 seats. To increase the hall's usability, two thirds of the seats are movable basketball; handball, badminton, table tennis and gymnastics matches can be held here. At normal times it can be divided into three training counts for basketball. If 2,800 seats on the first and second levels are removed, there will be enough room for events such as wrestling, judo, fencing and weightlifting.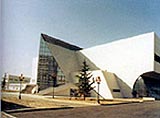 8. Guangcai Gymnasium
The exterior looks like a huge roc, with exits for both spectators and participants under the roc's wings. The cone-shaped large brown-glass windows, the pointed skylight over the competition hall and the outlines of the extended grayish walls create an unusual artistic structure. The big cone-shaped windows look like a sharp, sword piercing the blue sky. All indoor ball games can be held in the 46*32*13.3 m space. The stands, on the south and north sides, have 2,400 fixed and 600 movable seats.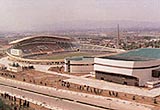 9. Fengtai Sports Center was built in 1990 consist of one gymnasium and one sports field, covering a total area more than 84,400 sq.m. The Sepak Takraw of the11th Asian Game was held in the gymnasium. The gymnasium, with a capacity of 3,000 seats, is also the host of national basketball and volleyball matches.
The sports field has an international standard football court of 105 meters long and 65 meters wide. The field can hold 33,000 people during the event.