"The eco-system on Jiuduansha is well preserved in its original look," says Sun. "It is the last virgin land in Shanghai, as many scientists call it."
Bottom-dwelling, or benthonic, animals like crabs, snails and shells creatures are widely used as indicative environmental monitors since they are very sensitive to such changes.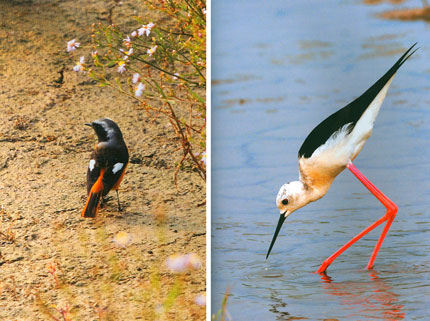 Jiuduansha Wetland provides a friendly habitat for birds, such as phoenicurus auroreus (left) and himantopus (right).
There are about 123 kinds of recorded benthonic animals on the wetland amounting to about 98 percent of benthonic animal species found in the Yangtze River Estuary Wetland.
As a primary producer in the eco-system, benthonic animals provide rich food resources for fish, birds, and macroinvertebrates. The lack of human activities on the island also help attract various animals. There are so far 131 kinds of recorded fish and 186 kinds of birds. Some aquatic mammals like cowfish, dolphin and seal have also been found around Jiuduansha waters.
"We were thrilled to discover 17 black-faced spoonbills on the wetland months ago. It is the first time for the species to appear on Jiuduansha," says Zeng Xianglin of Shanghai Jiuduansha Wetland Nature Reserve Administration.
The black-faced spoonbill is a rare bird with only about 1500 known to exist.
The virgin land, however, faces threats. Apart from occasional visits by migrant birds and fishers, migrant vegetation poses an even greater threat to the wetlands. Spartina alterniflora, a perennial deciduous grass usually found in intertidal wetlands, was introduced to the island in the 1990s.
The initial purpose was to attract birds away from the nearby Pudong International Airport, but the grass has expanded at speeds beyond expectation. It robs local vegetation like scirpus mariqueter of growing space, resulting in degeneration of the original wetlands.
To ensure sustainable development of the island, the Jiuduansha Wetland Nature Reserve was set up in March 2000 and it was listed as a national-level nature reserve in 2005. A wetland museum is planned for 2011 to arouse public awareness of the ecological importance of protecting wetlands.
The reserve administration is also planning a Science Popularization Park of about 5 square kilometers on the island. The mini park will provide access for scientists and ordinary visitors to the island without interfering with natural habitats.
Jiuduansha Island is still growing, yet not as fast as before, according to Sun. Dredging in the upper reaches, sewage disposal and tide changes may all affect its growth.
"We don't have much such land in Shanghai. We cannot afford to lose it again," says Sun.