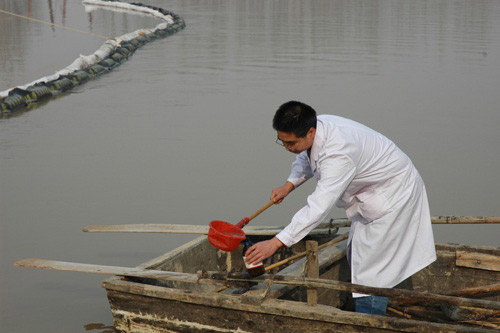 A worker collects a water sample from the Wei River for testing in Weinan, Shaanxi, Jan. 3, 2010. [Xinhua] 
The Yellow River, the water source for millions, has been contaminated by a diesel fuel leak despite efforts to contain the spill in a tributary, forcing authorities along the river to suspend water supplies.
The oil slick reached the Fenglingdu section of the river in Shanxi Province, and was flowing at up to 8 km per hour, China National Radio reported yesterday.
People living along the river in Ruicheng, Pinglu, Yuanqu and Fenglingdu towns have been warned of contaminated water.
The contamination might have been worse if not for efforts by hundreds of workers in neighboring Shaanxi province who dug diversion channels and used floating dams and solidifying agents to stem the leak flowing into the Yellow River from a tributary.
More than 700 workers worked overnight through yesterday morning in Weinan to contain the spill that leaked from a pipeline into the Weihe River - a tributary of the Yellow River - following a construction accident on Wednesday.
The Weinan municipal environment protection bureau received a report from the pipeline project office on Wednesday afternoon that an underground pipeline in Huaxian county leaked in the morning and diesel flowed into Chishui River, one of the tributaries of Weihe.
The leak was found in the afternoon, 2.75 km from a pipeline sub-transmission station, or about 3 km from the point where the Chishui joins the Weihe.
An investigation by the Huaxian county environment bureau showed that 150 cu m of diesel leaked, of which 100 cu m flowed into water, according to Zhang Jianxi, director of the bureau.
Altogether, 15 floating dams were set up in Chishui River and 12 in Weihe River to try and stop the diesel running downstream to the Yellow River. A diversion ditch was dug to allow clean water to flow from upstream to bypass the leak area.
The pipeline, owned by China National Petroleum Corp, runs from Lanzhou in Gansu Province to Changsha in Hunan Province.