Climate change and erratic weather patterns are a major threat to South Africa's farmers, Business Day newspaper in Johannesburg reported on Monday, ahead of the Nov.28 –Dec.9 United Nations climate change summit in Durban.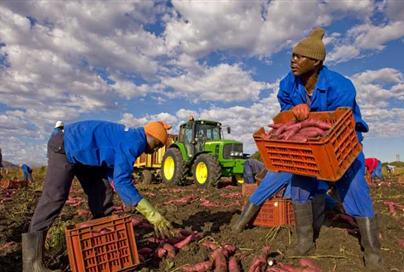 Farm employees dig up sweet potatoes in Brits, South Africa. [Agencies]
The newspaper said studies by the universities of Stellenbosch and Cape Town in South Africa's Western Cape province have shown the negative effects of changing rain patterns on the country's wine region in that province.
As result, a group of 25 grape growers is facing the challenge by investing heavily in irrigation infrastructure to protect their businesses.
The studies convinced the farmers they had to augment their water requirements, or be ruined.
For example, John and Oliver Parker, owners of Altydgedacht wine estate in Durbanville, partnered with 24 other farmers, with each investing a million rands (121,000 U.S. dollars) to install an irrigation scheme.
The group draws recycled water from a neighboring water purification plant.
John Parker said his family has owned the farm for generations and there is no record of farms around here ever needing a supplementary source for water.
He said this shows that climate change is real "and we must start preparing now or the vineyards will fail to produce sufficient grapes and there will be less wine for us to drink."
Ernst Janovsky head of AgriBusiness at South Africa's Absa banking group, said climate change will gradually hit farmers' pockets.
This will make it less attractive to run certain businesses, especially since their profit margins are continually being squeezed by input costs including tax.
This would also include the 25 million rands (3.34 million U.S. dollars) investment that Durbanville farmers have paid to ad apt to climate change. "Such costs make wine farming a trade that one does more out of love than business," he said.
Ebbe Rabie, account manager for agriculture at South African group Aon, said South African farmers reliant on seasonal weather patterns are becoming increasingly unable to plan ahead due to the frequency of extreme events.
"These farmers need to fully understand the importance of including insurance into their risk management processes in order to prevent financial ruin and possible foreclosure."
Rabie said extreme weather incidents are showing greater frequency even in areas of South Africa where they have not previously occurred, devastating farms unprepared to deal with such events.
"If the lack of knowledge around this issue continues, South Africa's food prices could increase and the export produce sector could be at risk," Rabie said.
He added that with the number of farmers in South Africa A falling significantly in recent years, the local economy can ill afford to lose more who are financially unprepared for natural disasters.
Rabie said that rapidly changing weather patterns as a result of global warming have already cost the South African economy billions of rand in damages.
This has prevented uninsured South African farmers from recovery due to the high costs of replacing stock, replanting crops and repairing damaged property.