Superstorm Sandy has claimed at least 16 lives and darkened wide swaths of the U.S. East Coast since making landfall along the southern New Jersey coast late Monday.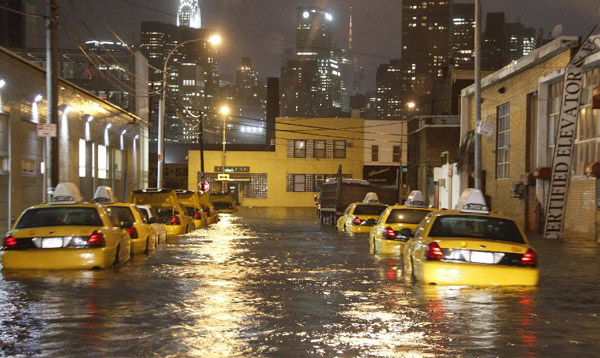 Photo taken on Oct. 29, 2012 shows vehicles in a flooded street in Queens Borough of New York, the United States. Sandy, the 10th hurricane this year, was considered one of the strongest storms ever to affect the U.S. east coast. [Wang Chengyun/Xinhua]
Authorities say at least 16 deaths have been blamed on the storm, which knocked out power to an estimated 6.2 million people on the East Coast.
Arriving in Atlantic City at about 8 p.m. EDT (0100 GMT Tuesday) with maximum sustained winds of 130 kph, Sandy churned up huge waves that smashed parts of the city's famed seaside boardwalk.
Eyewitnesses said a window of a seafront casino was blown out and many trees lining the streets were torn down, leaving numerous branches scattered on the roads.
City officials imposed a nighttime curfew, fearing that the storm's high winds and torrential rains could cause more damage.
Sandy threw an unprecedented 13-foot surge of seawater at New York, flooding streets, airport runways, and even sections of the city's subways lines. The subway system was shut down Sunday night ahead of the storm.
A massive power outage also occurred, affecting areas beyond the planned power shutdown in lower Manhattan.
The city's utility supplier, Consolidated Edison (ConEdison), said it cut electricity to certain Manhattan neighborhoods to protect underwater systems from flood damage.
An electrical outage on the east side, ConEdison said, was caused by flooding and the probable loss of a transmission feeder.
New York City Mayor Michael Bloomberg said backup power had been lost at New York University's Tisch Hospital and the city was working to move patients to other hospitals.
Bloomberg said New Yorkers were making 10,000 emergency calls every 30 minutes and appealed to residents to report only true dangers.
"It means that genuine emergencies are not being answered," Bloomberg said.
He also called for taxis to stay off the roads to make way for emergency vehicles.
With the storm expected to linger, the New York Stock Exchange was to be closed for a second day on Tuesday, after trading was stopped on Monday for the first time since the Sept. 11, 2001, terrorist attacks.
Meanwhile, all major cities along the East Coast -- from Boston and New York down to Philadelphia, Baltimore and Washington -- have suspended public transportation and closed schools and public buildings.
In addition, a replica of the 18th-century HMS Bounty also became a victim of the powerful storm, which killed 69 people in the Caribbean before making its way up the Atlantic.
The tall sailing vessel, which was built for the 1962 Marlon Brando movie "Mutiny on the Bounty," was devoured by waves off North Carolina.
The Coast Guard rescued 14 crew members but another was found "unresponsive" and the captain remains missing.
Virtually everything has come to a halt in the nation's capital.Government workers and school children were told to stay at home for a second day on Tuesday.
Many homes are without electricity with no hope of restoration soon because of high winds and other obstacles.
The National Weather Service warned that the Potomac River, which runs through Washington, would probably experience its worst flooding since a rapid snow melt after the blizzard of 1996.
It is hard to predict the scale of the damage caused by Sandy on the U.S. economy as the storm continues to thrash the East Coast.
Disaster estimating firm Eqecat forecast that Sandy could cause up to 20 billion U.S. dollars in damage and possibly become one of the costliest natural disasters in American history.