Shanghai authorities have guaranteed the quality of the city's drinking water despite more than 7,500 rotting pig carcasses being found floating on the Huangpu River in the past week.
"We have increased the frequency of water quality examination. Two tests are made each day, and so far the water quality is stable and safe," said Liu Fengqiang, vice-director of Shanghai's Songjiang district's environmental department.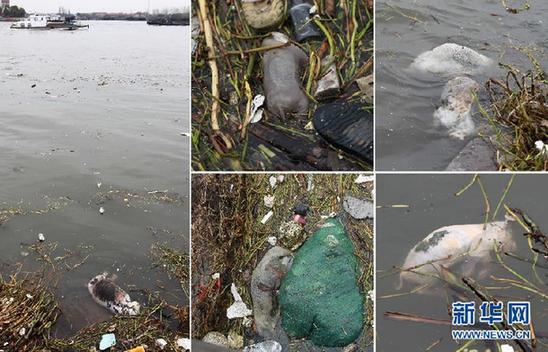 A combination photo shows many bloated dead pigs floating in Huangpu River in Shanghai.
Last week, a large number of dead pigs were found drifting downstream to the upper Songjiang section of Huangpu River from Jiaxing, Zhejiang province. Tests revealed that some pigs may have died from circovirus, a common porcine disease.
Shanghai water authorities said six water intake areas and nine water plants in the Songjiang, Jinshan, Minhang and Fengxian districts were affected. They provide about 2.41 million tons of water for the city each day, accounting for 22 percent of the city's water.
Officials said no hazardous bacteria have been detected, and the water quality meets the national sanitary standards for drinking water.
"The dead pigs were removed quickly. The polluted stream does not affect the water directly around the water plant," Liu said on Thursday.
Officials said circovirus has been added as a key indicator in water quality tests. Other indicators including streptococcus suis, salmonella and E coli O157, are also being tested for.
Some aquatic plant barriers have also been established in the Songjiang section of the river.
Residents remain concerned about water safety.
"I stopped drinking tap water as soon as I heard the news about the dead pigs. In recent days, I've bought bottled water at the supermarket," said Shi Hua, a Songjiang resident.
"No abnormalities have been detected in the tap water. Maybe it's hard to detect. The news really disgusts me," he said.
Shi said he intends to drink bottled water for at least a month.
Liu said: "Residents' concerns are quite understandable. We will continue to closely monitor water quality in case there are any emergencies."
Previous media reports said that people living near the river said it was not the first time they have seen dead animals in the water source.
"The Huangpu River is not a closed pool, and it is also used for transportation, so waste falls into the water," Liu said. "Dead pigs from the upper reaches have previously been seen drifting down to Shanghai, but there were only a few, certainly not as many as this year."
In recent years Shanghai has developed more sources of quality drinking water. The city now gets only 30 percent of its water from the Huangpu River, as opposed to 70 percent previously, he added.