A recent report alleges that several manufacturing companies in the Taihu Basin, such as Foxconn and Unimicron, are facing severe pollution problems ranging from toxic emissions to heavy metal sludge.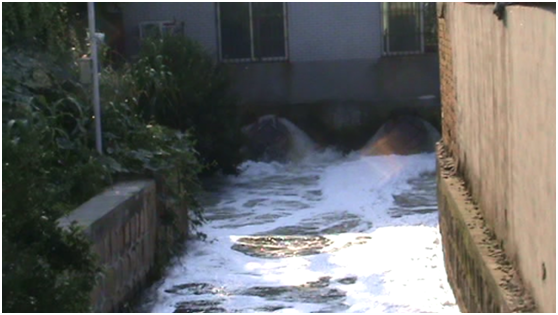 A large amount of wastewater was being discharged into a small river running between two Foxconn factories. [Photo/Lyv Se Jiang Nan]
Five Chinese environmental protection organizations, namely Lyv Se Jiang Nan, The Institute of Public and Environmental Affairs (IPE), Friends of Nature, Envirofriends and Nature University, jointly released an investigation report entitled "Who is Polluting the Taihu Basin?" in Beijing on August 1.
Taihu is the third largest freshwater lake in China and the Tianhu Basin is a major base for IT companies. As the economy of the Taihu Basin has developed, pollution problems have also become much more apparent.
"Through the investigation, the non-governmental organizations discovered that some enterprises in the Taihu Basin are discharging large volumes of wastewater which is causing the sediment in a number of tributaries and rivers around Lake Taihu to be contaminated with heavy metals in amounts that seriously exceed regulatory standards," the report read. It also noted that this contamination had a serious effect on the environment and the health of those residing within the Taihu Basin.
The investigation at the Huangcangjing River
The Huangcangjing River, running through the city of Kunshan in the eastern Chinese province of Jiangsu, is one of the tributaries of Lake Tiahu. During investigations at the Huangcangjing River, local NGO Lyv Se Jiang Nan discovered that a large amount of wastewater was being discharged into a small river running between two Foxconn factories. This water was then in turn being pumped and discharged into the Huangcangjing River.
"One staff employee from Foxconn's pump station told me that wastewater was discharged into the river twice a day, at 6 a.m. and 7 p.m.," said Fang Yingjun from Lyv Se Jiang Nan during the report release conference. Fang said he had witnessed one of the sewage disposals on the morning of July 10, 2013, after a one and a half hour wait. "The sewage is black of color and gives off a pungent odor with a thick layer of white foam floating on the surface," he described.