A series of sub-forums on eco-civilization kicked off simultaneously on the morning of July 10, 2014 in Guiyang, the capital city of Southwestern China's Guizhou Province, marking the start of the Eco Forum Global Annual Conference Guiyang 2014. The theme of this year's forum is "joining hands, leveraging reforms to bring forth a new era of eco-civilization."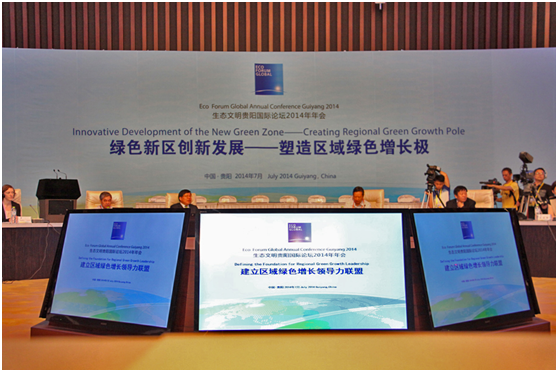 The sub-forum 'Innovative Development of the New Green Zone – Creating Regional Green Growth Pole' opens on July 10, 2014 in Guiyang. [Photo by Ye Hongtao / China.org.cn]
The opening ceremony is scheduled for tomorrow morning and Chinese Vice President Li Yuanchao will deliver an opening speech. The annual gathering attracts an array of government officials, scholars, business leaders and representatives from NGOs across the globe.
Qiu Baoxing, former deputy minister of Housing and Urban-Rural Development chaired the sub-forum 'Innovative Development of the New Green Zone – Creating a Regional Green Growth Pole.' Qin Rupei, vice governor of Guizhou Province, delivered welcoming remarks.
This sub-forum serves as a platform for the Gui'an New Area to learn from the experiences of other new areas in urban development and green growth. Representatives from new areas shared their thoughts on how to strike a balance between new urbanization efforts and pursuing ecological civilization.
Li Xiaojiang, president of China Academy of Urban Planning and Design, said "Each new area has its unique advantages which should be made full use of. Special care should be given to human resources, especially migrant workers who more often than not prefer to settle down in their place of work. New areas should adjust policies to make conditions for them to feel at home."
Gui'an New Area covers 1795 square kilometers, involving 21 towns from Guiyang and Anshun cities with a total population of 730,000. It is the eighth state-level new area approved by the State Council after Pudong New Area in Shanghai Municipality, Binhai New Area in Tianjin Municipality, Liangjiang New Area in Chongqing Municipality, Zhoushan Islands New Area in Zhejiang Province, Lanzhou New Area in Gansu Province, Nansha New Area in Guangzhou and Xixian New Area in Shanxi Province.
The Eco Forum Global Annual Conference, Guiyang was initiated in 2009 through the joint efforts of the CPPCC National Committee of Population, Resources and Environment, Peking University, and the Guiyang government with a view of disseminating the notion of eco-civilization and sharing experiences and model cases in eco-civilization development. The platform was upgraded in 2013 to the only national level international forum focusing on eco-civilization in China. Chinese vice Premier Zhang Gaoli attended the forum in 2013 and delivered a speech at the opening ceremony.