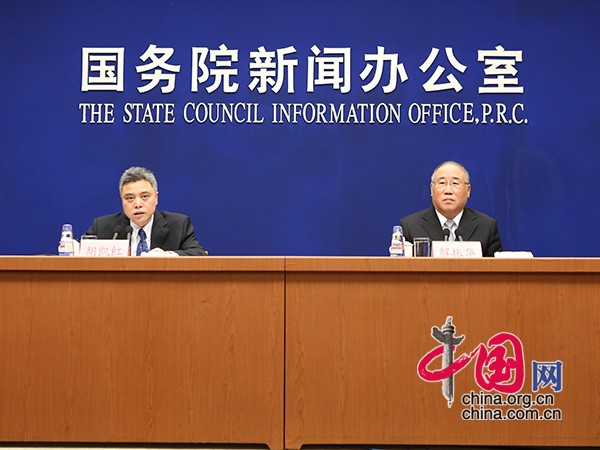 Xie Zhenhua (R), China's special representative on climate change, speaks at a press conference on China's Policies and Actions on Climate Change on Nov.19. [Photo / China.org.cn]
China's chief climate negotiator on Thursday unveiled the country's position on the Paris climate change conference, saying China hopes that "a powerful, ambitious and legally binding deal" can be reached in Paris.
Xie Zhenhua, China's special representative on climate change, made the remarks at a press conference where he released a report on China's efforts to cope with climate change.
Xie added that a 2015 deal should reflect the principles of "common but differentiated responsibilities" (CDR) and "respective capabilities."
The Paris climate change conference, due to begin at the end of November, is the latest attempt by world leaders to reduce carbon emissions through a legally binding treaty after the talk in Copenhagen in 2009 failed to deliver a deal.
Now with frequent extreme weather and related natural disasters as well as the imminent sea-level rise, expectations are high that the Paris conference will reach a second legally-binding treaty to replace the Kyoto Protocol. Yet in the run-up to the conference, major differences remain, particularly on the principle of CDR. Accords and conventions reached previously agreed that rich countries should mobilize 100 billion U.S. dollars a year by 2020 to help developing countries fight climate change.
Developed nations still have much to do in their pledges to provide money and transfer low-carbon and environmental friendly technologies to developing countries, Xie said.
"Each country should deliver what they have promised, which is the basic foundation of political trust," said Xie, adding that mutual trust is a prerequisite to a successful conference.
The chief negotiator reiterated China's goals in its own action plan, called "Intended Nationally Determined Contribution" (INDC): cutting its carbon emissions per unit of GDP by 60-65 percent from 2005 levels by 2030, increasing non-fossil fuel sources in primary energy consumption to about 20 percent and peaking its carbon emissions by the same date.
Yu Qingchan, leader of climate change research at Beijing's Global Environmental Institute, said preparation work for the Paris summit has been much more efficient than that for Copenhagen.
"In stark contrast from the 2009 Copenhagen conference, which asked countries to accept a 'top-down agreement', many countries have submitted their own INDC to the UN Framework Convention on Climate Change ahead of the Paris talks, a reason that we should be more optimistic about the outcome," said Yu.
Yu said public opinion also tilted towards coordinated action in the face of global warming.
At the press conference, Xie highlighted China's other initiatives to curb greenhouse gases such as a nationwide carbon emissions trading market to be launched in 2017.
China has seven pilot carbon emission trading schemes, with total transactions totalling about 1.2 billion yuan (190 million U.S. dollars), according to a report released Thursday by the National Development and Reform Commission. China began piloting carbon trading in 2011. Under the schemes, enterprises which produce more than their share of emissions are allowed to buy unused quotas on the market from those that cause less pollution.
Xie also revealed at the conference that all CO2 reduction targets set in the 12th Five Year Plan, including non-fossil fuel consumption and forest growing stock, have been achieved.
When asked whether China will take further measures or make compromises to deliver fruitful achievements at the conference, Xie said China will ensure that the INDC targets will be accomplished in whatever circumstances.
"The Chinese government and the Chinese people will abide by our promises," said Xie.