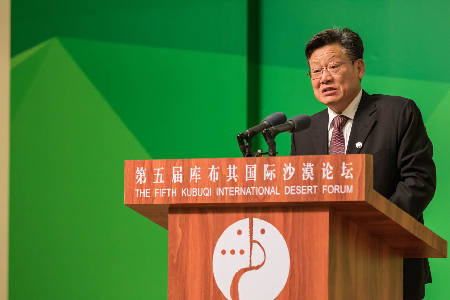 Former Under-Secretary-General for Economic and Social Affairs and Secretary-General of the UN General Assembly on Sustainable Development (Rio+20) Sha Zhukang. 
In an exclusive interview during the Fifth Kubuqi International Desert Forum, former Under Secretary-General for Economic and Social Affairs and Secretary-General of the UN General Assembly on Sustainable Development (Rio+20) Sha Zhukang talked with our staff reporters about the Silk Road and the issue of desertification control. In his view, building a Green Silk Road is the common responsibility of all countries.
Human activities seriously undermine green resources
Sha Zukuang endorsed the forum's central theme, "Desert Ecological Civilization and Co-Building Silk Roads" as highly consistent with the demands of our times, and with the interests of several billion people living in scores of countries along the Silk Road.
Sha observed that the ancient Silk Road was for millennia an artery running through the Eurasian landmass that linked the four ancient civilizations of Mesopotamia, Egypt, China, and India with those of Greece, and Rome. For more than 2,000 years countries along the Silk Road reciprocally fostered open trade, development and win-win cooperation, the fruits of which were mutually beneficial exchanges of goods, people, technology, and ideas.
"Arguably, the ancient Silk Road is a road of exchanges between civilizations, a road of commerce and economic development, and at the same time a road of peace and friendship. It has facilitated dialogues and exchanges between civilizations and also their integration, so advancing the greater prosperity and development of all countries and ethnic groups along the way. The Silk Road represents a glorious chapter in the annals of human history," Sha said.
Sha also expressed his distress at the wars, over-exploitation, and other human activities since that have so seriously undermined green resources along the Silk Road.
"There has been serious degradation of what was formerly fertile land around the ancient Silk Road, due to widespread desertification. Raging sandstorms have obliterated the ancient towns of Shuofang and Loulan, and buried ancient Babylon, turning these originally thriving hubs into ghost towns. The ancient Silk Road, once so vibrant and resounding with the clang of camel bells, has been transformed into a desolate, silent wasteland," Sha said.
He added that this sobering reality should act as a warning to the world that no civilization can survive, let alone achieve sustainable economic development and maintain people's livelihoods, without a fertile ecological environment.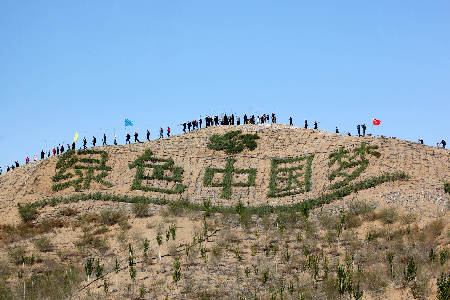 The UNEP Ecological & Economic Demonstration Zone in Kubuqi Desert. 
"The Silk Road must be green"
The Chinese government has put forward the "Belt and Road Initiative" in efforts to optimize development space and promote international cooperation, and to promote a new regional economic landscape.
China aims to work with other countries along the Belt and Road to build an open, inclusive, balanced framework of regional economic cooperation that is of benefit to all and which helps relevant states to form a win-win "community of shared interests" and a prosperous "community of shared destiny."
The Belt and Road Initiative encompasses 65 countries and a total population of about 4.4 billion in its inner and outer regions. It generates an economic output of around US $21 trillion, the Belt accounting for 63 percent and the Road for 29 percent of world totals. It thus constitutes the world's most promising economic belt.
Jointly building the Belt and Road is of fundamental and practical significance in advancing sustainable development of the global economy. It will contribute to eradicating poverty and improving the quality of people's lives, to lessening regional strife and conflict between states, and to resisting terrorist attacks – these are our common goals. Furthermore, the initiative will help provide new and additional channels and platforms whereby countries along the Belt and Road may safeguard national interests, maintain regional stability, promote good-neighborly friendship, enhance political mutual trust, and strengthen friendly exchanges.
Sha Zukang spoke of the considerable differences in natural and geographical conditions among countries along the Silk Road. Most are landlocked and plagued with drought, desertification and other challenges. China's western regions are an example. Many countries in the Middle East and Central Asia also face serious ecological problems, including falling water tables, degraded grassland vegetation, atrophy of wetlands, and a consequent loss of biodiversity.
"These ecological conditions are too fragile to serve as a solid ecological basis for sustainable development of the Silk Road. Therefore, building the Belt and Road demands, first and foremost, concerted efforts to tackle these ecological crises. It is the common responsibility of all countries along the Silk Road to build a Green Silk Road, and to put in place a framework for pursuing a green economy," Sha Zukang said.