An official with the Chinese central government on Monday called on the Dalai Lama to "do something beneficial " for the Tibetan people before he passes away.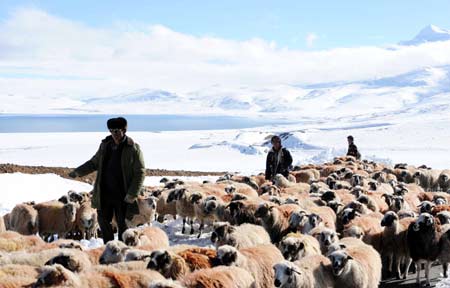 Tibetan shepherds herd their sheep home after a road blocked by snowstorms on October 26 was cleared by soldiers and relief workers on November 1, 2008. [Xinhua]
Zhu Weiqun, executive vice minister of the United Front Work Department (UFWD) of the Communist Party of China (CPC) Central Committee, made the remark at a press conference held by the Information Office of the State Council, or Cabinet.
"We hope that he (the Dalai Lama) could correct his mistakes and get closer to the central government and do something beneficial for the people, including the Tibetans, during the remainder of his life, no matter if his health condition is good or poor," the official said.
"He is in his 70s and in a poor health condition after all, we do not expect him to leave an infamous reputation in history," Zhu said.
China's central government revealed more details of its contact with the Dalai Lama last week in which Du Qinglin, vice-chairman of the National Committee of the Chinese People's Political Consultative Conference, met with the Dalai Lama's private representatives, Lodi Gyari and Kelsang Gyaltsen.
Zhu, UFWD Vice Minister Sita and Executive Vice Chairman of theTibet Autonomous Region Pelma Trilek also held talks with them while they were in China from Oct. 31 to Nov. 5.
On behalf of the central government at the conference, Zhu made unusual remarks on the Tibetan situation and the Tibetans in exile after the current Dalai Lama's passing away.
"We believe that in the present situation most of the Tibetans in exile will not support violence and terror and even in the future we believe most of them will not agree to use violence or terrorism against China or the Tibet Autonomous Region," Zhu said when replying to CNN reporters.
The official said some foreigners and Tibetans in exile had warned that violence and terror might increase in Tibet after the Dalai Lama's passing away.
"Some of them were just blustering and some of them were really reminding us of the possibility," he said.
The office also made a comment on the Dalai Lama's recent visit to Japan by saying "he was quite dynamic although in his 70s and poor health condition".
Zhu warned the Dalai Lama that his religious title, and those of his predecessors, were all given and approved by the central government. If he did not listen to the government's advice and continue his pro-independence policies, the Dalai Lama will leave a bad reputation in history and bring shame on the conferring regulation of the title which has been practiced for more than 450 years.
China blames Dalai Lama side for breaking promise
Serious differences in talks with envoys of Dalai
(Xinhua News Agency November 11, 2008)