Chinese and UN health authorities Sunday kicked off a campaign to fight misconceptions and discrimination against HIV/AIDS in the country.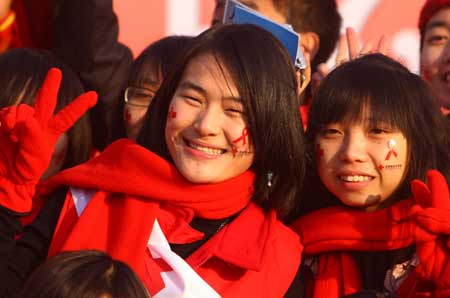 Volunteers wear red ribbons on their faces during a World AIDS Day event at the Olympic Green in Beijing, capital of China Nov. 30, 2008. [Xinhua]
"Stigma and discrimination are major obstacles in an effective response to AIDS," Minister of Health Chen Zhu said at the National Stadium - the iconic venue of the Olympic opening and closing ceremonies - where the Chinese authorities and UNAIDS unveiled a giant red ribbon to signify the nation's commitment.
"We need to engage all sectors of society in China to combat these issues and work together to stop the disease," Chen said on the eve of today's World Aids Day.
"The AIDS ribbon on the Bird's Nest symbolizes the worldwide impact of the epidemic and the need for a unified global response," Peter Piot, UNAIDS executive director, said Sunday in a statement.
Stigma, discrimination, myths and misunderstanding are prevalent even in the more affluent cities of China, UNAIDS said.
In a recent survey, nearly half the respondents in six cities thought they could contract HIV from a mosquito bite, and almost one in five thought they were at risk if an HIV positive person sneezes or coughs near them.
Around four in five had never searched for information on HIV/AIDS; two in three are unwilling to live in the same household with an HIV-infected person; and nearly half unwilling to eat with an HIV-infected person.
Ray Yip, Bill & Melinda Gates Foundation China representative, stressed that awareness and support are both critical in the fight against HIV/AIDS.
"One is, people with HIV/AIDS need to be discovered earlier through testing, and the other one is that for people with HIV/AIDS getting adequate care, support and treatment, so that they do not transmit HIV to more people."
More than 260,000 people have been found to have contracted HIV in the country, the Ministry of Health said in Beijing Sunday, but the ministry, along with UNAIDS and the World Health Organization, estimate that roughly 700,000 Chinese were living with the disease by the end of 2007, including 85,000 AIDS patients.
"It means that about 440,000 still don't know that they have already contracted the virus," Wang Weizhen, deputy director of the HIV/AIDS prevention and treatment department under the ministry's disease control bureau, said.
"In the first nine months of the year, 44,839 people have been found to be infected with HIV/AIDS, and 6,897 died of the disease," Wang said.