Authorities in northwest China announced Wednesday the closure of a smelting plant suspected of discharging waste that caused lead poisoning in at least 300 children.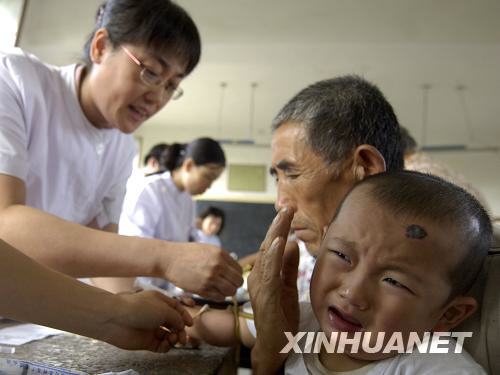 More than 600 children living adjacent to a smelting company in northwest China's Shaanxi Province have shown abnormal blood lead levels, a local official said Thursday. [Xinhua]
As of Tuesday, environmental protection officials in Shaanxi Province had collected samples of groundwater, soil, air and sewage at 28 monitoring points near the Dongling Lead and Zinc Smelting Co. in Fengxiang County, said county deputy head He Hongnian.
He said the environmental protection bureau in Baoji City ordered the closure of the plant on Aug. 6, about two weeks after the first lead poisoning case was reported in 6-year-old Miao Fan.
Doctors at the county hospital diagnosed gastritis resulting from lead ingestion after Miao, from Changqing town where the plant is located, was admitted late July.
Her case sparked widespread fear among residents, who rushed their children to hospital for blood tests. More than 300 lead poisoning cases were reported as of Sunday, with lead levels in blood tests ranging from 100 mg to 400 mg per liter.
Villager Sun Yagang said his 2-year-old son had lost his appetite and had sweated badly since May. Tests indicated the boy had a blood-lead level of 284 mg per liter, well above the normal level ranging from zero to 100 mg per liter.
"We live only 200 meters from the smelting firm. Lead pollution is certain," said Sun.
The county government promised Friday that free treatment would be offered to the children and began health examinations of all children in the town.
As of Tuesday, almost 1,000 children from all three villages in Changqing town had received health checkups to assess the lead content in their blood.
"All the blood samples will be taken to Xi'an and the test results will be known in three to five days," said Guo Baoke, an industrial illness specialist from Xi'an Central Hospital in the provincial capital.
Excessive amounts of lead in the body can harm the nervous and reproductive systems and cause high blood pressure and anemia. In severe cases, it can lead to convulsions, coma and even death.
Guo said children were more vulnerable to lead poisoning than adults and medical intervention was necessary when blood-lead levels exceeded 250 mg per liter.
The smelting plant belongs to Dongling Group, one of the biggest private companies in Shaanxi Province. The plant in Changqing town began operating in 2006, producing 100,000 tonnes of lead and zinc and 700,000 tonnes of coke annually. It directly accounted for 17 percent of the county's GDP last year.
Its general manager Sun Hong said the county government had pledged, in a deal reached before the plant was opened, to relocate all residents living within a radius of 500 meters in three years.
"But the relocation is way behind schedule," said Pu Yiming, chief of Changqing town. "Of all the 581 families that should have been relocated by now, only 156 have moved to new homes."
At a press conference Tuesday, the county government promised intervention to speed up relocation. "We will ensure that all the remaining 425 families are relocated within two years," said He Hongnian, deputy head of the county.
(Xinhua News Agency August 12, 2009)