Uygur farmer Hashim Dawut felt quite touched as he was guided into Premier Wen Jiabao's office at the Zhongnanhai leadership compound in downtown Beijing on Monday.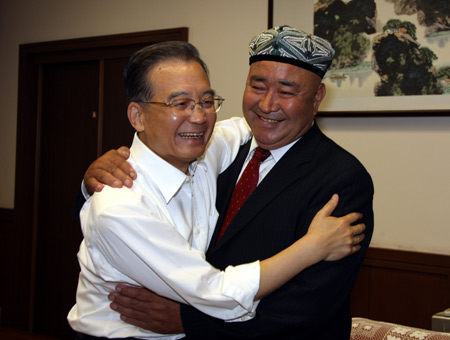 Chinese Premier Wen Jiabao (L) hugs Dawut Haxim, a farmer of the Uygur ethnic group of Bachu County in northwest China's Xinjiang Uygur Autonomous Region, during their meeting in Beijing, capital of China, Sept. 14, 2009.
The 57-year-old man had been looking forward to the moment for more than five years.
Premier Wen met Hashim Dawut for the first time in his village in Bachu county of Xinjiang Uygur Autonomous Region on March 28, 2003, when Wen was inspecting and directing relief work after an earthquake measuring 6.8 jolted Bachu and Jiashi counties, killing268 people on Feb. 24 that year.
Hashim Dawut lost five loved ones in the earthquake, but still worked hard to save his fellow villagers. On hearing his story, Premier Wen paid a special visit to him.
"You lost your family members in the quake, and now you are a family member of all the people in China, including me." No sooner had the Premier's words ended than warm tears welled up in Hashim Dawut's eyes.
Nearly a year later, early February in 2004, when Hashim Dawut went to Beijing to attend an awards ceremony honoring heroes who inspired the nation in 2003. He expressed his wish to meet Premier Wen, who gladly invited him to the Zhongnanhai compound.
Wen asked Hashim Dawut about the reconstruction of his village and asked him to come to the Zhongnanhai again.
China on Monday paid tribute to 100 heroes and model citizens who made outstanding contributions to the founding of New China and 100 more who have inspired the nation during the past six decades.
Hashim Dawut was one of the model citizens and was invited to the event in Beijing on Monday. Before he left for the capital, he wrote a letter to Premier Wen reading: "We have not seen each other for years, and as your younger brother, I miss you so much and want to take this opportunity to meet you again."
And Hashim Dawut was invited into Zhongnanhai again.
During their third meeting, they talked about the villagers' life, the growth of crops and a new rural medicare system for the farmers.
They also talked about the July 5 riot taking place in the regional capital Urumqi which killed nearly 200 people, mostly ethnic Han.
"The 'three forces' (separatism, terrorism and extremism) at home and abroad who incited the riots wanted to damage the brotherhood between the Uygurs and the Hans," said Wen. "And it was heartrending to see our people losing lives and properties in the riots."
"All of us felt grieved, and the bad guys were not willing to see the fact that we are living a happy life," Hashim Dawut responded.
"In Xinjiang, Uygurs and Hans are inseparable, and all the ethnic groups are inseparable, because we are a family," Wen said.
"And we should cherish the stability and development which did not come easy," he added.
"I will bring your words home," said Hashim Dawut.