I . Survey
(i) Geographic Location
Shanxi Province is located in the middle of China, middle reaches of the Yellow River and to the west of Taihang Mountains, thereby being called Shanxi. Most of the province was the territory of the Jin State during Spring and Autumn Period so Shanxi is called Jin for short. Due to the division of Jin State between Han, Zhao and Wei states during the Warring States Period, it is also called" Three Jin". Shanxi Province (N34°34`-40°43` E110°14`-114°33`) covers an area of 156,600 square kilometers with the layout boundary of a parallelogram slanting from north-east to south-west. It is adjacent to Hebei Province to the east with the lofty Taihang Mountains as the natural barrier, opposite to Shaanxi Province and Henan Province to the southwest with the choppy as the moat, and neighbours Inner Mongolia Autonomous Region to the north across the Great Wall. The topographic condition in Shanxi is mostly mountains and hills and the mountainous area accounts for over 80% of the whole province, between which are the catenulate basins-Datong Basin, Xinding Basin, Jinzhong Basin, Jiannian Basin and Shangdang Basin in order from the north to the south. Major Cities: It has 11 main cities, namely Taiyuan City, Datong City, Shuozhou City, Xinzhou City, Yangquan City, Jinzhong City, Lvliang City, Changzhi City, Jincheng City, Linfen City and Yuncheng City, 119 counties or districts and the capital city is Taiyuan City.
(ii) Climate
There is a temperate zone continental climate in Shanxi and the four seasons are clearly identified. The winter is long, dry and cold and the temperature throughout the province is below 0℃ . The summer is long in the south and short in the north, hot and rainy, and the temperature in July is around 21-26℃. The spring is short, windy and sandy with frequent drought. The autumn is relatively short with warm and shiny climate. The annual average temperature is in the range of -4-14℃ . The annual average rainfall is 400-650mm, which is unevenly distributed.
(iii) Population and Nationalities
It has a total population of 33.5521 million, among which urban population is 14.1281 million. Shanxi is an interracial province with 54 minority ethnic groups apart from Han, and the population of minority ethnic groups accounts for 0.35% of the overall population of Shanxi, scattered throughout the province.
(iv) Infrastructure and transportation
Transportation
The roads that have been opened to traffic in Shanxi Province have reached 66,000 kilometers, among which the highways totally reach 1,686 kilometers. The length of railways has reached 2,512 kilo meters and heavy duty and two - way electrization hold a leading position in China's fellow industries. Once the passenger line of Shi-Tai Highway is accomplished, it will only take three hours to get to Beijing from Taiyuan by train. There are more than 40 air routes from the Taiyuan Airport, which is a fi rst-rate port. Changzhi Airport, Yuancheng Airport and Datong Airport have all been put into operation.
Telecommunication
Shan xi is accessible by postal communication throughout the world. The international direct dialing can reach 260 countries and regions and the network of fi xed and mobile communication spread all over the urban and rural areas, the telephone penetration is up to 85%, and Internet & Broadband access penetration reaches 65%.
Finance
Shan xi has 21 financial organs , including Bank of China, Industrial and Commercial Bank of China etc. Most of these financial institutions provide international settlement service, international finance service and cross-border banking services.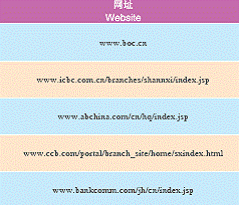 Insurance
At present, there are 15 insurance companies setting up their provincial level branches in Shanxi province. At the end of 2005, the insurance market size in value reached to RMB 12.18 billion Yuan, the insurance services category increased to 1,882, there were 54 professional agencies, 4 broker agencies, 3 Insurance Assessment Institutions, 2,514 agencies concurrently engaged in Insurance business.
(v) Foreign Exchanges
Provinces & States of Friendship
Shan xi has 8 brother states and provinces from 7 countries.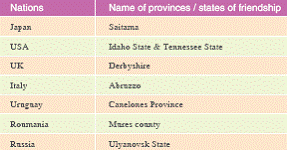 Cities of Friendship
Shanxi Province has set up 18 pairs of close friendly cities with other 10 counties over the world, just as follows: Taiyuan City with Newcastle City of UK, Himeji City of Japan, Syktyvkar City and Saratov City of Russia, Launceston City of Australia, Chemnitz City of Germany, DoualaCity of Cameroon; Datong City with Omuta City of Japan, Bury City of UK; Yangquan City with Chesterfield City of UK, Mountvernon City of USA; Changzhi City with Reading City of USA, Mahr City of Germany, Briey City of France, Upper Hutt City of New Zealand; Linfen City of Chichibu City of Japan; Yuncheng City with Lanciano City of Italy; Pingyao County with Provins City of France. Key Exhibitions & Events From 2007, China (Taiyuan) International Fair of Coal and Energy Industries will be hosted in Taiyuan every year. The first China (Taiyuan) International Fair of Coal and Energy Industries is proposed to be hosted during Sep.16th-Sep.19th 2007, and its proposed scale will be 1,500 display booths, 2,000 participating enterprises and 2,000 foreign merchants. The contents of the fair are consisted of the exhibition of product & technology, investment & trade discussion, theme forum, and trading platform. From Aug. to Sep. each year, China Wutai Mountain International Buddhism Cultural Festival and International Tourism Month will be hosted in WuTai county of XinZhou city. From Sep 26th to Sep 30th each year, Guangong Large-scale Worship Activity will be hosted in YunCheng City.
(vi) Higher Education and Scientifi c Research
Shanxi currently has 75 colleges and universities with more than 12,000 postgraduates and 407,000 undergraduates and college students studying presently. There are 216 research institutes in Shanxi with 1.3 million scientific and technical staff. Shanxi has achieved breaking-throughs in the scientific research areas such as information technology, biotechnology, new material technology, advanced manufacturing techniques and coal washing techniques.
(vii) Tourism
Scenery and Attractions
Shanxi is one of the birthplaces of the Chinese nation with a long history and a gathering of talented people and cultural relics, which produces the saying-"Look at Shanxi and you can find thousands of years of civilization". Many beautiful legends such as" sky-patching by the Goddess"," flood control by Da Yu" and" mountain movement by Yu Gong" all took place in Shanxi. The ancient civilization with an opening-up and long history has also left worldwide known cultural and tourism resources and formed the profound cultural connotation in Shanxi. Wutai Mountain ranks fi rst among the four famous Buddhism mountains. Datong Yungang Grottoes and Ancient City of Pingyao have been listed in the "World Cultural Heritage Directory". The wooden tower in Ying County is the tallest and oldest wooden architecture in the world. Besides, the natural reservation areas such as Heng Mountain, one of the fi ve famous mountains, the ancient garden in Jin Temple, which has been perfectly preserved, Guan Di Temple in Yuncheng, Pangquan Channel, Luya Mountain, Li Mountain and Mang River, offer unique natural, historical and cultural landscape with a variety of scenic views.
Unique Products
The unique products in Shanxi include: Jinci rice, Qinzhou yellow rice, hawkthorn, Fen Chiew (Wine), Chu Ye Ching Chiew, Taigu cookie, Wenxi boiled cookie, Pingyao beef and so on.
Special Food
The special food includes tounao, pared noodles, Taiyuan Dongpo eggplant, Yellow River carp, Tai mushroom, Baode Wantuo, lamb entrails, Shaomai, bean paste cake, bread twist, Xiezhou mutton and steamed
Main Tourism Festivals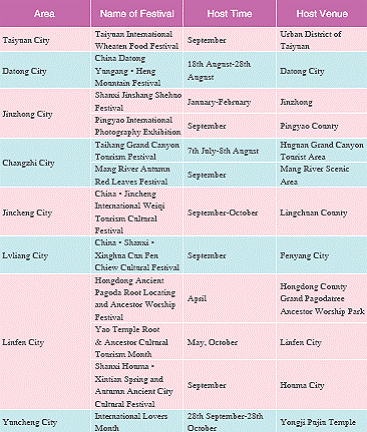 II . Economy
(i) Data of GDP
The total output value of Shanxi Province in the year 2005 reached RMB 412.12 billion Yuan, Per capita gross output valve was RMB 12,320 Yuan, which is equivalent to US $1,530 according to the current exchange rate.
Total Output Value and Growth Rate in Shanxi Province in 2001-2005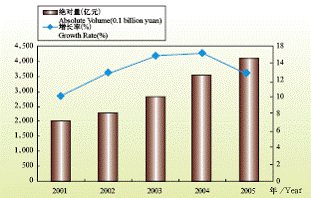 (ii) Main industries and Resources
Resources
Shanxi Province possesses abundant mineral resources. There are 120 kinds of ascertained minerals throughout the province, among which the recoverable deposits of 34 kinds rank within the top ten among the whole country. The reserves of coal, coal bed gas, alumyte, sagger, perlite, gallium, platinum, and zeolite all head the nationwide list. The reserves of limestone, germanium, felspar, copper, and cobalt all stand second on the list. The reserves of iron ore and sulfurous iron ore stand fourth on the list. Some other minerals such as silicon, gold, silver, molybdenum, plaster, graphite, rutile, and asbestos all hold comprehensive development value. Four traditional pillar industries, namely coal, electricity, metallurgy and coke, have been formed in Shanxi on the basis of its rich resources and Shanxi has therefore become an important resource base in China.
Coal
The coal recoverable reserves in Shanxi is more than 258 billion tons, and the annual output of raw coal is approximately 0.5 billion tons, accounting for one third of the total output of China. The annual coal export volume from Shanxi accounts 12 million tons, which is ranking at the top on the list of China.
Coke
Shanxi is the largest base of coking coal resource and coke production base in the country. The coke output of Shanxi province accounts for 40% of the country's output and accounts for 17% of the world's output. The export volume of coke from Shanxi accounts for nearly 80% of the whole country's coke export volume and accounts for 48% of the international trade volume in the coke
market.
Electric Power
Shanxi enjoys exceptional advantages in terms of its electric industry. In the year of 2005, the generating capacity of the whole province reached 131.2 billion kilowatt-hour. With the main two circuitsthe 220 kilovolts two-way circuit and the 500 kilovolts single circuit, an electric network covering the whole province has been formed.
Metallurgy Industry
Shanxi is China's smelting base of iron and steel, aluminium, and magnesium alloy industries, with over 1.5 million tons of the annual output of alumina in 2005. As the most competitive stainless steel manufacturing enterprise in the whole country, Taiyuan Iron & Steel Group is expected to manufacture 3 million tons of stainless steel per year and become the largest base of stainless steel production in the world. Shanxi is also the largest base of magnesium production worldwide. The annual output of metal magnesium ingot and magnesium alloy is around 0.4 million tons, accounting for nearly 70% of the whole country's output and accounting for more than 30% of the world trade volume.
Investment Fields
From 2006 to 2010, Shanxi will focus on the following investment fi elds:
Coal chemical industry. Shanxiwill develop projects such as methyl alcohol and its by-products, ethyne chemical, crude benzol processing, chemical fertilizers, deep processing of coal tar, synthetic oil, coal oven and gas transforming and utilising.
2. Equipment manufacturing industry. Shanxi will focus on developing heavy duty trucks
and coal mineral complete sets, enhancing the sectors of heavy machinery, railway and light rail machinery, textile machinery, basic machinery, coal chemical industrial and environmental equipment, automobile engines and accessories.
3. Material industry. Shanxi will focus on developing the new-type walling materials and
building materials that take coal gangue, fly ash, and industrial residue as the raw materials; meanwhile, the industries of ferroboron magnetic materials, nanophase materials, fire proof materials, kaolin materials and high performance ceramics and fi bre materials will be further expanded.
4. Tourism industry. We will actively introduce investment from abroad to develop the
scenic spots and improve the basic service facilities,and other tourism market related items.
5. High and new technology industry. Shanxi government will emphasis on the opening up
the investment fields of high and new technology such as electronic information, biotechnology and new energies.
6. Special farm and sideline product industry. Shanxi will focus on developing food
processing, Chinese medicinal herbs processing, biological products production, large-scale farming and cultivation, and projects for processing corn, minor cereals, fresh & preserved fruit, and so on.
7. Service industry. Shanxi will accelerate the development pace of service industry and
improve the service quality. We will try hard to develop the modern service sectors such as logistics, finance securities, agencies and information service centers, and the new service sectors such as exhibition, real estate, decorative design, cultural entertainment, and community services. In addition, the traditional service sectors, such as wholesale and retail trade, food and beverage service and hotel, will be reorganized and fostered
8. Infrastructure construction. We emphasis on encouraging foreign investors to participate
in the construction of urban water supply, gas supply, and sewage and garbage disposal, old city improvement & development, public highway & railway etc.
9. Social affairs. We will actively introduce foreign and private investment to the
establishment of private hospitals, schools, and urban Public transportation.
10. We emphasis on encouraging foreign investors to participate in the technologies
imrovement of traditional advantaged industries, such as coal industry, coke industry, metallurgy industry and electric power industry.
(iii)Data on Industry and
Agriculture
The total cultivation area of agricultura products in the whole province was 56.93 million mu (1mu=0.0667 hectares) in the year 2005, and the main crop were consisted of corn, wheat, minor cereal, and oil plants, cotton, vegetable and fruit etc. Among these agricultural products, the output of minor cereals, mainly millet, beans, and potato, accounts for one third of the overall agricultural
output of Shanxi, for which Shanxi is also known as" the kingdom of minor cereals". The minor cereals of Shanxi are famous both at home and abroad by its unique healthy features with high nutrition and quality. In 2005, 2.104 million mu (1mu=0.0667 hectares) of forestry area was accomplished, the total output of all kinds of meat reached 0.906 million tons, andthe total output of marine products reached 38,000 tons.
Industry
Industrial production maint-ained steady and rapid growth, the sales income of the state-owned enterprises and non stateowned enterprises that have an annual sales income of more than 5 million RMB reached
Output of the Main Products (from the state-owned enterprises and the non state-owned enterprises that have an annual sales income of more than 5 million)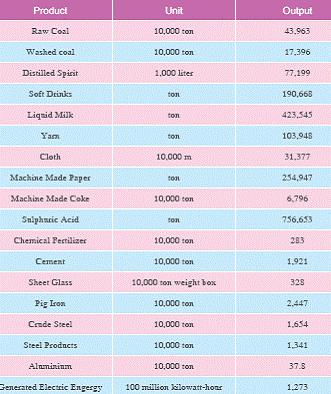 461.93 billion RMB. The output of the main products mostly grew fast.
(iv) Business Data
Foreign Trade
Foreign trade steadily increased. In 2005, total export-import volume of the whole province was US$ 5.55 billion. Among that, export volume was US$ 3.53 billon, and import volume was US$ 2.02 billion. The accumulated trade surplus was US$ 1.51 billion. In export, general trade volume was US$ 3.04 billion, and the processing trade volume was US$ 0.49 billion. In import, general trade volume was US$ 1.57 billion, and processing trade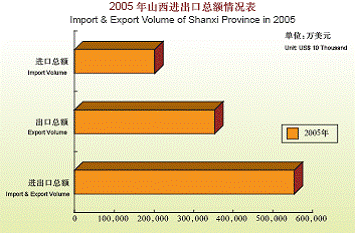 volume was US$ 0.28 billion.
Foreign Investment
Foreign investment in Shanxi was rising steadily. There were altogether 85 newly approved foreign invested projects in 2005, among which there were 35 joint investment projects, 21 cooperative projects, 28 projects fully invested by foreigners and 1 project with foreign owned stock. The total foreign investment in Shanxi was US$ 2.44 billion, among which the foreign investment in the form of contract was US$ 1.1 billion, and the actual use of foreign investment was US$ 0.28 billion. By the end of 2005, the total number of approved projects with foreign investment in Shanxi was 2,056, and the gross investment was US$ 12.878 billion.
International Economic Cooperation The contract sum of foreign contracted projects and cooperation in the fi eld of labor service in Shanxi reached US$ 0.22 billion in the year 2005, with the annual turnover of US$ 0.2 billion. The number of the staff that were sent overseas was 1,195 persontime, and the number of staff that were still overseas at the end of the year was 2,264. There were many enterprises that contracted a large number of engineering projects, and made a demonstrative and leading impact on the improvement of the enterprises'
competitiveness.
Overseas Investment In terms of overseas investment, China (Brazil) Investment Trade Centre, established jonitly by People's Government of Shanxi Province and Ministry of Commmerce is a state level offshore organisation, which is based on Brazil and South American markets as well as dealing with nationwide business. The project of annual producing 50,000 sets of spined voile by Tianli Co., Ltd. (Mauritius) with total investment of 0.29 billion RMB
III . Investment
(i)Policy and Administrative
Rules
Catalogue of Related Laws
Foreign Trade Law of the People's Republic of China
Customs Law of the People's Republic of China
Law of the People's Republic of China on Import and Export Commodity Inspection
Law of the People's Republic of China on Chinese-Foreign Equity Joint Ventures
Law of the People's Republic of China on Chinese-Foreign Contractual Joint Ventures
Law of the People's Republic of China on Foreign-Capital Enterprises
Company Law of the People's Republic of China 
Law of the People's Republic of China on the Entry and Exit Animal and Plant
Quarantine
Law of the People's Republic of China on Control of the Entry and Exit of Aliens
Law of the People's Republic of China on the Control of the Exit and Entry of Citizens
Securities Law of the People's Republic of China
Income Tax Law of the People's Republic of China for Enterprises with Foreign Investmentand Foreign Enterprises
Individual Income Tax Law of the People's Republic of China
Law of the People's Republic of China on the Administration of Tax Collection
Environmental Protection Law of the People's Republic of China
Law of the People's Republic of China on Evaluation of Environmental Effects
Law of the People's Republic of China on Promotion of Cleaner Production
Law of the People's Republic of China on Prevention and Control of Desertifi cation
Marine Environment Protection Law of the People's Republic of China
Law of the People's Republic of China on the Prevention and Control of AtmosphericPollution
Law of the People's Republic of China on Prevention and Control of EnvironmentalPollution by Solid Waste
Law of the People's Republic of China on Prevention and Control of Water Pollution
Law of the People's Republic of China on Prevention and Control of Environmental
Noise Pollution
Law of the People's Republic of China on Prevention and Control of Radioactive Pollution
Frontier Health and Quarantine Law of the People's Republic of China Labour Law of the People's Republic of
China
Trade Union Law of the People's Republic of China Searching Website for the Related Laws
1. Searching System of Laws and Regulations of China (website of National People's Congress of China)
http://law.npc.gov.cn:87/home/begin1.cbs
2. China Legislative Information Network
System
http://www.chinalaw.gov.cn/jsp/jalor/index.jsp
3. Ministry of Commerce
http://www.mofcom.gov.cn
the above-mentioned websites are for reference only.
(ii) Procedure for establishment of foreign funded enterprises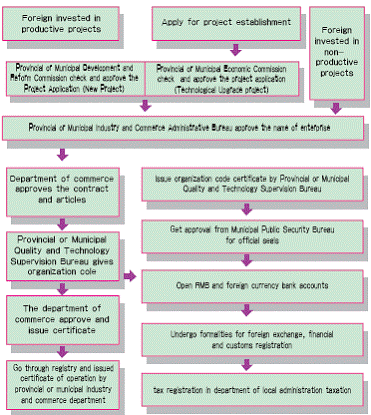 Materials submitted for the Establishment
of Foreign Funded Enterprises:
1. The proof of indentification, letter of reference or trust deed of the enterprise's
undertakers.
2. Application for establishment of joint venture enterprises or application form for establishment of a wholly foreign owned enterprise.
3. Notice of enterprise name approval from the Industrial and Commercial Department.
4. Formulate Contracts and articles for foreign invested enterprises.
5. Project Feasibility Study Report and approval papers.
6. Projects that need government approval shall provide the approval reply of Project Application Report, while projects that just need fi le records in the government shall furnish the documentary papers that testify such a record.
7. The Chinese and foreign investors' legal certifications for opening business and certification of financial credibility . Individual foreign investors have to submit an exact copy of the passport.
8. A namelists of board nembers for the foreign invested enterprise.
9. The letter of appointment from the Chinese and foreign investors regarding the designation of board of directors to the newly established foreign invested enterprise and the identifi cation papers and resume of the appointee.
10. The Property list of equipment or materials that Chinese and foreign investors use as investment, and for those use real estate and other fi xed property as investment, the concerned owner-ship certification should be offered.
11. For projects that affect environmental safety, approved environmental influence reports from the environmental protection department shall be offered.
12. Foreign funded enterprises shall provide permits issued by land management department so as to purchase land.
13. The concerned examination paper issued by the relevant leading department and the production safety supervision departments if necessary
14. Other related materials requested by the examining and approval organization.
(iii)Living Environment
The process of applying for an resident entry-exit pass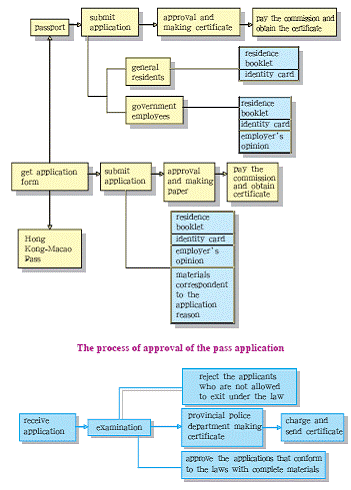 Legal ground/Legislative authority Law of the people's republic of china on control of the entry and exit of aliens Rules for the implementation of the law of the people's republic of china on control of the entry and exit of aliens Law of the people's republic of china on the control of the exit and entry of
citizens
Rules for the implementation of the law of the people's republic of china on the control of the exit and entry of citizens Temperary management measures of the people's republic of china on traveling of citizens to and from hong kong and macao Management measures of the people's republic of china on travelling of citizens to and from taiwan and hong kong
Urban Living Environment
In recent years, ShanXi has significantly enhanced the capacity of urban water supply, sewage disposal, central heating supply , decontamination of garbage, and the water supply in rural area has also been greatly improved. 39 natural reservation areas have been established in ShanXi Province by the end of 2005. Fen River scenic spot in Taiyuan has been awarded by the UN as a model for improved living environment and by China Construction Department as a model for China's living environment. Health & Sanitation ShanXi Province has complete System of public health and disease control. At present, there are total 9,390 health
institutions with 0.104 million beds. Driving Licence According to the law of the People's Republic of China on Road Traffic Safety and relative administrative regulations &
rules, the traffic administration department
of public security organ shall follow diplomatic principle of reciprocity, when issuing motor vehicle driving license to the person who working in the foreign embassy and consulate, and representative office of international institution.Whoever holds an overseas motor vehicle driving license, when applying for driving licence in the residential place, she/he shall fi ll out" Application form for motor vehicle licence", and shall submit the following certifications and proofs:
1. Identifi cation proof of candidate; 2. Certification regarding to health conditions by administrative departments of health under local people's governments at or above the county level. 3. Existing motor vehicle license. If the license do not have a Chinese version, the candidate shall submit a copy of it trastated into Chinese. The motor vehicle administrative department shall accept the application which meets the conditions for driving permission, and the department shall, within 30 working days from the day accepting application of examination reservation. Whoever holds an overseas motor vehicle driving license, when applying driving license, shall take examination 1.
(iv)Reference Prices of Basic Elements
Electricity charge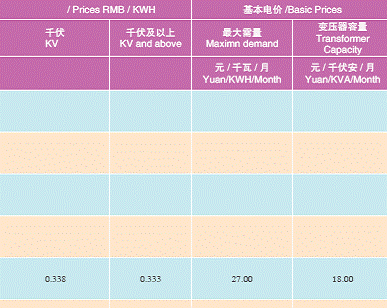 IV . Development Zones
(i) Development Zones above
Provincial Level
There are 23 development zones above Provincial level that have been approved in Shanxi Province, including 2 state-level development zones. Most of development zones in Shanxi
are adjacent to the Datong-Yuncheng, Shijiazhuang-Taiyuan and Yuncheng- Fenglingdu artery highway network of the province. Their characteristics contain: proper geological location ,convenient transportation and extensive markets. Relying on local leading industries, superior energy resources, advantageous technology and market, these development zones have hatched a batch of major industries, including pharmaceutical industry, new material industry, machine-manufactaring and electronic industry, food processing, IT industry, textile industry and apparel industry. In recent years, the development zones in Shanxi have been devoted to promotion of conformity with WTO international practice and the certifi cation of ISO1400 international management system and creation of a facilitating environment for all kinds of investors.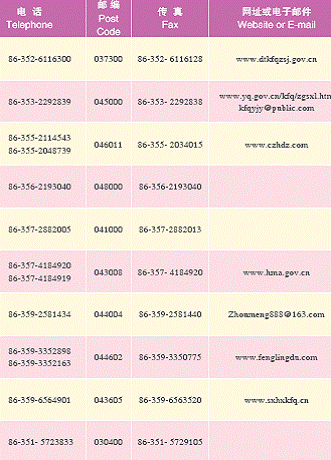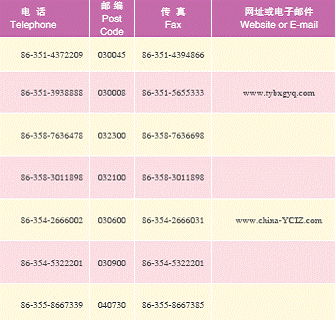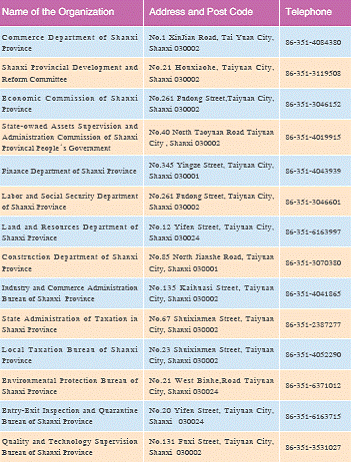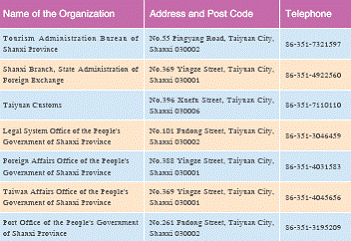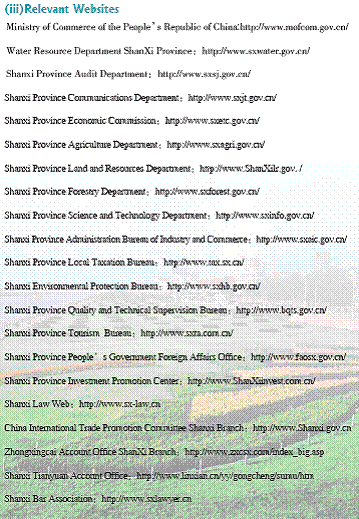 Shanxi World Trade Hotel is the first five-star tourist hotel of its kind ever designed and built in Shanxi Province. Entrusted by Shanxi World Trade Center under the management of Shanghai Jinjiang International Hotel Management Co., Ltd., Shanxi World Trade Hotel is characterized by its luxury facilities, stylish decoration and Comprehensive functions.Excellent service makes the hotel an ideal place to stay for both leisure and business travelers. The 398 varied newlydecorated rooms in the hotel, including presidential suite, deluxe suite, business room, and stand room, are the best places for feasting your eyes on the beautiful scence of Taiyuan.
Emergency and Inquiry Telephone Numbers
114 Directory Inquiry
110 Police for Bandit
119 Police for Firefighting
120 Emergency Center
121 Weather Inquiry
122 Police for Traffic
ShanXi Air Service Company Ticket Office: 86-351-4047178
China Eastern Airlines Shanxi Branch Ticket office: 86-351-4042903
China International Travel Service Ticket office :86-351-4189273
Taiyuan Railway Station Ticket-booking Phone :86-351-2233611 2233622
Taiyuan Railway Station Information Service:86-351-95105688
Major Station of Passenger Service (Inter-provincial long-distance Buses) :86-351-4041050
Taiyuan Western Passenger Station of Bus Service :86-351-6064147
Taiyuan Jiannan Bus Station:86-351-7074539
Huayu Passenger Service Co., Ltd. (Beijing Route) The ticket booking phone:86-351-4161942
Taiyuan First Taxi Company, Phone Number of business office:86-351-7222175
(Ministry of Commerce)