I. Survey
(i) Geographical Location
Yunnan lies in South-West China. Its geographic location is in 21°08'-29°15'of north latitude, and 97°31'-106°11'of east longitude, the north tropic runs across the South Yunnan. Yunnan shares 4,060 km border with Myanmar in the west and south-west, and Laos and Vietnam in the south, Yunnan is the hub and gateway to the South-East Asia and South Asia for China. It connects Guizhou Province and Guangxi Autonomous Region in the east, Sichuan Province and Chongqing Municipality in the north, and Tibetan Autonomous Region in the north-west. Its land area is 394,000 square kilometers.
(ii) Weather and Climate
Yunnan is in the tropical and subtropical monsoon weather zone with high altitude which has endowed it with an even temperature all year long, and a dry and a raining season. The capital city Kunming is called the spring city. The annual average temperature is between 13- 20℃ in most part of Yunnan, and the annual difference in temperature is 10- 15 ℃;the average rainfall is 1,250 mm in the west of Langcang River, 1,000 mm in Bijie, Liupangshui, Xianwei, Qujing, and 1,125 in other part, and less than 1,000 mm in Hengduan Mountains. The annual sunlight hours is 2,200, and the annual solar energy is 3,615.7- 6,667.1 MJ/m2
(iii)Population and Peoples Yunnan had a population of 44.504 million by the end of 2005, including 13.129 million urban population, accounts for 29.5% of total population, and 31.375 million rural population, accounts for 70.5% fo total population.
There are 25 ethnic minorities in Yunnan, It is a province with the largest ethnic population. Among the 25 ethnic minorities, 16 are living across the border, 15 only in Yunan. They are populated in the 3/4 of the land, and 2/3 of them living along the border line or in the mountains. There are Yi, Hani, Zhuang, Dai people with population over 1 million; Miao, Lisu, Hui over 500,000; Lahu, Wa, Naxi, Yao, Jingpo, Tibetan over 100,000. Another 7,000 Kemu and Mang peoples are not verifi ed.
(iv) Transportation and Telecommucation
Road
The road net has formed with Kunming in center, radius to the neighboring Sichuang, Guizhou, Guangxi, Tibet and Myanmar, Laos, Vietnam and Thailand. There are 1,422 km express highway and the road mileage reaches 146,684 km.
Airport
There are 10 civil airports in Yunnan, with a capacity of carrying 12.7 million passengers and 179,500 tons cargo. There are over 200 domesticair routes linking 92 cities, such as Beijing, Shanghai, Guangzhou, Shengzheng, Lasa, Hong Kong, and 17 international routes to Bangkok, Yangon.
Kunming Wujiaba International Airport in the south-west Kunming, is one of the most important and busiest international airport in China. It is the hub airport in South-West China, and a modern airport.
Telecommunication
The rate telephone/per hundred people reached 21.67, the number of telephone was 9.39 million with 4.37 million fi xed line and 5.02 million mobile users, and 1.03 million internet users.
Ports
There are 12 State A ports, 8 State B ports, 90 border crossings and 103 border markets in Yunnan, which are the land, air, water access to support the all-round opening-up strategy.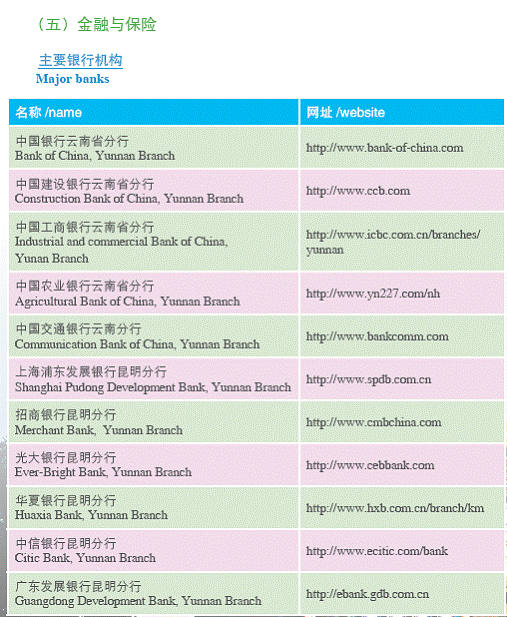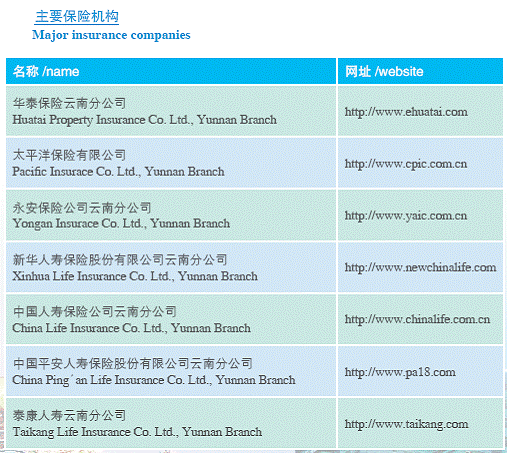 (vi) Foreign relations
The capital city Kunming has established international friendly relationship with cities in Japan, Switzerland, Australia, USA, Morocco, Bolivia and Thailand, and some memorial buildings were built in these cities. The cooperation and exchange in economy, trade, science, culture, education, city planning and management are intense and frequent. Kunming and Nanning and Fuzhou are Sister cities.
Major exhibitions
With the fast development of economy, we hold many international business and cultural exhibitions each year, which includes:
China Kunming Import and Export Commodities' Fair..It is approved by the Ministry of Commerce of PRC, and is jointly held by Chongqing,Sichuang, Yunnan, Guizhou,Guangxi, Tibet. Since it is first held in 1993, it has attracted over 5,000 visitors from 40 countries every year, with over 1,500 standard booths, and 300 of them are for overseas companies. The exhibition includes import and export, economic cooperation. And a series of halls are organsed, namely building material,
agricultural produce , machinery and equipment, medicine and health products, minerals, textile, and other theme halls, such as overseas hall and border trade hall.
China Yunnan Pu'er Tea International Fair Yunnan is the major tea producer in China. After years of efforts, tea industry has become a important industry in Yunnan. To take advantage of the popularity of Pu'er tea, the provincial government approved the Fair to further promote Yunnan tea.
Address: Yunnan Tea Market, South
gate of Jinshi District, Kunming.
Theme: Promote Pu'er Brand,
Organizer: the Department of Agriculture,
the Department of Commerce,
the Policy Institute of Yunan people's government
Other exhibitions include:
Kunming International Agricultural Produces Exposition
Kunming Cultural Exposition
China Kunming international Tourism Products Fair
Yunnan Ethnic culture and Art Exposition
(vii)Higher education and research institutes
Yunnan University
University It is one of the earliest university in the South- West China, which was founded in Dec. 1922. In 1937, the famous mathematician Xiong Qinglai was appointed president of the university, during his tenure, Fei Xiaotong, Chu Tunan and other famous scholars were invited to teach, witch has promoted its influence very much. The university is one of the universities for training teachers to do master degree; It has 1 state exemplary software institute, 3 state science research and training base in history, biology, and physics, 1 life science and technology innovation training base approved by the Ministry of Education, 2 key provincial laboratories, and many otherstated approved laboratories and training centers.
Kunming University of Science and Technology
It is a multiversity with long history, which focus on engineering, with the combination science, it also has subjects in economics, management, literature, law, education, philosophy, medicine. It is a key university in terms of scale, level and subjects involved, and is a state renowned university. In 2005, it is granted the Excellent Education in Bachelor Degree by the Ministry of Education. It has 4 postdoctorate research center, 5 first level subject PhD centers, and many other key subjects an training centers approved by the ministry and the province.
Kunming Precious Metal Research Institute
It was established in 1938, the only institute in the multi-discipline research in precious metals. It is the leader in technology innovation and a highly capable institute in research. It is renowned as the cradle of platinum for China. There are 3 certified master degree training centers in non-ferrous metal metallurgy, materials, and industrial catalyst, 1 PhD training center in material and engineering, 15 tutors and 5 PhDs, and other high level researchers.
Kunming Intitute of Zoology, the Chinese Academy of Science
It was established in April 1959. There are 6 research certers, namely systematic zoology research center, inheritence and evolution research center, primates biology research center, animal toxin research center etc. a key laboratory in cell and molecule evolution, and a series of key laboratories in the institute.
Kunming Institute of Botany
It was established in 1938. Many famous botanist worked for it, namely Yan Chujiang, Zheng Wanjun, Cai Xitao, Yu Dejun, Chen Fenghuai, Wu Zhengyi, Wang Fazeng, who have dedicated their whole life to the development of the institute. It has state key research centers in plant geology, botany, and sustainable development of plant resources, and a botanic garden. It is one of the most famous research institute in botany. It was listed as one of the pilot institute in the bio-diversification and protection research in the state innovation project.
(viii) Tourism
The tourism resources are composed of natural sceneries, culture, historical sites, and ethnic culture.
Natural Sceneries
The unique geographical conditions has contributed to its plentiful natural sceneries, such as, the Stone Forest, the Tengchong Volcanoes, Dali Erhai Lake, the tropical forest in Xishuangbangna.
Cultural Resources
The combination of natural scenceries, historical, religious and ethnic culture is the feature of Yunan's tourism resources, such as Lijiang, Dali, and Xishuangbangna.
Historical Sites
Including the Kunming Dragon's Gate, the Dali Three Pagodas, the Yuanmo relics, the Yuanmo man fossil, the Lufeng dinosaur fossil.
Major Tourism Events and Festivals
The Fire Torch Festival. It is an festical among Bai and Yi peoples to wish a good harvest and prosperity.
Water-splashing Festival. It is the new year festival in Dai calendar, usual in April. It is the most important festival for Dai people.
The Third-Month Fair. It is a traditional festival of the Bai ethnic group. It is held from the 15th March to 21st in Chinese lunar calendar.
Yunnan mainly has the special local product as follows: caladium, yew, Yunnan tribute rice, tiger-paw-mushroom, fl ue-cured tobacco, Yunnan green-plum fl avored liquor, bamboo-canister liquor, wenshan sanqi, Chinese caterpillar fungus, tuber of elevated gastrodis, bamboo shoot, ham and tea leaf, etc.
II . Economy
(i) General
The GDP of 2005 is 347.234 billion Yuan, with a 65.618 billion Yuan added value in the first industry, 144.971 billion Yuan in the second industry, 136.645 billion Yuan in the tertiary industry. The ratio between the three industries is 18.9∶41.7∶ 39.4. GDP per capita is 7,833 Yuan.
Industry
The added value from industry in 2005 is 120.007 billion Yuan. Tax from industry is 63.857 billion Yuan. Profi t in industry is 22.318 billion Yuan.
| | |
| --- | --- |
| Coalproduction | 64.6214million tons |
| Electric power production | 62.42billion kwh |
| Crudesteel production | 5.1341million tons |
| Steelproduction | 4.8693million tons |
| Ten non-ferrous metals production | 1.4744million tons |
| Cement | 28.3262million tons |
Agriculture
The irrigated farmland in 2005 is 1,485,400 hectares; Grain production reached 15.1493 million tons.
| | |
| --- | --- |
| Oils eeds | 362,200 tons |
| Tobacco | 772,200 tons |
| Vegetables | 9.709 million tons |
| Fruit | 1.366 million tons |
| Tea | 116,000 tons |
| Fresh-cut flower | 3.6 billion pieces |
| Meat | 3.0004 million tons |
| Milk | 238,000 tons |
(ii) Resources
Water resources
There are over 600 rivers and 40 lakes in Yunnan, and 9,000 square kilometers water area. The theoretical hydro-power reserve is 103.64 million kw, the annual power generation can reach 907.8 billion kwh, accounts for 20.5% of the national hydro-power reserve.
Bio-resources
Yunnan is endowed with abundant bio-resources, the biodiversifi cation is on the top in China.
1. Forest resources . There are 9.533 million hectares forest in Yunnan, accounting for 24.2% of national forest area. And the forest coverage rate is 24%.
2. Natural plant resources. There are 4,758 species of herbal plants in Yunnan, which is the province with most herbal resources.There are about 10 thousand kinds of higher southern tropical and semi-tropical plants in Yunnan province, accounting for more than half of China's higher plant species. A lot of these plants are peculiar to Yunnan, such as Yunnan camphor tree, Yunnan nutmeg,dragon dracaena, mesua ferrea, etc.
3. Wild animal resources. There are plentiful wild animal species resources in Yunnan, the 1,671 wild vertebrate animals reserve ranks first in China. In Yunnan province, there are 45 kinds of Firstgrade State protection animals, including buffalo,wild elephant,Indo-chinese tiger, Yunnan golden monkey, slow loris, gibbon, hornbill etc., and 154 kinds of Secondgrade state protection animals, including macaque, grey leaf monkey, lesser panda, boa, pangolin, musk deer, green peafowl,etc.
Minerals
There are 142 minerals found in Yunnan, 92 of them have been verified in deposit, and 25 of them rank in the first three in China, 54 of them in the first ten. The phosphorous reserve is 1.283 billion tons, calculated reserve reaches 4.514 billion tons. The non-ferrous mineral reserve is 39.9 million tons except aluminum. The reserve of tin, lead and zinc ranks the fi rst in China, and third for copper, nickel and cobalt. The Gejiu tin deposit has a verifi ed 1.7211 million tons reserve.
Energy Resources
In addition to hydro-power, Yunnan has coal, terrestrial heat, solar energy.
(iii) Commerce
Foreign Trade
The trade volume in 2005: USD 4.738 billion; Export: USD 2.642 billion; Import: USD 2.097 billion; Normal trade: USD 3.346 billion; Processing trade: USD 0.717 billion;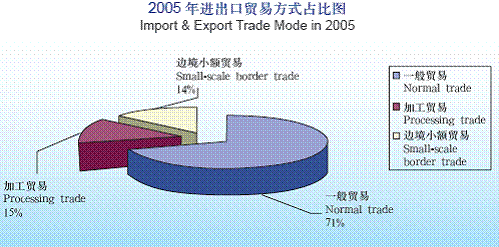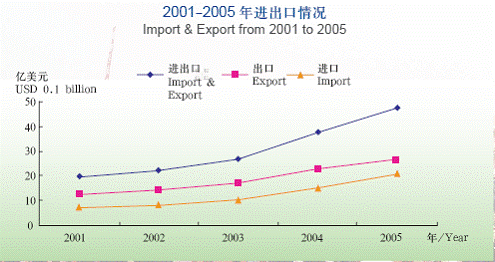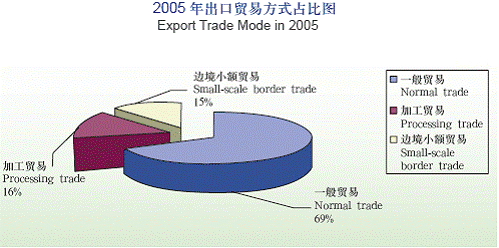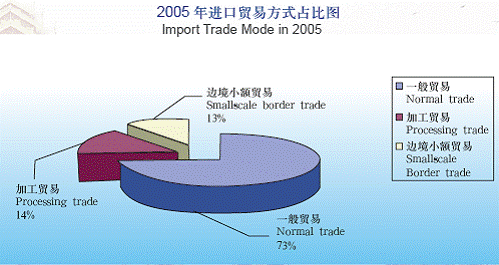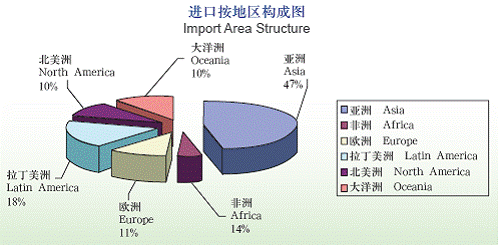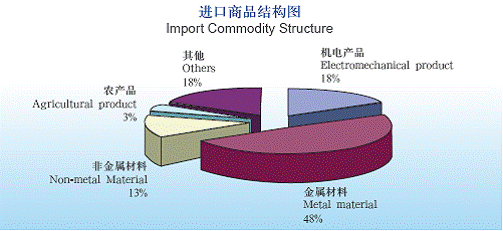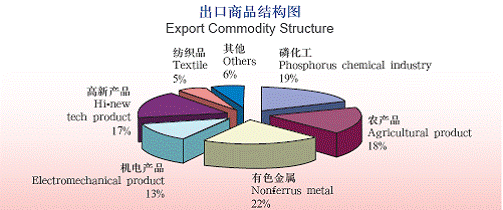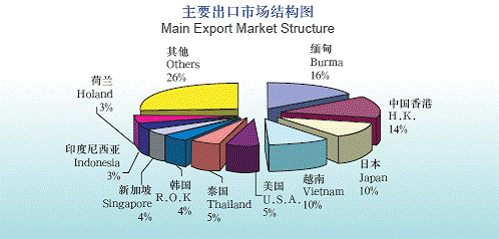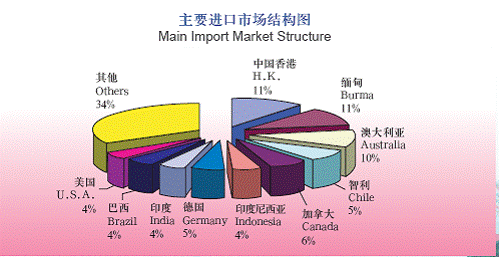 FDI Utilization
153 projects were approved in 2005, with a contractual value of USD 460 million, the actual utilization of FDI was USD 190 million. The trade made by FDI companies was USD 400 million in 2005.
Foreign Economic Cooperation
132 contracts of contracting project, labor cooperation and consultation and design were approved, with a contractual value of USD 530 million and a business turnover of USD 390 million. The number of contracts and business turnover increased by 69% and 15.2%, the highest increase in history. 44 overseas investment projects and USD 72.939 million contractual investment equal the past years' business total.
Domestic Trade
The domestic trade of consumer goods reached 103.44 billion Yuan, with 56.454 billion Yuan in urban consumption and 46.986 in rural consumption. The sale increased steadily , and the gap with the national level was narrowing.In 2005, the market supervision system has installed, the business planning project has launched, the rural market construction was in progress, the well-known shops of famous Yunnan products started and the whole trading environment was improving.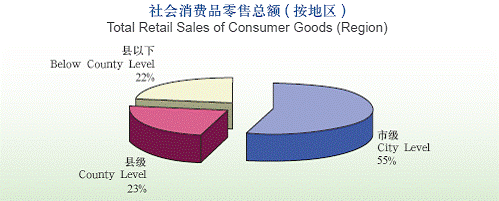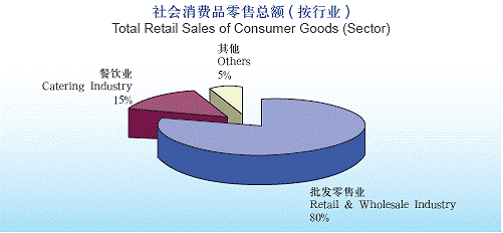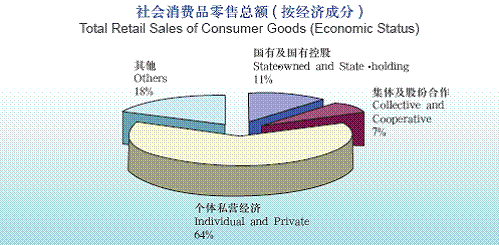 III . Investment
(i)Policy and Administrative Rules
Catalogue of Related Laws
Foreign Trade Law of the People's Republic of China
Customs Law of the People's Republic of China
Law of the People's Republic of China on Import and Export Commodity Inspection
Law of the People's Republic of China on Chinese-Foreign Equity Joint Ventures
Law of the People's Republic of China on Chinese-Foreign Contractual Joint Ventures
Law of the People's Republic of China on Foreign-Capital Enterprises
Company Law of the People's Republic of China 
Law of the People's Republic of China on the Entry and Exit Animal and Plant Quarantine
Law of the People's Republic of China on Control of the Entry and Exit of Aliens
Law of the People's Republic of China on the Control of the Exit and Entry of Citizens
Securities Law of the People's Republic of China
Income Tax Law of the People's Republic of China for Enterprises with Foreign Investment and Foreign Enterprises
Individual Income Tax Law of the People's Republic of China
Law of the People's Republic of China on the Administration of Tax Collection
Environmental Protection Law of the People's Republic of China
Law of the People's Republic of China on Evaluation of Environmental Effects
Law of the People's Republic of China on Promotion of Cleaner Production
Law of the People's Republic of China on Prevention and Control of Desertifi cation
Marine Environment Protection Law of the People's Republic of China
Law of the People's Republic of China on the Prevention and Control of Atmospheric Pollution
Law of the People's Republic of China on Prevention and Control of Environmental Pollution by Solid Waste
Law of the People's Republic of China on Prevention and Control of Water Pollution
Law of the People's Republic of China on Prevention and Control of Environmental Noise Pollution
Law of the People's Republic of China on Prevention and Control of Radioactive Pollution
Frontier Health and Quarantine Law of the People's Republic of China
Labour Law of the People's Republic of China
Trade Union Law of the People's Republic of China
Searching Website for the Related Laws
1 . Searching System of Laws and Regulations of China (website of National People's Congress of China)
http://law.npc.gov.cn:87/home/begin1. cbs
2. China Legislative Information Network System
http://www.chinalaw.gov.cn/jsp/jalor/ index.jsp
3. Ministry of Commerce http://www.mofcom.gov.cn the above-mentioned websites are for reference only.
(ii) Priority Industries
The priority industries include:
1. Storage, preservation and processing of grain, vegetable, fruit, poultry, and livestock;
2. Forest planting and introduction of new breeds;
3. Introduction, development and sale of flower and its breeding techniques; construction and operation of modern fl ower garden;
4. Comprehensive use of bamboo resources;
5. Planting and processing of natural spices, edible fungus;
6. Development and protection of water resource;
7. Pollution alleviation and environment protection of Dianchi Lake;
8. Development and manufacturing of green food and health food;
9. Comprehensive use of sugar;
10. Construction and management of road, independent bridge and tunnel;
11. Technology development and production of coal;
12. Phosphorous mining, and phosphorous composite fertilizer and phosphorous chemical products manufacturing;
13. Development and production of herbal medicine and bio-medicine;
14. Development, construction and management of tourism facilities and its accessory facilities.
Preferential treatment will be granted for foreign investment in the following 14 industries:
High quality silk production and breeding of silkworm;
Forest protection, tree planting, grass planting in the state key projects and their follow-up projects;
Development and application of water saving irrigation techniques;
Development and production of techniques of coal processing;
Development and production of featured food resources;
Processing of potato;
Natural rubber and linen processing and development;
Animal and herbal medicine development and production (except protected species);
Exploration and development of copper, lead, zinc, and nickel;
Production of phosphorous chemical products;
Manufacturing of diesel engine and its parts;
Construction and management of gas supply, heat supply, and water supply and drainage system (controlled by Chinese side in big and middle-sized cities);
Development, construction and management of tourism facilities and its accessory facilities;
Road passenger transport.
http://www.yn.gov.cn
(iii) Procedures for Setting up Company
Setting up a wholly foreign-owned company
Contact office:Foreign Investment Administration Division, Department of Commerce, Yunnan Province
Telephone:86-871-3168175
Address:175 Beijing Road, Kunming Time limit of case-handling:10 working days
Charge:free
Relevant laws:The Foreign -invested Enterprise Law、Detailed rules on the Foreign-invested Enterprise Law
Procedures

Qualification of applicant: foreign enterprise, business organization, individual Reguired documents:
(1)letter of application signed by the legal representative or authorized person;
(2)Feasibility study report signed by legal representative or authorized person;
(3)Articles of association signed by legal representative or authorized person;
(4)legal certification documents of investor and credit certification document (such as bank's certifi cation, deposit receipt, annual auditing report of accountant, certificate of title to house property or approved business license of Taiwan investor);
(5)Note:
(1)other document:A . the Enterprise Name Registeration Approval Notice issued by the industrial and commerce administration bureau;B. list of member of the board signed by the investor; C. legal paper of the investors such as passport and ID card;
(2)List of imported equipments;
(3)Copy of joint venture contract if more than two foreign individuals invest;
(4)authorization paper.
Registration fee
Items

Classification

Charging Standards

Charge of pre-approval of company name

 

20–50 Yuan

Registration fee

Committed capital under 10 millionYuan

1‰

Committed capita lover 10 millionYuan

0.5‰ for the amount over 10 million

Committed capital over 100 millionYuan

No charge for the amount over 100 million

Bulletin fee

 

400Yuan
(iv) Living Environment
City Life Environment
The central urban area of the capital city of Kunming is about 180 square kms, and 30% of it is covered with trees and grass. The infrastructure is improving in water, gas and electricity supply. The surrounding 200 kilometers radius area is connected with high grade road, Kunming- Hekou, Guiyang-Kunming, Chengdu- Kunming, Nanning-Kunming railway links Yunnan with other provinces and countries. The annual visitor reaches 8 million, and over 100 domestic and international flight routs are in operation. The Kuning-Bangkok highway and the pan-Asia railway under contemplation will link Kunming with neighbouring countries.
Kunming ranked in the first 20 cities in terms of living environment, in 2006 The Blue Book of City Competitiveness: the No. 4 Report on City Competitiveness.
Residence Permit for Foreign Investors and Employees
When applying for residence permit, the applicant need to answer relevant questions and submit the following documents:
1. Letter from employer organization.
2. Application Form for Visa and Residence Permit.
3. Two inches personal photo without hat.
4. Original of passport, valid Chinese Visa and copy of eatry seal.
5.Original and copy of Health Certifi cate for International Traveler issued by Yunnan Exit-Entry Inspection and Quarantine Bureau.
6.Original and copy of Certificate of Stay.
7. Other evidences related to residence:
(1)by investor:original and copy of Certificate of Approval, business license, Certificate of Employment for Foreigner or Certifi cate of Foreign Expert except individual with over USD 1 million investment in western region.
(2)by employee:Certificate of Employment for Foreigner or Certificate of Foreign Expert, or the performance approval by the Department of Culture, or Registration Certificate for Permanent Representative Office and Certificate of Employment for staff working in permanent representative office.
Original and copy of Certificate of Approval, business license for foreigninvested enterprise; or original and copy of business license and other registration certificate for domestic enterprises and organizations and units concerning to foreign affi rs.
Note: the following three categories of people can only apply residence permit with employment visa (Z visa):
Ordinary management and technical staff (under vice general manager);
Foreign expert working for public institution, foreign teacher and other management and technical staff;
For non-representative working in foreign permanent representative offi ce.
(3)For parents, spouse and child: original and copy of residence permit of investor or employee;marriage document, kindred document, the Chinese version of non-English documenttranslated by professional translation agencies or companies are reguired.
(v) Reference Prices of Basic Elements
1. Water Price (tap water, water for industry use, etc.)
Table of Current Water Charges in Kunming (reference price)
| | | |
| --- | --- | --- |
| Nature of Consumer | Unit | Price(including 0.35 Yuan/Ton for sewage disposal) |
| Household, welfare organization and fire control | Ton | 1.20 |
| Public and non - profit Organization | Ton | 1.45 |
| Manufacturing, transportation,agricuture, forestryandfishery | Ton | 1.60 |
| Trade, catering, entertainment, tourism | Ton | 1.90 |
| Hotel | Ton | 1.00 |
| GuestHouse | Ton | 1.00 |
Water Supply Facility Construction Fee(reference price)
| | |
| --- | --- |
| Diameter of Water-supply pipe(mm) | Charge(Yuan) |
| 20 | 1,920 |
| 25 | 2,640 |
| 40 | 7,560 |
| 50 | 12,000 |
| 80 | 72,000 |
| 100 | 120,000 |
| 150 | 240,000 |
| 200 | 360,000 |
| 250 | 540,000 |
| 300 | 900,000 |
2. Electricity Charge (electricity for industry use, domestic use, etc.)
Charges of Different Voltages (reference price)
| | |
| --- | --- |
| Voltage of Electricity Supply(kv) | Charges(Yuan/kvA) |
| 0.38/0.22 | 250-270 |
| 10 | 200-220 |
| 35 | 150-170 |
| 63 | 100-110 |
| 110 | 70-90 |
Tabel of Electricity Charges in Kunming (reference price)
Category

Price(Yuan/Kwh)

 

<1KV

1-10KV

35-110KV

>110KV

Household

0.402

0.392

 

 

Non-manufacturing and ordinary industry

0.434

0.424

0.414

 

Large Manufacturing

 

0.333

0.313

0.298

Commerce

0.674

0.664

 

 
3. Labour Cost
Salary Level (reference cost)  
| | |
| --- | --- |
| Senior employee 30,000 | 40,000Yuan/ Year |
| Technical employee 20,000 | 30,000Yuan/Year |
| Ordinary Employee 8,000 | 15,000 Yuan/ Year |
4. Others
Gas Supply Facilities Construction Charges (reference price)
| | | | |
| --- | --- | --- | --- |
| Nature of Consumer | Unit | Charge(Yuan) | Remark |
| Household | Pe unit | 600 |   |
| Publicbuilding | Per cubic meter/ Per day | 330 |   |
| Manufacturing | Per cubic meter/ per day | 140 | Preferential rate for large consumer |
Gas Price (reference price)
| | | |
| --- | --- | --- |
| Nature of Consumer | Unit | Price(Yuan) |
| Household | Percubicmeter | 0.79 |
| Non-business | Percubicmeter | 0.79 |
| Commerce | Percubicmeter | 1.5 |
| Hotel and restaurant | Percubicmeter | 1.5 |
| manufacturing | Percubicmeter | 0.89 |
IV. Development Zones
(i) National level development zones
Kunming Economic and Technological Development Zone
It is the only economic and technology development zone approved by the central government, with a planned area of 9.8 square kilometres, and a planned controllable area of 55.7 square kilometres.
Website:http://www.ketdz.gov.cn
Investment promotion:86-871-7275011
Information:86-871-7275008
Fax:86-871-7275003
E-maqil:ketdz@ketdz.gov.cn
Mail address:1 Jingkai Road, Kunming Economic and Technology Development Zone
P.C.: 650217
Kunming National High Technology Industry Development Zone
It is the only state level high-tech development zone in Yunnan. The palnned area is 9 square kilometres, and the 5 square kilometres in the first phase has been fully developed.
Website:http://www.kmhnz.gov.cn
Kunming Dianchi National Tourism and Vacation Zone
It is one of the 12 state level tourism and vacation zones, with a planned area of 18.06 square kilometres. It is located by the side of Dianchi lake, and only 5 kilometres away from the downtown area which is connected with by a wide highway.
Address: 1288 Dianchi Road, Kunming
Tel: 86-871-4311611
P.C.: 650228
Web site:http://www.kunmingtourdc.com.cn
(ii) provincial level development zone
There are 23 provincial level development zones in Yunan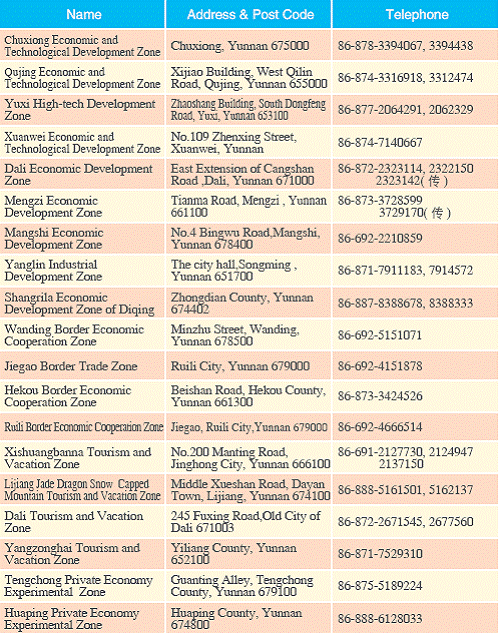 (iii) Relevant agencies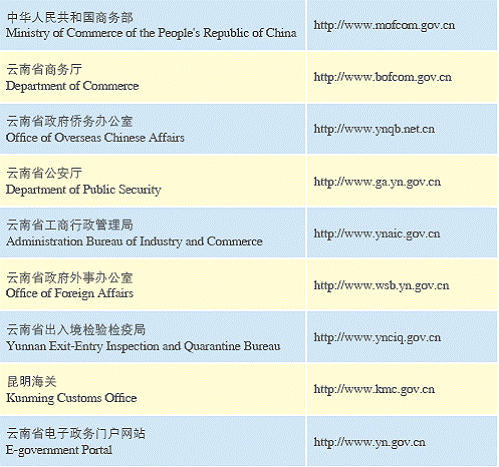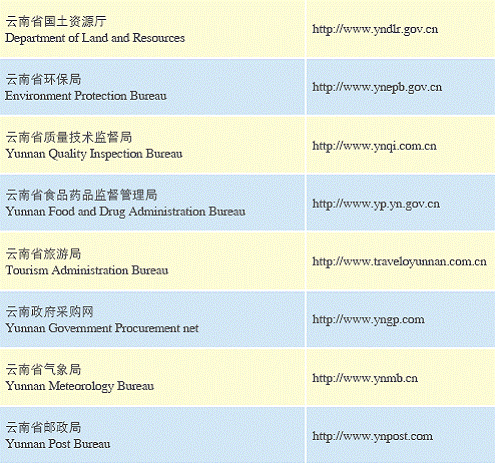 Recommended website


Appendix
Main Hotels in Yunnan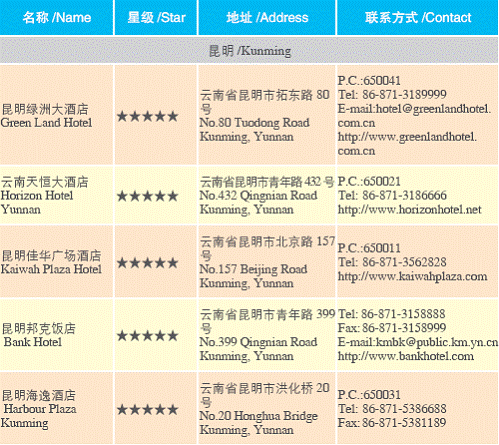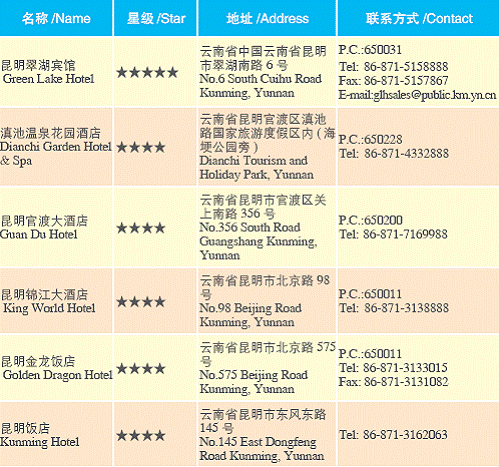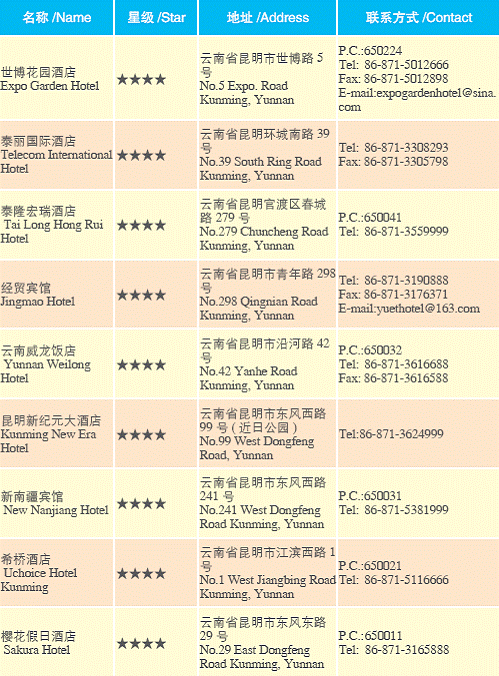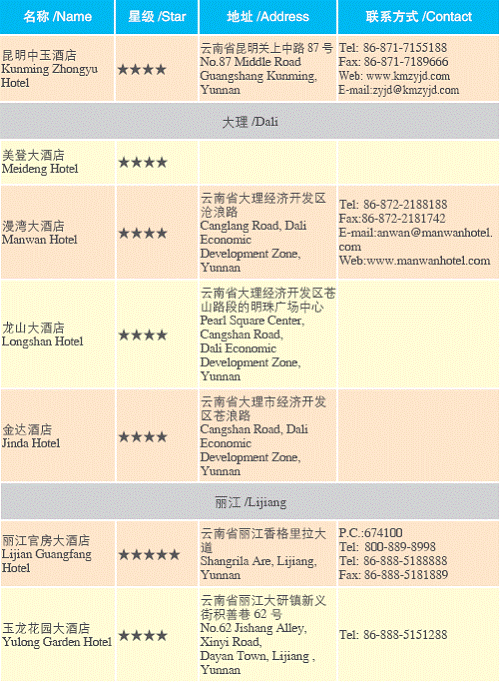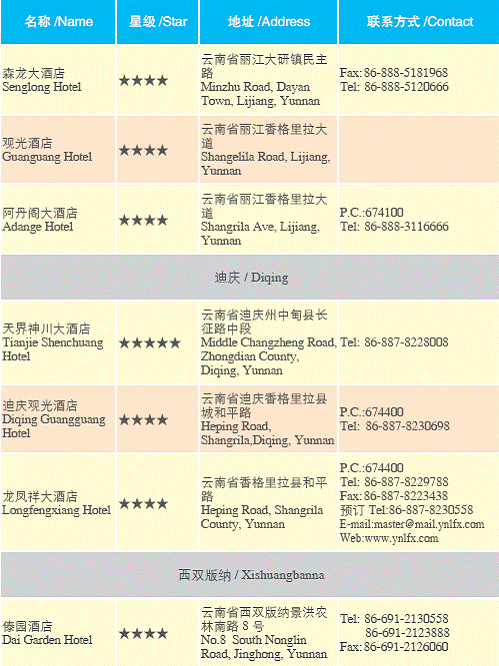 Emergency or Inquiry Telephone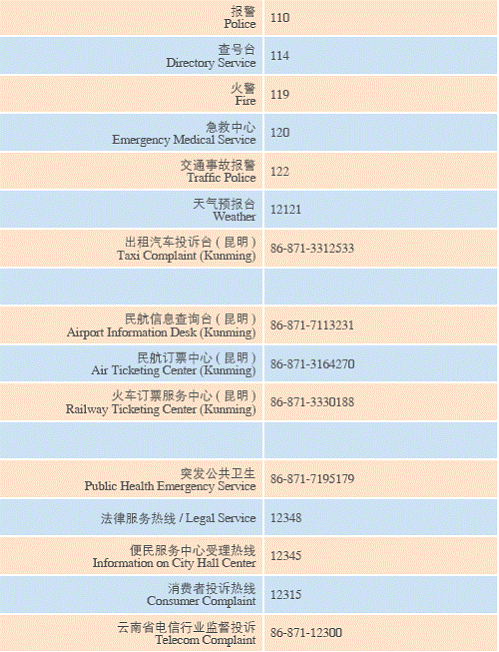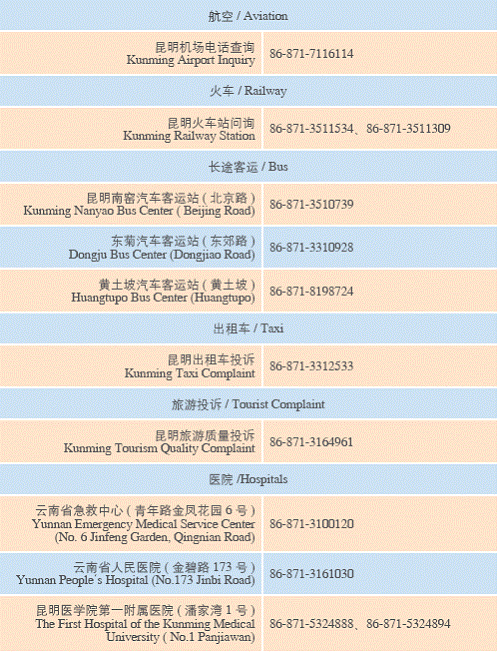 (Ministry of Commerce)