A keen rugby player himself, Thomas says he felt "guilted" into getting expat rugby off the ground in Shanghai.
Thirteen years later, the club Thomas helped found, the Guinness Shanghai Hairy Crabs, is enjoying its most successful season in years. Last Friday they beat Beijing to win the China Pub Company Yellow Sea Cup, the most hotly contested competition for expat teams in China.
But it's not just the Crabs that are doing well. The state of rugby in China has never been better, with cup organizers announcing at the weekend that Macau, Hangzhou (Zhejiang Province) and Chengdu (Sichuan Province) will join the Chinese league next year.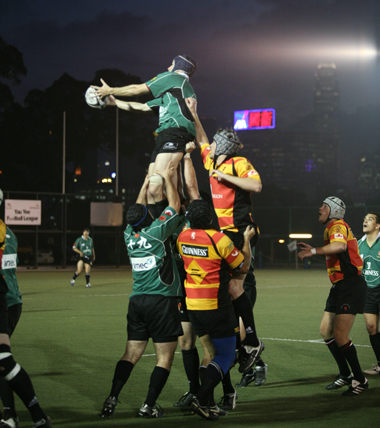 Equally, rugby in Shanghai has come a long way.
"When the Crabs started, we just got together whoever was around and played touch rugby (non-contact), renting fields at university grounds. I remember one time only three people turned up and we tried to play two against one," says the 40-year-old Thomas.
The club logo featuring Shanghai's delicacy, a hairy crab, wearing rugby boots, was doodled on the back of a beer mat one night in the pub where much of the club's formative plans were hatched, according to Thomas.
"We scribbled something down and a locker attendant at the Hilton turned it into what it is now. It has barely changed over the years."
Thomas is the first to admit rugby was already being played in Shanghai when he arrived in 1994, but not by foreigners. He says Chinese sides have traditionally tended more towards playing sevens rugby, rather than the full scale 15-a-side version.
In 1991, Shanghai Sports Institute, now Shanghai Sports University, started a 15s team, founded by a Taiwanese businessman. There was also a Japanese team.
Today both compete against Guinness Shanghai Hairy Crabs in the annual Shanghai Cup local league.
The Crabs played their first game in the second week of December 1995 against Shanghai Sports University, losing by a scoreline of about 20 to 6.
"We were a complete hodgepodge of pretty rubbish individuals," admits Thomas.
But by 1998 the Crabs had become the first, and to date, only expat rugby club on the Chinese mainland, to have their own club ground.
Games were played in Jiading District and major events held there included a game between the Crabs and the Chinese national side.
About four years ago international brewery company Guinness pledged to sponsor the Hairy Crabs, which Thomas said took the club to another level.
The problem faced by fledgling expat teams in the 1990s was that it was difficult to find regular, competitive fixtures. That was when, Simon Drakeford, chairman of Beijing Devils Rugby Club, Ted Gray, president of Seoul Survivors Rugby Club and Thomas, decided to organize a tournament.
The Yellow Sea Cup was born and the inaugural event saw Seoul take on Beijing on May 14, 2005.
"I was reasonably confident the Yellow Sea Cup would have a positive impact on all the clubs involved. Right from the word go, everyone wanted to win. It was the first opportunity for truly competitive rugby," says Drakeford, now Hairy Crabs club secretary.
This year the cup was sponsored by China Pub Company, which operates a portfolio of branded theme pubs, and the firm has pledged support until 2017.
Ross Duffy is the Yellow Sea Cup representative for the Guangzhou Rams rugby club that joined this year.
"Up until we joined the cup, we basically had no fixture schedule. We just played social matches organized ad hoc when we could find teams to play against," he says.
"Because we now have fixtures, we can put in place a training program and the sponsorship of China Pub Company provides means we can afford to travel to away games," says Duffy. "Beijing and Shanghai are quite ahead of us in terms of structure and facilities but being in the Yellow Sea Cup has given us a leg up."
Next year the China Pub Company Yellow Sea Cup will feature two divisions. The first will include Shanghai, Beijing, Guangzhou and Macau. Hangzhou, Chengdu and a third team will compete in the second division.
"It marks significant growth of the tournament for 2009. I never anticipated it would grow this quickly," says Drakeford.
Ian Thomson, chief executive officer of China Pub Company, said last Friday's day of rugby in King's Park, Hong Kong, included a 10s rugby tournament won by Shanghai Lemurs and ended with the Yellow Sea Cup final between Shanghai and Beijing. It was a great success.
"We are happy to support the league's growth and we are talking with other people who can provide additional support to the competition," he says.
He added that the league was not intended to be exclusively for expat teams and he hoped more Chinese players could be encouraged to get involved.
"We think the Yellow Sea Cup will become a key rugby competition in China and we are looking forward to supporting it as it develops."
And as for Shanghai's home team, the Hairy Crabs are confident they can build on their success.
"This year we have developed a player base that will provide access to rugby for all levels of players in Shanghai," says club captain Carl Bayliss.
Their sights are now set on the Guinness Shanghai International Rugby Sevens tournament on November 22.
(Shanghai Daily November 4, 2008)