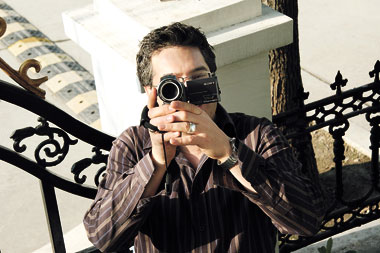 Canadian Mark Ceolin drops the text books and picks up a camera shortly after coming to Shanghai in 2003. [Shanghai Daily]
Academic and 18th-century theater buff, documentary maker and TV producer, spin doctor and marketer, business leader and even moose unveiler, Canadian Mark Ceolin is no stranger to taking on different roles during his time in Shanghai.
Chairman of the Canadian Chamber of Commerce, Ceolin's immersion into life in Shanghai came as an unintended inspiration when he was writing a book shortly after arriving in Shanghai in September 2003.
"I was originally working on a book about 18th-century theater reform and I was sitting in my office in the apartment and finally realized this is ridiculous," he says.
"Here I am in Shanghai and I sit here writing a book about 18th-century Europe, I think it's time to get out of this office and do something."
In the six years Ceolin has been in Shanghai, he has launched Red Gate International, a cultural communications company with a broad range of expertise in public relations and marketing as well as TV and documentary production and corporate videos.
Since it began life in 2005, Red Gate has been part of a number of successful Canadian-Chinese productions including "Four Dreams" which documented the development of the Olympic movement in China.
The eight-episode show, screened on ICS last year, is one of two shows the station has put forward to vie for an Emmy later in the year.
Red Gate's other works include producing corporate videos for a range of high-profile multinational companies, a HIV/AIDS education video to be used in China and also a co-production for Shaanxi Province Television Station looking at a Chinese cultural arts festival in Canada.
The production house also produced and shot the special features and handled all the Chinese production for the Canadian/Chinese film "Iron Road" starring Peter O'Toole, Sam Neil and Sun Li.
Ceolin, with his business partner Claire Zhu, led a team that looked after almost every aspect of the Chinese side of the production including local casting, logistics and translation.
Long jump
It would seem a long jump from the world of an academic with a niche interest in 18th-century theater to film production.
But Ceolin has always extended his interests well beyond the supposed ivory towers of academic life.
He has written and directed his own plays and run his own multicultural theater company.
The Campiello Theater Players toured nationally and Ceolin says it gave him skills that would serve him well later in Shanghai.
Gaining funding to put on shows, operating on tight budgets and deadlines and organizing every aspect of a show from the performance to tickets, marketing and publicity pushed the professor from the world of academia to that of entrepreneurship.
After growing up in Canada's version of Detroit, the car manufacturing hub of Windsor, Ceolin moved to Toronto where he started a 13-year road to a doctorate.
He taught theater arts and inter-cultural studies at Ryerson University in Toronto as well as taking several sojourns overseas during his studies.
One such adventure included living in Japan where he studied the ancient Japanese theater art forms of Noh and Kyogen.
His time in Japan included studying intensely for three months to perform a two-man traditional Japanese theater show with another foreigner.
"I think the Japanese thought it was cute that two foreigners were performing their ancient theater," Ceolin says.
He also followed his wife, Karen, an architect, to Rome, Italy where her firm was responsible for the renovation of the Canadian embassy.
For Ceolin, an Italian Canadian, it was a return to his roots, and a chance to learn Italian.
'Hello Canada'
Ceolin has lived in Rome several times, and he was later awarded a research fellowship by the Italian government to translate a collection of 18th-century treatises.
No longer delving into theater's obscure history, Ceolin's concerns are of a much more business-like nature in the commercial world of Shanghai.
After again following his wife on what was to be a one-year stint in Shanghai, Ceolin has settled into life here and has contributed to both the cultural and business fabric of the city.
He was one of the founders of Shanghai's first Fringe Festival in 2006, which aimed to give a boost to the city's young performers.
Last year he was one of the key organizers of "Hello Canada," an inaugural three-day street festival on Yandang Road.
The pedestrian street was transformed into a celebration of all things Canuck, with Ceolin unveiling a large moose as part of the party.
He has brought his skills in event management, public relations and marketing to the Canadian Chamber, which he has headed up for the past four years.
But life in China has also blessed his family with a daughter, Mattea, 4, who the Ceolins adopted from Guangdong Province when she was nine months old.
"She is the love of our lives and none of us can imagine what life would be without her and we are thankful that we all found each other," he says.
The Ceolins have another child, Sebastian, 9, and Ceolin says his major project at the moment is building a surprise tree house for the children before they return from Canada in mid August.
Mark Ceolin
Nationality: Canadian
Age: 47
Profession: Media and communications professional/academic
Q&A
Self-description:Energetic, creative, intense
Favorite place: Children's field in Hongqiao. It's where AKS (Active Kids Shanghai) holds their practices and games. I coach my son's soccer team and it is good to find an open space with grass where you can run around freely. It offers my family quality "together" time.
Strangest sight: After living six years in Shanghai, nothing seems strange anymore. In fact, things I used to think were strange - such as people walking around in pajamas, or bathing in the street - are becoming more and more a rarity.
Worst experience:Every morning, sitting in the traffic on the Yan'an Elevated Road. I live in Hongqiao and work on Jiangsu Road. As everyone knows, Jiangsu Road is one of the worst bottlenecks in Shanghai. I never know exactly how long the trip is going to take but I often feel like getting out and walking instead of sitting and simmering.
Motto for life:"Keep doing your best." There are times in everyone's lives, when you get tired and start to feel under-appreciated, that you feel like it would be easier to throw in the towel. It is at these times that my motto comes in useful.
How to improve Shanghai:
I love Shanghai. I love the energy. I love the people. There are things that could improve any place. It's easy to say: "Hey! Why don't you improve!" I like to believe that when I one day leave Shanghai, I will have left it a little something of myself that is a "positive" drop in the bucket of change. I think that each one of us is a "thing" that could improve Shanghai.
Advice to newcomers:Smile a lot. Be friendly. Always assume that people will be kind - and most times they will.
(Shanghai Daily August 5, 2009)